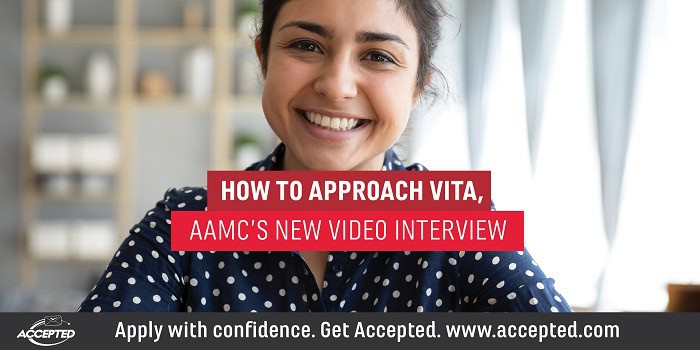 To address the novel challenges the pandemic has created, the AAMC will be using a video recording in place of in-person interviews. They are calling it the AAMC Video Interview Tool for Admissions (AAMC VITA). It is being offered at no cost to applicants since it is a pilot program and will be available from August 6, 2020 to April 30, 2021.
What kinds of questions will AAMC VITA ask? And how many?
They will ask questions that relate to the following areas:
Social Skills: evaluating your self-awareness and awareness of others as well as your ability to adapt to social cues
Cultural Competence: sensitivity to people of other cultural and socio-economic backgrounds as well as your openness to learning and developing your skills in this area
Reliability and Dependability: ability to meet goals and take responsibility
Resilience and Adaptability: being able to overcome challenges and adapting quickly to a changing situation
The questions will cover these areas in every video interview, but the specific questions will change. There will be a total of six questions. There will be no questions that require medical knowledge.
You can expect to see:
Questions about choosing a career in medicine

For example, "Why medicine?"


Questions about any experiences or skills that you've gained in the core competencies listed above

For example, "Have you ever been criticized and how did you handle it?"


Questions about how you would respond to different hypothetical situations

For example, "If a classmate makes a racist statement, how would you respond?"
What is the format of the video recording?
You will have one minute to read and think about the question and three minutes to respond. There is no time limit between questions so you can take as much time as you would like in between questions. However, your interview responses will not be submitted until you have answered all of them.
After you submit your responses, you should receive an automated email confirmation within 24 hours. The AAMC recommends you contact them if you do not receive this confirmation.
How long will the VITA interview take?
The interview should take about 35-40 minutes total.
How will I find out if I need to submit a video?
You will receive an invitation to complete a video from the medical school via email, and another email from the HireVue video interviewing platform with instructions.
Good news! If you receive more than one interview invitation, your video will be sent to all the schools inviting you to submit VITA interviews. You will not need to record separate videos—only one. You will receive reminders via email until you submit the video.
Which medical schools are participating in the AAMC VITA program?
How can I prepare for this interview?
Since the VITA interview is not school-specific, it really requires you to have a good knowledge of YOU.
To organize all that information, create a spreadsheet to use as a resource to draw from in preparing for your interview. Your primary and secondary applications can assist you, but don't limit yourself to those experiences. Be prepared to highlight more recent experiences and achievements also.
In the first spreadsheet, list in the left column the five competencies that the VITA interview is attempting to assess. Start in the second row. In the top row, list different areas of your life, for example: clinical, community service, academic, research, recreation, professional or part-time work experience, the arts, and whatever areas are relevant to you. List in the appropriate cells the experience where you demonstrated those competencies. Don't worry if you can't provide examples for all areas of life. Highlight those experiences that you are most proud of.

Draw on this spreadsheet to practice for the VITA interview.
Practice is critical. You can practice by yourself, but also consider doing practice interviews with a friend (or your Accepted consultant). Have them turn off their video camera. With no visual feedback from the other party, your practice will be more like the actual VITA interview. After the interview, ask them for feedback on content, presence and presentation.
9 Tips for a successful VITA interview
Practice, practice, practice.


Video record yourself and watch the recordings to improve.


Put your outfit through a trial run and make sure it looks professional on camera.


Create a neutral background so the viewer's focus will be on you and not the stuff behind you.


Plan on recording all responses in one sitting.


Provide answers that are not specific to any one school.


Don't forget to smile at the camera or put a smiley face sticker or post it on your computer to remind yourself to smile during the video.


If you make a mistake, just keep going. The faster you can recover, the stronger your response will be. Don't let one silly moment hurt all of your responses. Everyone makes mistakes.


Express your gratitude for the opportunity to interview.
What if I encounter a technical issue?
The only way you can redo the video is if there is a technical disruption, and in that case you would need to submit a technology issue report within 24 hours.
Can I void the video if the recording is not going well?
There is no void or cancel option.
What if I have a disability and need to request accommodations?
If you need accommodations, you can submit an accommodations request form, which can be submitted up until April 16. To avoid putting yourself in a situation in which you are waiting for a decision, I recommend submitting this form even before you receive an interview invitation—if possible.
Have you been invited to interview – either for a VITA interview or any other type? We're here to help! Successful practice interviews with an admissions pro lead directly to successful real interviews. Check out Accepted's Medical School Interview Services and learn how we can help you ace your interviews and GET ACCEPTED!
Alicia McNease Nimonkar worked for 5 years as the Student Advisor & Director at the UC Davis School of Medicine's postbac program where she both evaluated applications and advised students applying successfully to med school and other health professional programs. She has served Accepted's clients since 2012 with roughly a 90% success rate. She has a Master of Arts in Composition and Rhetoric as well as Literature. 
Want Alicia to help you get Accepted? Click here to get in touch!
Related Resources: