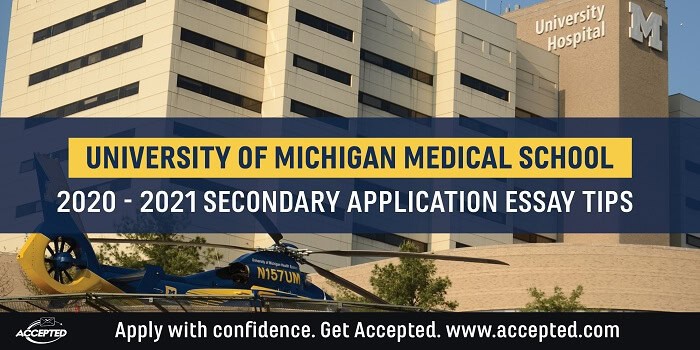 University of Michigan Medical School is ranked in the top ten schools for excellence in primary care. Given the school's focus on self-directed learning and building on a strong science foundation, it will be important in your secondary essays to convey your level of self-awareness in meeting your academic goals. How did you approach challenging science courses? In what ways have you demonstrated a commitment to lifelong learning? How has your community benefited from this commitment? For students interested in earning a MD/PhD, UMMS has a Medical Scientist Training Program (MSTP) Program. As part of this program, students will be given the training to enter academic medicine and conduct basic science research. Application Tip: Check out this helpful advice.
University of Michigan Medical School 2020-2021 secondary application essay questions
University of Michigan Medical School essay #1 (For MD applicants)
Comment on how you hope to impact medicine in the future. If examples are needed, feel free to refer to our eight Paths of Excellence.
Do not exceed 1500 characters (about 250 words).
A good way to approach this question is to create a list of previous experiences you have had in the medical field. Past behavior is the best predictor of future behavior. Sharing what you have done in that field will demonstrate your knowledge, level of experience, and accomplishments. Next, you can impress the reader by setting realistic goals for what you hope to achieve as well as addressing any obstacles that you will have to work around or overcome.
University of Michigan Medical School essay #1 (For MSTP applicants)
Instead of the above, briefly describe why you decided to apply to the University of Michigan MSTP. If you are interested in a specific department, program, or area of research for your PhD, please provide a brief explanation (we recognize that your interests may change). Do not exceed 1500 characters (about 250 words).
This essay response will require that you complete significant research on the history and structure of the MSTP program and curriculum. After reading their web pages, what features of the program stand out in your mind? After reviewing a complete list of their departments, what areas interest you? Have you completed research or a degree in any of these fields? What attracted you to that research project or field? Align your background and long-term interests with their program in your essay response.
University of Michigan Medical School essay #2
At the University of Michigan Medical School, we are committed to building a superb educational community with students of diverse talents, experiences, opinions, and backgrounds. What would you as an individual bring to our medical school community? Do not exceed 1500 characters (about 250 words).
This is a common general question on secondary applications; the response that you develop for this essay can be adapted for other applications. An effective response to this question will provide an overview of the diverse talents and interests that you will share with the UMMS community. Have you received awards or recognition in any of your fields of interest? What has been your most long-term commitment—to music, science, volunteering, research, clinical experience, leadership or athletics? What talents have you cultivated that you have shared with your community? How many languages do you speak and how has your cultural background enhanced your connection with the community? After you have selected those talents and activities that you feel best represent you—relate them back to medicine and how you will share or involve your classmates in these interests. How will they enrich your classmates' experience as well as your own?
University of Michigan Medical School essay #3
Tell us something you are passionate about and why. Do not exceed 1500 characters (about 250 words).
The word "passionate" has many definitions, from dark and suffering to full of zeal. So look up this key word in a good dictionary, not just from the thesaurus function on Word or an online dictionary box. Then, isolate a sub-definition that matches your experience. Provide this sub-definition early in your answer, to show your reviewer what you mean by passion/passionate. Stay true to your chosen sub-definition of the word. Begin from here.
To feel passionate "about" something is an applied feeling. No one can explain the wonders of this human interlude from rational thinking more truthfully than you can. This prompt is the antithesis of science and thinking. It is an opportunity to demonstrate that you understand the link between feeling and experience.
Be sure to show human virtue in this passion, whether by what the passion is or in your experience of it. So, while you stay away from the dark side of what passion can mean, don't become superhuman either. Don't save the planet. Humble is best. (You may choose to convey, though not necessarily state, your comprehension of this passionate endeavor with appreciation for it as a pathway to deeper learning or expertise.)
Lastly, though on a medical school application one may feel compelled to write about a deep emotional fervor for science, the prompt is broader than that. The prompt asks for a truth. Don't feel bound by the impulse to fill in the blank with "I am passionate about science." Reviewers will be looking for your authenticity. They may just be very moved by a well-composed narrative about a passion for puzzles, for instance; but be sure about the following – they will and do dismiss narratives that seem to out-psych the prompt or write to impress. This prompt is more about rounding out the snapshot of you by providing a concrete projection of you — the object (or subject) of your passion and the story of you and it.
University of Michigan Medical School essay #4
Describe your experience in a leadership position, the challenges that presented themselves in that position and what you did to contribute to the success of the team or project. Do not exceed 1500 characters (about 250 words).
This prompt is literal. It has three parts. The leadership position you've assumed can be formal (a title, a team leader, a supervisor, a team captain) or informal, meaning a time when you took it upon yourself to step up to the helm, after which you name the challenges, after which you explain how you (or your team) turned the challenges into success. Stay factual. Describe the transformative movement from challenges to success. Stay true to the experience. Don't evade or digress from this prompt.
Please note you do not need to use the entire word count.
If you would like professional guidance with your University of Michigan Medical School application materials, check out Accepted's Medical School Admissions Consulting and Editing Services, which include advising, editing, and interview coaching for UMMS's application materials.
University of Michigan Medical School 2020-21 application timeline
| | |
| --- | --- |
| Primary AMCAS application for M.D./Ph.D. (MSTP) program | September 15th |
| Primary AMCAS application for M.D. program and Secondary application for M.D./Ph.D. (MSTP) program | October 15th |
| Secondary application for M.D. program | November 15th |
Source: University of Michigan Medical School website
***Disclaimer: Information is subject to change. Please check with individual programs to verify the essay questions, instructions and deadlines.***
Dr. Mary Mahoney, Ph.D. has over 20 years of experience as an advisor and essay reviewer for med school applicants. She is a tenured English Professor with an MFA in Creative Writing from Sarah Lawrence College and a PhD in Literature and Writing from the University of Houston. For the last twenty years, Mary has served as a grad school advisor and essay reviewer for med school applicants. Want Mary to help you get Accepted? Click here to get in touch!
Alicia McNease Nimonkar worked for 5 years as the Student Advisor & Director at the UC Davis School of Medicine's postbac program where she both evaluated applications and advised students applying successfully to med school and other health professional programs. She has served Accepted's clients since 2012 with roughly a 90% success rate. She has a Master of Arts in Composition and Rhetoric as well as Literature. 
Want Alicia to help you get Accepted? Click here to get in touch!
Related Resources: