AIGAC (the Association of Independent Graduate Admissions Consultants) released the results of their 2017 MBA Applicant Survey, which shows an interesting paradox about millennials: they love the instantaneous availability of information in today's digital world, yet also feel that personal attention and human contact are extremely important. Other data show that the applicant pool continues to include candidates with a wide variety of professional and personal backgrounds, but with common concerns and preferences regarding the admissions process.
Additional findings include:
• 86% of applicants state that they use websites most frequently for school-related information.
• 79% of applicants say that MBA rankings are the most influential outside source of information.
• Applicants regularly seek advice of current students. 45% of those who do so say that current students are their most valued source of information.
• Applicants also use admissions consultants. These students find rankings less important. 31% of all applicants believed that rankings were their most valuable source of independent information compared with 21% of those who worked with admissions consultants.
• Admissions officers were considered very important in the decision-making process. Applicants felt that friendliness, responsiveness, and personal attention were very important. They gave high marks to admissions officers who treated them as a person instead of a number. These 10 programs were ranked highest in getting to know applicants in person (in order of rank): ESADE, Vanderbilt Owen, Dartmouth Tuck, IE, Duke Fuqua, INSEAD, Michigan Ross, Cambridge Judge, Harvard Business School, and IESE.
• 39% of those surveyed stated that their admissions consultant proposed schools that the applicant hadn't previously thought about, as compared to 29% last year.
• More applicants outside the U.S. stated that their consultants suggested schools they hadn't considered than those living in the U.S. (44% compared to 35%).
• 49% of applicants who used a consultant applied to 4-6 schools compared to 31% of all survey applicants.
• Reasons for applying to MBA programs included acquisition of new information, skills or knowledge (52%); access to job prospects/change of careers (48%); desire to make a positive difference in society (36%); and increase salary (37%).
The survey was completed by more than 2,800 applicants from March 2-April 30, 2017. 61% were male and 57% live in the U.S. At the time that they completed the survey, 50% had already decided where they would attend.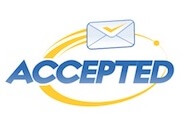 For 25 years, Accepted has helped business school applicants gain acceptance to top programs. Our outstanding team of MBA admissions consultants features former business school admissions directors and professional writers who have guided our clients to admission at top MBA, EMBA, and other graduate business programs worldwide including Harvard, Stanford, Wharton, Booth, INSEAD, London Business School, and many more.  
Want an MBA admissions expert to help you get Accepted? Click here to get in touch!
Related Resources:
• Choosing an MBA Admissions Consultant, a free guide
• MBA Selectivity Index, discover the schools where you are competitive
• Admissions Directors Speak About How to Get Accepted
Last updated on