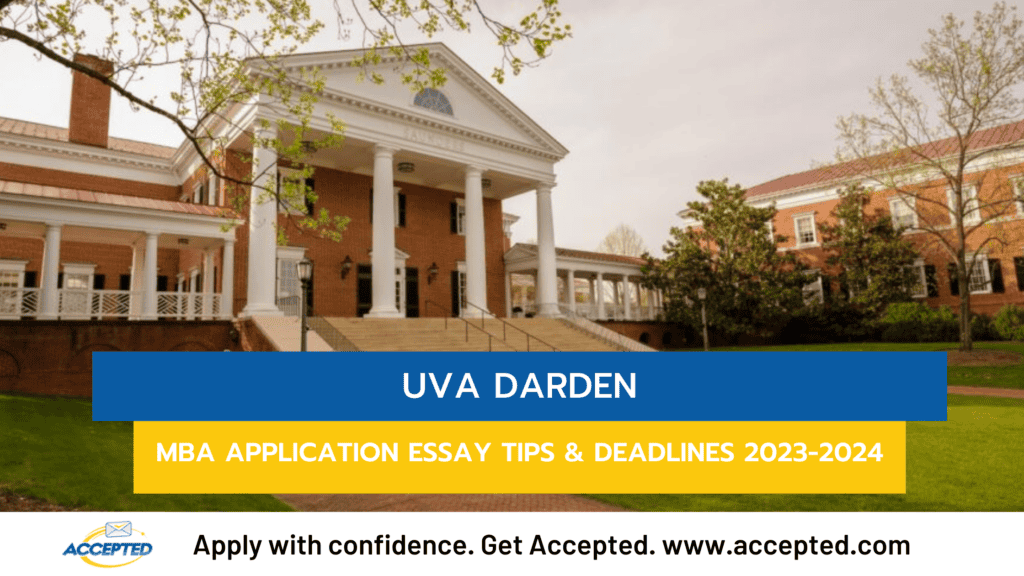 The University of Virginia's Darden MBA program boasts the case-based method of learning to put students in the role of business leaders faced with challenging situations. Through this discussion-based approach, students are active participants as they learn to make decisions in real-world scenarios. Darden is one of the largest case publishers in North America, and because of the school's commitment to the case study method, a Darden student will examine literally hundreds of business cases over the course of their two years of MBA studies.
Darden has tweaked its essay questions in a few minor ways since last year, focusing primarily on getting to know you and how you will affect the school's overall community.
Ready to get to work on your Darden application? Read on.
Darden application essay tips
For the 2023–24 application cycle, we will again feature short essay questions, which provides a broader platform for applicants to highlight their experiences through multi-dimensional narratives. These questions are a great opportunity for you to help the Darden Admissions Committee understand who you are and who you will be at Darden.
Darden Essay #1
Community of Belonging: What would you want your classmates to know about you that is not on your resume? (100 words)
Darden is one of the smaller MBA programs, with just 348 students in its Class of 2024. As a result, every single student needs to be congenial and contribute a unique perspective.
With the brevity of this essay, the hardest part might well be identifying the best topic(s) to cover. I suggest just one or two topics; the key will be to dig in and to really make your submission come alive for the reader. A potential topic might be a relevant formative experience or relationship, or a nonwork activity or passion. Ground your essay in example and detail. To select the best subject matter, look at the application overall, including the other essays, and think about what would really add to and further animate this holistic picture.
Darden Essay #2
Inclusive Impact: Please describe a tangible example that illuminates your experience promoting an inclusive environment and what you would bring to creating a welcoming, global community at Darden. (300 words)
First, note that the requested example can come from work or outside work. While it's great to show that you promote an inclusive work environment, if you have a dynamic, impactful example from outside of your job, feel free to use that. (e.g., ethnicity, geographic background, sexual orientation) to encompass less-obvious elements, such as political perspective and socioeconomic background. Devote most of your essay to narrating your story, showing how it promotes inclusivity. At the end, add a reflection with some specific detail about how this will enable you to help create an inclusive global community at Darden.
Darden Essay #3
Careers With Purpose: At this time how would you describe your short-term, post-MBA goal in terms of industry, function, geography, company size and/or mission and how does it align with the long-term vision you have for your career? (200 words)
Darden's prompt basically guides you through the requisite details the adcom wants you to provide. Even with the tight word limit, I suggest contextualizing the requested information in a couple of ways. First, start with just a phrase or sentence indicating how the goal arose. In other words, what is the "origin story"? Second, express what you hope to accomplish – what impact you'd like to have – by pursuing and achieving your stated goals. These two elements together constitute your motivation, and that is what will help the adcom feel engaged by (and ideally invested in) your goals.
Darden application deadlines
| | |
| --- | --- |
| Round | Application Deadline |
| Early Action | September 7, 2024 |
| 1 | October 4, 2023 |
| 2 | January 4, 2024 |
| 3 | April 3, 2024 |
Source: UVA Darden website

***Disclaimer: Information is subject to change. Please check with UVA Darden directly to verify its essay questions, instructions, and deadlines.***
Darden class profile
Here's a look at the UVA Darden MBA Class of 2024 (data taken from the UVA Darden website):
Class size: 348
Countries represented: 48
International students: 43%
Women: 37%
U.S. minority: 20%
Consortium members: 41
Military service members: 8%
Average age: 28
Average GMAT score:720
Average GPA: 3.51
Average GRE (combined): 319
Average years work experience: 5.8
For expert guidance with your UVA Darden MBA application, check out Accepted's MBA Application Packages, which include comprehensive guidance from an experienced admissions consultant. We've helped hundreds of applicants get accepted to top MBA programs and look forward to helping you, too!
As the former executive director of admissions at Carnegie Mellon's Tepper School and assistant dean of admissions at Georgetown's McDonough School and the University of Pittsburgh's Katz School, has 23 years' experience overseeing admissions committees and has reviewed more than 38,000 applications for the MBA and master's programs in management of information systems, computational finance, business analytics, and product management. Want Kelly to help you get accepted? Click here to get in touch!
Related Resources: