What does the adcom actually want to know about the challenges you've overcome? In this short video, Linda Abraham shares the answer to this often-asked question:
Do you have questions about addressing obstacles you've overcome in your application essays? Leave a comment below and we'd love to help you out.
Get one-on-one guidance for addressing your obstacles and writing essays that make you shine. When you work with an experienced admissions consultant, you can apply with the confidence that you have presented yourself at your best and maximized your chances of getting accepted. Click here to learn more.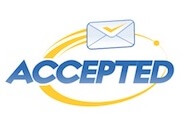 For 25 years, Accepted has helped applicants gain acceptance to top undergraduate and graduate programs. Our expert team of admissions consultants features former admissions directors, PhDs, and professional writers who have advised clients to acceptance at top programs worldwide including Harvard, Stanford, Yale, Princeton, Penn, Columbia, Oxford, Cambridge, INSEAD, MIT, Caltech, UC Berkeley, and Northwestern.
Want an admissions expert to help you get Accepted? Click here to get in touch!
Related Resources:
• 5 Fatal Flaws to Avoid in Your Application Essays, a free guide
• The Importance of Obstacles in Your Application Essays
• How to Write About Overcoming Challenges Without Sounding Like a Whiner