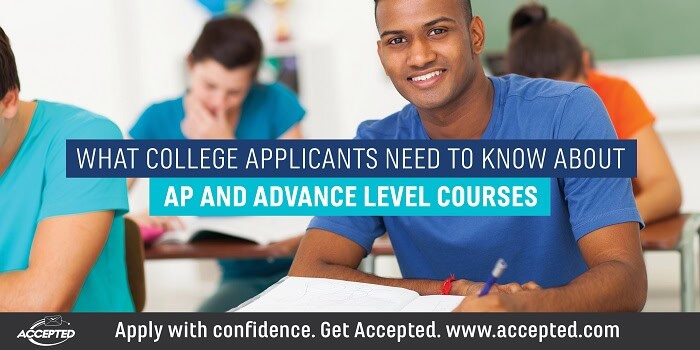 There are a number of benefits to taking on additional academic challenges during high school. Let's explore some of these options and their pros and cons.
What are AP classes?
AP refers to Advanced Placement classes. These are high school classes taught with college-level curriculum and expectations. If completed successfully, AP courses can set you apart from your peers, boost your high school grade point average, demonstrate college-readiness, and lead to college credit.
Keep in mind not all high schools offer AP or other advanced level course options (such as IB, honors or accelerated courses). If your high school offers these opportunities and you are planning to apply to elite colleges, you should take advantage of the increased academic rigor provided in these classes.
Taking a look at a high school college prep curriculum
Although the standard college prep curriculum may vary slightly, it generally includes:
3 years of math (through at least algebra II)


4 years of English


3 years of social studies


3 years of science (1 year with a lab)


2-3 years of a single foreign language
Looking at advanced placement studied contextually
Beyond the standard college prep curriculum, elite universities and all competitive schools will evaluate your curriculum within the context of your high school's available courses and the policies governing enrollment. Some schools might not offer AP, IB, honors or accelerated course options. Some might offer more than 20. Some schools will limit enrollment in advanced level classes to juniors and seniors. There are a number of variations.
Tips for choosing advanced level courses in high school
Here is what you need to know about selecting AP courses and other advanced level classes (IB, dual enrollment, honors/accelerated):
Take at least five solid academic classes each year in grades 9-12.


If your high school offers a large number of AP/IB/honors/accelerated options, in order to demonstrate academic rigor, you should take them throughout high school.


Pace yourself. Take 1-3 honors/accelerated/pre-IB courses during your freshman year and add in AP/IB classes, as you are able to manage the increased workload and maintain high grades.


Select AP courses based on your interests and goals—this means not everyone needs to take AP Visual Art or AP Music Theory just because they are offered. Select advanced classes based on your subject area strengths.


The most competitive applicants from schools that offer many AP options will complete 7 to 12 AP classes in total throughout high school.


You will register for AP exams in the beginning (fall) of each academic year (note, this timing used to be in the spring). Exams take place in May.


Not only should you take a rigorous curriculum, but you also need to demonstrate success. In general, it is better to get a B in an AP class than an A in a regular course, but if you end up with a C in the AP class, it sends a signal that you were not able to rise to the challenge. You must keep your GPA up while demonstrating your academic prowess.


If your high school doesn't offer advanced level courses or only offers a limited selection, take the most rigorous classes available and consider enrolling in an online course or taking a course at a local community college or university.
Don't forget to look at the big picture
Remember to consider the appropriate balance for your abilities, motivation, and goals. In the big picture, universities look at a number of factors as they evaluate your overall application—rigor of curriculum (in relationship to other students at your high school), overall GPA, grade trends, scores on SAT/SATII/AP/IB/ACT exams, extracurricular engagement, demonstrated leadership, commitment to community service, special talents (athletic, musical, other), letters of recommendation, and your essays. They also consider additional hooks like your demographic group and the particular challenges you may have faced.
Although there is no magic formula to gain acceptance to the Ivies and other competitive universities, you will need to be at the top of your class (the top 5% in many cases) and have set yourself apart from your high school peers. These highly sought after elite institutions strive to admit the best students to form a diverse class. Taking a rigorous high school curriculum demonstrates your potential to excel in a top college or university.
Are you a high school student plotting the steps you need to take to gain admission to a top-tier university? Do you need guidance putting together a plan that will help you connect the dots to reach your goal? Explore our College Admissions Services and work one-on-one with an expert consultant who will help you build and execute a strategy that will get you ACCEPTED to your top-choice program.
Marie Todd has been involved in college admissions for over twenty years. Marie has both counseled applicants to top colleges and evaluated 5000+ applications for the University of Michigan's College of Literature, Science and the Arts; College of Engineering; School of Kinesiology; School of Nursing; and Taubman College of Architecture. 
Want Marie to help you get accepted?
Click here to get in touch with Marie Todd.
Related Resources: