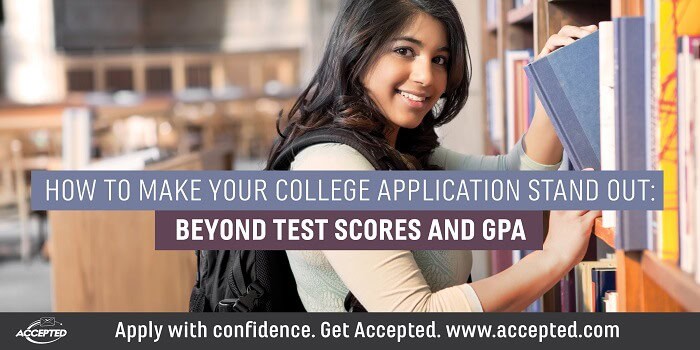 Assuming your test scores and GPA are in the competitive range for your top choice schools, what else can make you stand out in a positive way? In my five years of reviewing undergraduate applications for admission to the University of Michigan, I considered a number of additional factors in determining overall fit.
4 ways to stand out in your college application
Let's take a look at the top four ways you can make your application stand out from the throngs of other applications on the adcom's desk.
#1 Stand out by highlighting the high quality of your high school curriculum
I evaluated the rigor of the curriculum within the context of available courses at each applicant's high school. I would ask the following questions about the applicant:
Did you challenge yourself with honors and advanced placement courses and still do well?

Did you seek additional online or community college coursework to fill gaps in areas where your high school was deficient?

Did you take all regular level courses when many honors and advanced placement courses were available?

What were the trends in your grades and level of challenge from year to year?
#2 Stand out with exceptional extracurricular activities
What did you do when you were not in class? It's not just a matter of having an abundance of extracurricular activities, the quality of engagement is also important. A smattering of clubs and organizations with limited long-term involvement or leadership roles is not as helpful as fewer activities with on-going commitment, increased levels of responsibilities, and demonstrated leadership.
By the same token, if you worked to help support your family financially, this personal circumstance is taken into account. The admissions committee looks at your overall pattern of activities and involvement.
#3 Stand out with stellar letters of recommendation
These are a great way to convey how others perceive you. The strongest recommendations speak to your character as well as academic accomplishments. Certainly, supportive written reviews of your performance and abilities contribute positively to the strength of your application. However, as you can see, these are only one of many factors under consideration.
#4 Stand out by writing out-of-this-world essays
It really all comes together in the essay responses. These are your best way to provide insights into who you are as an individual. This is where you can integrate information about special circumstances, challenges, and accomplishments. Your essays are your opportunity to communicate what makes you a good match for the school and vice versa.
While keeping the essay prompt in mind, reflect on what you learned from specific experiences and explain the impact on your views/values/perceptions. The best responses were thoughtful, well-articulated, and revealed something meaningful in the student's life.
Bring these factors together to create a stand-out college application
While there is no magic formula to guarantee admission to a particular school, there are many components of your application and just as many ways to make a positive impression. Keep all the factors in mind because each contributes to the overall strength of your application in an increasingly competitive atmosphere.
Do you want your college application placed into the "admit" pile? All of Accepted's college consultants are former admissions team members and know what works and what doesn't. Check out our College Application Services to learn more about how we can help you create the application that will get you ACCEPTED.
Marie Todd has been involved in college admissions for over twenty years. Marie has both counseled applicants to top colleges and evaluated 5000+ applications for the University of Michigan's College of Literature, Science and the Arts; College of Engineering; School of Kinesiology; School of Nursing; and Taubman College of Architecture. 
Want Marie to help you get accepted?
Click here to get in touch with Marie Todd.
Related Resources: