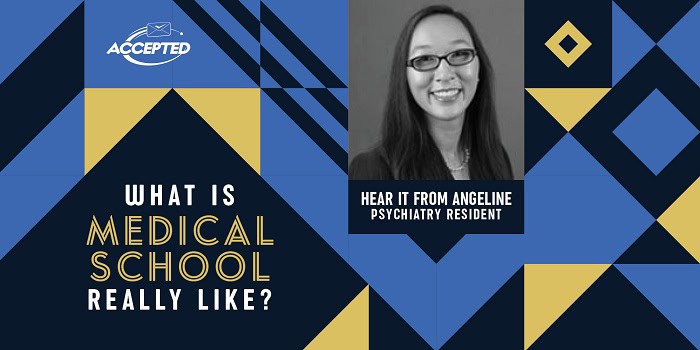 Learn how real students navigate their way through the medical school admissions process and med school itself with our What is Medical School Really Like? series.
Meet Angeline, a psychiatry resident with a goal of advocating for mental health awareness within the Asian community.
Angeline, thank you for sharing your story with us!
I understand that at one point you considered pursuing a career as an engineer. When and how did you first realize you wanted to become a doctor?
Angeline: Both my parents are engineers; my mom worked at NASA and my dad and I used to spend weekends building/fixing things around the house. So naturally, growing up, I planned to follow in their footsteps.
It wasn't until later in high school that I started developing an interest in medicine. I volunteered at my community hospital and at a nursing home as part of an honor society requirement. Through these experiences, I found myself really enjoying the opportunity to form connections with others and decided to consider medicine as a possible career.
I actually still remember the moment when I made up my mind to pursue medicine as a career. I spent some time shadowing a doctor to get a better feel for what being a doctor would be like. I spent a day following this doctor around to his different clinics. There was one patient who tried to see him at one of his clinics, but the doctor wasn't there when he showed up. He found out the doctor was at a different location in the afternoon, but refused to see any other doctor. So, he took a bus across town to the other clinic location to find the doctor. When we walked into the exam room, he just had the brightest smile on his face and told us about all the events that transpired earlier. At that moment, I realized that I wanted to pursue medicine because I wanted to have the chance to form those bonds and connections with my patients as well.
What did you most enjoy about medical school?
Angeline: I really liked having the opportunity to learn and practice medicine in the nation's capital because this allowed me to be exposed to some really unique experiences. Being in the nation's capital, I had the chance to learn more about public health and work on proposals for issues such as addressing AIDS/HIV as well as obesity and childhood asthma. We also got to present our proposals at the White House one year, which was a really cool opportunity.
Additionally, we got to rotate at a variety of sites including Children's National, the Veteran's Affairs, and also local community hospitals so I felt like I got to see a diverse patient population while also learning how different hospital systems function.
Probably the thing I valued the most about medical school was the psychiatry department. I found really good mentors within the department who helped me tremendously in terms of cultivating my interests in psychiatry and giving me exposure to many different subspecialties within psychiatry including women's mental health, global mental health, and forensics.
What were some of the biggest challenges you faced during med school?
The biggest challenge in medical school for me was trying to find a balance between academics, commuting (I commuted approximately 1 hour each day between med school and home), and caring for my grandparents (whom I was living with at the time), all while also trying to find time to care for myself as well. As my medical school years went on, my grandparents got older and more frail. They started needing more attention and care while I was transitioning to working on the wards and needed to spend more time at the hospital. I felt so torn at that time because I had this strong desire to provide everything I could for them, but at the same time, I also wanted to perform well in school. I think the biggest thing I learned from that challenge was understanding the importance of recognizing my limits and asking for help. It was a difficult decision, but I elicited outside help for when I was away and it turned out to be one of the best things I could have done for them.
What attracted you to the field of psychiatry?
Angeline: I went into medical school thinking I was going to do neurology. However, psychiatry was actually my very first clinical rotation and I found myself loving the specialty. It was the one rotation where I would show up and the day would breeze by.
It's so rewarding to be able to really get to know patients and truly understand how their social background, biology, and psychology come together to form the big picture. I like being able to form that therapeutic relationship with my patients where I get to see them at their most vulnerable moments and work with them to come up with a treatment plan to help them through their toughest times. In psychiatry, there are so many treatment options available from different medications to ECT and TMS to a multitude of different psychotherapies. I like being able to involve patients in helping them find the best treatment for their needs.
And lastly, although great strides have been made in understanding the brain, there are still a lot of unknowns and mysteries left to discover. We don't quite know the exact mechanisms behind many psychiatric diagnoses, nor do we have great diagnostic tools at our disposal, but I find it exciting that there's so much potential for new discoveries and new treatments on the horizon.
How many residency programs did you apply to? How time consuming was the residency application process?
Angeline: I applied to 29 programs total. I worked on my application and personal statement a little at a time and started around June/July so it didn't feel too overwhelming when it came time to submit in September. I had some of my mentors and family members look over my application as well, which I found helpful for spotting mistakes or ambiguous statements that needed some clarification.
The time consuming part was trying to arrange and go to interviews while still being on medical school rotations. However, the interviewing part was my favorite part of the whole application process because I got to explore different cities, meet new people with common interests in psychiatry, while also seeing what different programs had to offer.
What are your top tips for shining during residency interviews? In what ways do they resemble or differ from medical school interviews?
Angeline: Although I'm sure everyone has heard this numerous times before, I think the most important thing to remember is to be yourself. Residency interviews are a little different from medical school interviews in that they are kind of like a compatibility test in that you have to try to find the "right fit" for you while the programs are also looking for residents that would fit well into their overall mission/goals.
When I was preparing for interviews, I reflected on what unique characteristics or skills I may be able to contribute to the residency program and what I am hoping to gain from the program to grow towards my goals. It's okay if you don't know what exactly you want to do yet once you graduate residency, but having some idea of what your interests are can be helpful. I also think it's also equally important to research the residency programs to get a feel for what they have to offer and come prepared to ask insightful questions.
Once residency started, what surprised you most about your program?
Angeline: I was surprised by how despite my program being a larger psychiatry residency program (each class has 17 residents), there is a lot of camaraderie in that everyone I have encountered is really supportive of each other. We get along really well with each other and find time to meet up outside of residency regularly, sometimes even as a group with faculty.
What were some of the challenges you faced as an intern? How would you advise new interns to prepare for meeting these challenges?
Angeline: One of the biggest challenges I faced as an intern was learning how to be more adaptive and getting used to constant change or new encounters. We rotate through many different services and sites about every month, so it can be frustrating to feel like you just started to get a handle on things only to have to move onto another site.
Another challenge I faced was learning how to be more confident in myself and my medical decisions. It can be really anxiety-provoking on Day 1 when you're fresh out of medical school and suddenly you have a group of patients whose lives you are responsible for. I still have moments where I feel this way, even as a second year. However, I think the most important thing to remember is no matter where you are in your training, there will be someone you can turn to for help. It's important not to be afraid to ask for help!
How do your current hours and responsibilities differ from when you were an intern?
Angeline: Traditionally, for us, the second year tends to be the busiest year as we take more overnight call/24-hour call compared to the first year. We are also expected to carry on more patients while focusing on developing those skills in psychopharmacology, diagnosis, and management of our patients. The workload and responsibilities are significantly greater compared to our first year, but all of this is geared towards building a stronger foundation for when we transition to outpatient psychiatry as a third year.
Can you share an encounter with a patient or family member that you found particularly uplifting or memorable?
Angeline: I once had a 50ish year old male patient who had no previous psychiatric history and was recently diagnosed with gastric cancer one month prior. He suddenly presented with catatonia where he was rigid and unable to speak or eat. We tried to treat his condition with medication, however it was ineffective. His family flew in from all over the U.S. to be with him and were understandably frightened by what was going on. Eventually, we decided he needed to try electroconvulsive therapy (ECT). His family was very scared and hesitant because of what they had heard/seen about ECT in movies. They were understandably very worried that it would hurt the patient. I spent some time sitting down with them to discuss the procedure and ease their worries. They were still hesitant, however as days went by and he seemed to be getting worse, they decided to proceed with the procedure. Within 6 treatments, the patient returned to his baseline level of functioning and both he and his family were amazed by the outcome. It was my first time seeing ECT being performed and I was so incredibly grateful to have witnessed his transformation.
How do you envision your future, professionally? Where do you see yourself immediately after residency? Five years down the line?
Angeline: I have been giving much thought to this and honestly, I'm not entirely sure where I see myself yet. I have multiple interests and want to try to find some way to incorporate all of my interests into my career in the future. I am mostly interested in cultural psychiatry as well as forensics psychiatry. I envision myself working in a setting that can service minority populations, especially the Asian community.
Growing up in a very traditional Asian household, I witnessed how difficult it was for my own family and others around me to overcome the many barriers to obtaining mental health care. I hope to be an advocate for mental health awareness within the Asian community and help destigmatize mental health while also encouraging others to seek mental health care treatment.
I'm currently considering possibly pursuing a forensic psychiatry fellowship after residency as well. I had the opportunity to do a few forensics rotations in medical school and found the blend between medicine, psychiatry, and the law to be very interesting. So maybe five years from now, I'll be doing a mix of community psychiatry and forensics evaluations? We will see where the rest of residency takes me!
Do you have questions for Angeline? Questions for us? Do you want to be featured in our next What is Medical School Really Like? post? Know someone else who you'd love to see featured? Are there questions you'd like us to ask our students in this series? LET US KNOW!
You can learn more about Angeline by following her on Instagram.
Looking forward to your own med school journey? We can help you reach the finish line! Check out our Medical School Admissions Consulting Services to team up with an admissions expert who will help you join the ranks of thousands of Accepted clients who get accepted to their dream schools.

For 25 years, Accepted has helped applicants gain acceptance to their dream healthcare programs. Our outstanding team of admissions consultants features former admissions directors, admissions committee members, pre-health advisors, postbac program directors, and doctors. Our staff has guided applicants to acceptance at allopathic (MD) and osteopathic (DO) medical schools, residencies and fellowships, dental school, veterinarian school, and physician assistant programs at top schools such as Harvard, Stanford, Penn, UCSF, Johns Hopkins, Columbia, and many more. 
Want an admissions expert to help you get Accepted? Click here to get in touch!
Related Resources: