Last year, Wharton didn't change its essays after years of shrinking its application. This year it's steady state, at least in terms of the essay questions. However, Wharton has made significant changes to its recommendations. It asks recommenders to choose from two lists of positive adjectives the three that best describe the applicant. In addition, Wharton asks recommenders for two examples – one demonstrating fit with Wharton and one showing the candidate's career potential. 
In discussion at the AIGAC conference, Frank DeVecchis acknowledged that on some level "recommendation" or "evaluation" are misnomers for what Wharton is looking for from the people asked to provide "recommendation." They are looking for insight into your character. Not a recommendation or an evaluation.
My tips for completing the Wharton application essays are in blue below.
Essay 1.
What do you hope to gain professionally from the Wharton MBA? (500 words maximum)
This question is exclusively "professional." What do you want to do professionally that you can't do now and that a Wharton MBA will help you do? What "soft" and "hard" skills do you hope to acquire at Wharton? How will a Wharton MBA – the education, the credential, and the experience – help you achieve your dreams?

As with most MBA goals questions, Wharton wants to see how you plan to connect your Wharton education to your future. Keep in mind that Wharton has an incredibly rich curriculum. How will you take advantage of its premier offerings to prepare yourself to achieve your vision for the future?
To answer this question well, you need to have professional direction and you need to know which of Wharton's myriad resources make it perfect as the next stop on your professional journey.
Essay 2. 
Teamwork is at the core of the Wharton MBA experience with each student contributing unique elements to our collaborative culture. How will you contribute to the Wharton community? (400 words maximum)
To respond effectively you have to understand the importance of clusters, cohorts, and student clubs at Wharton. Students constantly work in teams and groups in and outside of class. In addition, much learning and networking goes on outside of class. Finally, Wharton values its community and wants to admit people who will enrich and contribute to it.
When have you contributed to a team? It could be a sports team, a band, a religious or political group. It could be that you spearheaded a fundraiser with a group of peers or started an exercise initiative at the office in cooperation with others. There are an infinite number of possibilities. However, in order to complement Essay 1, try to choose a non-professional team example. Show how that experience will allow you to contribute similarly to a Wharton club, resource, or event.  Maybe you'll start a new initiative using the lessons you learned from this previous experience.
Additional Question (required for all Reapplicants):
Explain how you have reflected on the previous decision about your application, and discuss any updates to your candidacy (e.g., changes in your professional life, additional coursework, extracurricular/volunteer engagements). (250 words)*
The name of the MBA reapplicant game is Growth and Improvement. Wharton is asking for reflection and you need to provide it, but also show how that reflection led to action and improvement. You need to be a better candidate this time than last.
*First-time applicants may also use this section to address any extenuating circumstances. (250 words)
"Addressing extenuating circumstances" means that you should describe those circumstances in a straight-forward way. Give the admissions committee context. Avoid excuses and whining.
If you would like professional guidance with your Wharton MBA application, please consider Accepted's MBA essay editing and MBA admissions consulting or our MBA Application Packages, which include advising, editing, interview coaching, and a resume edit for the Wharton MBA application.
Wharton 2017-18 Application Deadlines: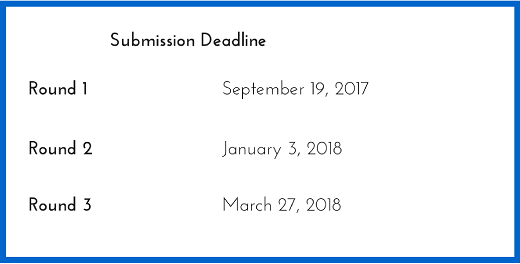 *To be considered for a round, you must submit a complete application by 5:00 p.m. Eastern Standard Time (EST) on the day of the deadline.
***Disclaimer: Information is subject to change. Please check with individual programs to verify the essay questions, instructions and deadlines.***
By Linda Abraham, president and founder of Accepted and co-author of the definitive book on MBA admissions, MBA Admission for Smarties: The No-Nonsense Guide to Acceptance at Top Business Schools.
Related Resources:
• Wharton's Commitment Project – a Window into Wharton
• Wharton MBA Program Announces Establishment of Moelis Advance Access Program
• Harvard, Stanford, Wharton: What's the Difference?