It's October – we know you're busy. But here's something worth making time for this week: our free one-hour webinar, How to Create Successful Secondary Applications.
In your secondaries, you have the chance to show each school why it's a great fit for you – and why you're a perfect fit for their program. It's your chance to stand out and score an interview invitation. Don't let that chance pass you by!
You may have only recently received your secondaries (due to submitting late MCAT scores), or you've been sitting on those secondaries for a while, just not knowing how to proceed. You're going to end up submitting your secondaries later than planned, so let's make sure you do it right.
In How to Create Successful Secondary Applications, you'll learn proven strategies for your secondary apps – for the ones that you need to submit ASAP or for next year's application, for those planning ahead. Reserve your spot and mark your calendars for October 4th at 4pm PT/7pm ET – don't miss it!
Register Now: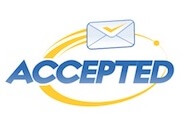 For 25 years, Accepted has helped applicants gain acceptance to their dream healthcare programs. Our outstanding team of admissions consultants features former admissions directors, admissions committee members, pre-health advisors, postbac program directors, and doctors. Our staff has guided applicants to acceptance at allopathic (MD) and osteopathic (DO) medical schools, residencies and fellowships, dental school, veterinarian school, and physician assistant programs at top schools such as Harvard, Stanford, Penn, UCSF, Johns Hopkins, Columbia, and many more. Want an admissions expert to help you get Accepted? Click here to get in touch!