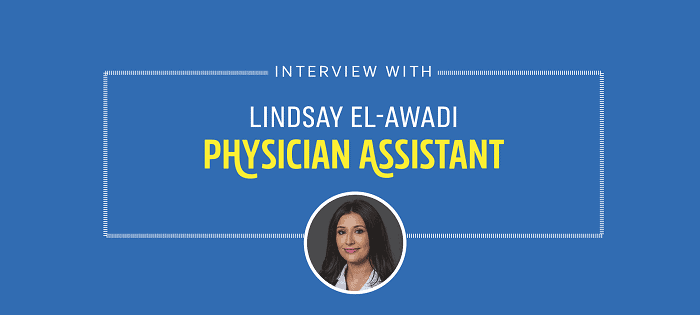 This interview is the latest in an Accepted blog series featuring interviews with medical school applicants and students, offering readers a behind-the-scenes look at top medical schools and the med school application process. And now, introducing Lindsay El-Awadi…
Accepted: We'd like to get to know you! Where are you from? Where and what did you study as an undergrad? When did you graduate?
Lindsay: I'm a Michigan girl, born and raised. I went to University of Michigan for my Bachelors of Science in Dental Hygiene Studies. I graduated in 2013. It was during my last year in undergrad I realized I wanted to continue my education and pursue my Masters to become a Physician Assistant. I took a gap year to complete prerequisites and to gain more patient hours required for my application.
Accepted: Where did you attend PA school? When did you graduate?
Lindsay: I attended PA school at Eastern Michigan University, and I graduated this past April!
Accepted: How did you know that PA school was what you wanted to do?
Lindsay: I knew PA school was what I wanted to do when I shadowed a few different PA's. I saw the variety that the field offered, because every PA had a very different day to day and role in their patient's healthcare. It was eye opening and I loved it!
Accepted: What was the hardest part about applying to PA school? How did you overcome your application struggles?
Lindsay: The hardest part about applying to PA school was figuring out the classes I needed for prerequisites to apply to different programs. PA school is not universal in terms of the classes they require like a lot of medical schools. Different programs will require a difference of one or two classes, and if you want to broaden your chances of getting in, you have to know all the classes required to submit your application. Don't assume because one program has a list of pre-reqs that it's the same list for every school! What helped me keep things straight was using Microsoft Excel and putting the different programs with their required classes in a document and I checked off which ones I had that way. Of course, interviews are nerve wracking too, but getting ready to submit your applications is really most of the battle!
Accepted: You specialize in dermatology! When did you know that derm was the right "fit" for you?
Lindsay: I got to do a dermatology rotation after three or so rotations. It was my first elective. I loved the procedural aspect of dermatology, and also how we could fix or at least alleviate most of the problems people came in with. It was highly satisfying as a provider to see improvement in patients and to be hands-on! Seeing all of this together made me realize I really loved dermatology!
Accepted: You share your life on your Instagram, thatpagirl. What inspired you to start sharing your journey with others?
Lindsay: I started my Instagram a little late in the game. I started it towards the end of my clinical year. I had no idea that medical based Instagram accounts were a 'thing' but I'm so glad I did find out! I've always been used to coaching people along the way of applying to PA school. I love helping people, and when I found out I could reach people on Instagram, I was just happy to have another platform to share my experiences, answer questions, and hopefully to help people with their goals!
Accepted: You're also a wife and a mother to a little girl! How did you manage to complete PA school while balancing parenthood?
Lindsay: Yes! Motherhood defined my experience in PA school. It was hard, but do-able. I had a strong network of support from my husband, my parents, and in-laws. I also had to let go of the expectation that I was going to study as much as some of my classmates, and acknowledge that I might not get the top grades in my class because I more often than not sacrificed study time for time with my little one (and I don't regret it AT ALL). I just kept psyching myself out that PA school is temporary, that at the end, it would all be worth it!
Accepted: Lastly, what are your top three tips for success?
Lindsay: Top Three Tips for Success:
1. Remember where there is a will, there is a way. If you are having difficulties with the application process, make the initiative to call the programs you want to apply to, set up meetings with counselors. You need to put yourself out there and show others you WANT this.
2. Make time for you during PA school. There is ALWAYS studying to be done. Studying 24/7 doesn't help you get better grades. It will mentally and physically exhaust you. So get out and do something for you for 30 minutes at least a day.
3. Improve yourself! Remember that when you are on clinicals in medical school, PA school, or nursing school, people do not expect you to know everything. Your job as a student is to come in, learn, and do better the next day. If they see improvement, that is enough!
You can follow Lindsay on her Instagram (@thatpagirl). Thank you Lindsay for sharing your story with us, we wish you much success!
For one-on-one guidance on your med school applications, check out our catalog of med school admissions services.
Do you want to be featured in Accepted's blog? If you want to share your med school journey with the world (or at least with our readers), email us at bloggers@accepted.com.

For 25 years, Accepted has helped applicants gain acceptance to their dream healthcare programs. Our outstanding team of admissions consultants features former admissions directors, admissions committee members, pre-health advisors, postbac program directors, and doctors. Our staff has guided applicants to acceptance at allopathic (MD) and osteopathic (DO) medical schools, residencies and fellowships, dental school, veterinarian school, and physician assistant programs at top schools such as Harvard, Stanford, Penn, UCSF, Johns Hopkins, Columbia, and many more. 
Want an admissions expert to help you get Accepted? Click here to get in touch!
Related Resources:
• From Example to Exemplary, a guide to writing outstanding application essays
• 10 Reasons to Become a PA
• How to Get Accepted to Physician Assistant (PA) Programs