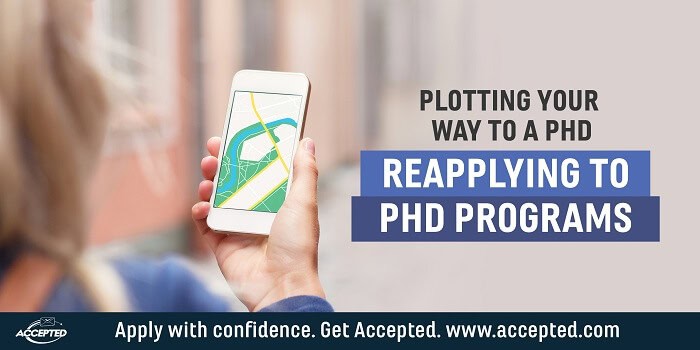 What if you did apply and were unsuccessful? How can you strengthen your candidacy for PhD reapplication?
Step #1: Conduct an honest assessment of your candidacy.
Did you apply to too few programs? To the wrong programs? (Applying only to Harvard is not a great strategy!) Consider broadening your list of schools.
Were there weaknesses in your application that you can remedy by gaining more experience, retaking your GRE, adding a stronger LOR, or taking courses? Some applicants can benefit by pursuing a master's degree before entering a PhD program – especially if you're changing fields or if you have limited research experience.
Step #2: Bulk up your research.
Look at your research experiences. Do you need to take some time before reapplying to develop your research experience and skills? As the applicant pool grows more selective, research has gone from being a way to distinguish applicants to a more basic part of a well-rounded application.
Step #3: Continue to round out your candidacy.
As important as grades are, the successful PhD candidate needs to balance good grades with leadership and service positions outside the classroom. The range of acceptable activities is endless, so it's important to seek out something that you enjoy.
Step #4: Create a stronger, more persuasive PhD application.
When it comes to the practicalities of reapplying: make sure that you craft a new, stronger application. If your SOP was unpersuasive last year, it probably won't be more persuasive this year – you need to re-evaluate and revise.
Take a look at your previous personal statement and ask yourself:
Was it enjoyable and interesting to read? If you were reading this about another person, would they come across strong? Would this be someone you might want as your physician?
Did your essay begin with a strong lead paragraph that inspired the reader to continue?
Did it tell a compelling story and describe your experiences instead of just listing what you'd done? Did you support claims about your abilities with anecdotal evidence?
Did the essay focus on you rather than your projects or mentors?
Did your stories demonstrate the key qualities desired in graduate students: commitment, compassion, leadership, curiosity, critical thinking, maturity, etc.?
Was your writing free of typos or grammatical errors?
Did you have anyone else review it for content and style before submission?
Step #5: Find the best recommenders.
Although not technically how you represent yourself, recommendation letters are an extremely important part of the application/reapplication process and your challenge is to find faculty members who can write a compelling letter.
Here are some items to check off when finding the "one." Make sure that your recommenders:
Know you well, preferably beyond the classroom
Represent different areas of your life to reflect your diverse pursuits.
Have access to your CV or a list of activities so they have a better idea of your pursuits
Know what you specifically want them to address in order to balance the rest of your application
Know the deadlines and instructions for submitting the LOR
Bottom line
It is disappointing not to get in the first time, but approaching the reapplication seriously can give you a chance to analyze your skills and your goals – and even leave you better prepared for grad school.
Do you need help ensuring that THIS application is the LAST PhD application you'll ever submit? Work one-on-one with an experienced advisor in creating a PhD application (or reapplication) that will get you ACCEPTED.
By Dr. Rebecca Blustein, former Accepted admissions consultant. Dr. Blustein has a BA and PhD from UCLA in English and Comparative Literature. She formerly worked as a Student Affairs Officer at UCLA's Scholarship Resource Center where she gained experience guiding applicants in areas of admissions and funding. Dr. Blustein's clients have been accepted to top Master's and PhD programs in dozens of fields across all disciplines. Want an admissions expert help you get accepted? Click here to get in touch!
Related Resources:
• Are You a Competitive PhD Applicant?
• How to Write About Your Research Interests
• The Personal Statement That Got Me a Large Scholarship to Cambridge