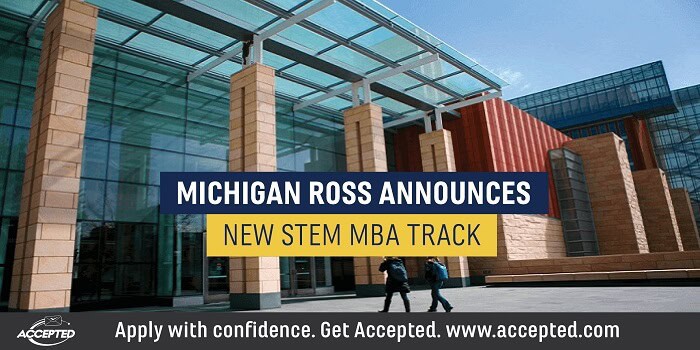 When The Wall Street Journal reported the fifth straight year of declining MBA applications from international applicants in October 2019, many wondered (once again!) whether this was the end of the line for the U.S. MBA programs. Well, the phoenix has risen from the ashes as the top American MBA programs have found a way to circumvent the opaque legal work opportunities in the U.S. for new graduates by becoming STEM certified, which offers them the ability to stay in the U.S. on their student visas for optional practical training after graduating. Michigan Ross has announced that its new STEM track will be introduced next month, enabling current students and all incoming classes to pursue this additional designation.
<< Click here to see the list of STEM-certified MBA programs >>
According to its announcement, Ross's STEM track will require 18 additional credit hours in electives from accounting, finance, management and organizations, marketing, and technology and operations disciplines. Some of the most exciting electives in the track are Big Data Management: Tools and Techniques; Marketing Engineering and Analytics; and FinTech: Blockchain, Cryptocurrencies.
Ross has long been an innovator in business education: Ross was the first MBA program to introduce hands-on projects on location with leading companies and organizations nearly 28 years ago, with other leading MBA programs quickly following suit to give their students the opportunity to apply their classroom learning in the real world. Other recent innovations include Ross's +Impact Studio course in which Master's Degree students from across the University of Michigan – from Social Work to Public Health and Engineering – collaborate to address a "wicked problem with societal import" using novel intellectual capital that has been developed within the university.
If you would like to learn how to get into Michigan Ross's MBA program, register for a free consultation with me.
At Accepted, we've helped hundreds of applicants get accepted to top MBA programs and look forward to helping you too!

By Jennifer Bloom, admissions consultant at Accepted for 20 years and Certified Professional Resume Writer (CPRW). She is an expert at guiding you to produce application materials that truly differentiate you from the rest of the driven applicant pool. If you would like help with your application, Jennifer can suggest a number of options that work with any budget.
Want Jennifer to help you get accepted? Click here to get in touch!
Related Resources: