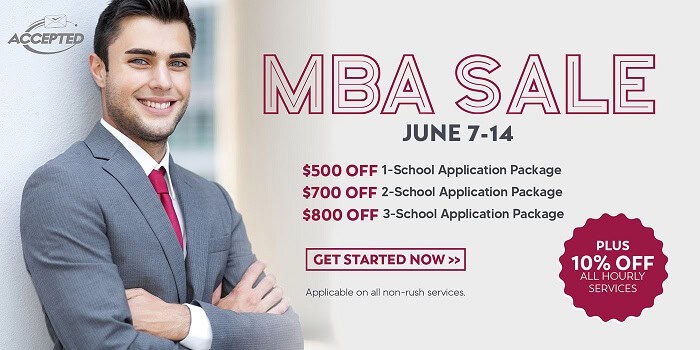 The process of applying to b-school is lengthy and complex, and you may be feeling unsure about what steps you should be taking to move forward.
Our advice? Use this time to focus even more intently on creating an application that will help you stand out from the thousands of other highly qualified applicants you'll be competing against.
To help you on your path, starting June 7, we're offering our biggest discount of the year on MBA admissions services. By using the code STARTNOW at checkout, you can save $500 on a 1-school package, $700 on a 2-school package, or $800 on a 3-school package.
If you need a la carte services, use the code TAKE10 to get 10% off any of our non-rush hourly admissions services. But hurry! This promotion ends on June 14.
Don't let this unprecedented disruption of the last year throw you off your game. This class of MBA applicants is being called on to be uniquely flexible and resilient, and we know you're up to the task! Let's work together to make the most of this time so you can breeze through the rest of the application process and take your spot among the business leaders of tomorrow.
Note: The coupon can't be combined with another offer, is for non-rush orders only, and can be used one time only.

For 25 years, Accepted has helped business school applicants gain acceptance to top programs. Our outstanding team of MBA admissions consultants features former business school admissions directors and professional writers who have guided our clients to admission at top MBA, EMBA, and other graduate business programs worldwide including Harvard, Stanford, Wharton, Booth, INSEAD, London Business School, and many more. 
Want an MBA admissions expert to help you get Accepted? Click here to get in touch!