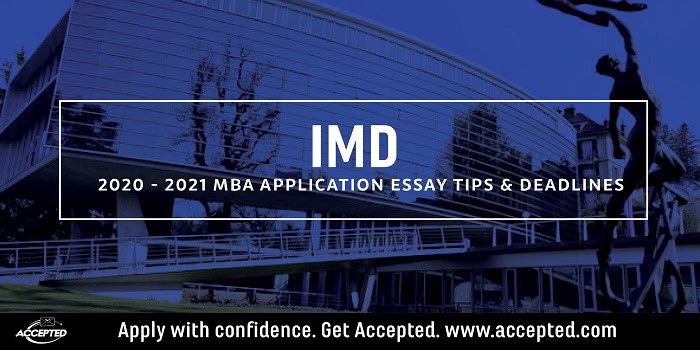 If you are looking for a one-year, full-time MBA program for more experienced professionals than the traditional American MBAs, then IMD may be the perfect fit for you. The average age of an IMD MBA student is 31 with 7 years of experience.
With only 90 students in each class, IMD also boasts a 1:2 student-faculty ratio, which offers students an intimate network and relationship with their instructors. While only 50% of the class hails from Europe, 74% do choose to stay in Europe for work after graduation, with 12% finding employment in North, South, or Central America, 7% in Asia, 5% in Africa and the Middle East, and 2% in Australia/Oceania.
The program begins in January every year and runs through the following December, with the opportunity for students to take on summer internships in July and immerse in international consulting projects for 8 weeks from August to November. Students have executed 600+ projects in 400 global companies!
To become one of these select 90 students, applicants must prove their academic ability, career progression, leadership potential and international outlook. Academic ability is gauged by your previous grades (undergraduate and, if applicable, graduate studies) and GMAT/GRE score. Career progression (and in some ways your international outlook) are measured by your CV, which must adhere to IMD's template. And you can demonstrate your leadership potential through the two required recommendation letters and your essays.
IMD's application is brief and to the point. Here are their questions with my tips in blue.
IMD MBA application essays
IMD MBA application short answer questions
What other programs are you applying to? Of the programs you are applying to, what can IMD bring to you as a differentiator? (Word limit 100)
What they really want to know here is whether you realize what makes IMD special. The best way to answer this question after listing the other school names is to share some of the details you revealed through conversations with alumni and students about how IMD best fits your unique needs and ambitions.
Career development
IMD asks for details about your career goals (drop-down menus about your target industry, function, and geography). Then, you are asked to elaborate on those goals.
What specific companies do you want to target? What kind of responsibilities you are looking for? Do you already have a network in place? (Text box word limit 50)
Applicants must demonstrate that their post-MBA goals are achievable and appropriate. While 75% of IMD graduates change industries, 68% change function, 67% change geographies and 82% change two out of three of these, you must do your research to make sure that you are targeting roles that fit with your background and the education you will receive at IMD, not an unachievable fantasy. If your ambitions are too great, IMD will worry that you will be dissatisfied when graduation brings you in touch with reality.

What skills and experience do you think you already possess that will help you with your post MBA career plans and will make you stand out in front of potential employers? (Text Box word limit 100)
Here is your opportunity to prove that you have done your research. One-hundred words is brief, but we recommend that you use this space to share a short example that demonstrates two or three of the transferable skills that will make you an asset in your target role. Sure, you could spend 100 words just listing those transferable skills but a story that ties them together will prove that you possess them rather than just claim that you do.
What is your plan B if you are not able to secure your ideal job post MBA? (Text box word limit 50)
The Admissions Committee uses this question to set applicant expectations appropriately. Do you recognize the work that will be involved in securing your target roles? What steps will you take and what alternate path might you pursue to move forward toward your longer-term goals if you hit a wall in your initial job search?
IMD MBA essay
Describe a situation in which you failed as a leader. What did you learn from it? (Text box word limit 300)
Here you have an opportunity to highlight a few important qualities: tenacity, humility, and of course leadership. While 300 words is brief, the best use of that space is a brief summary of the initial failure followed by a longer discussion of your growth and how you integrated those lessons thereafter.
Optional essay
Is there any additional information that is critical for the Admissions Committee which has not been covered elsewhere in this application? (i.e. re-application, health, grades, etc.) (Text box word limit 50)
This question does not offer enough space for a lengthy story, but it does give you the opportunity to clarify questions that did not fit elsewhere in IMD's compact application. It does not make sense to use this space, for example, to declare that the adcom should ignore your previous GPA or GMAT score, but rather to share details to prove that you will be a strong addition to the international and driven class.
IMD MBA 2020 – 2021 application deadlines
IMD has one of the fastest response times of all top global MBA programs: applicants are notified within 2 weeks of the deadline whether they have been invited to an immersive Assessment Day, which includes an interview, an elevator pitch, a team experience, class observation (if you attend the event on campus) and networking events.
| | |
| --- | --- |
| Deadline 1 | February 1 |
| Deadline 2 | May 1 |
| Deadline 3 | July 1 |
| Deadline 4 | September 1 |
***Disclaimer: Information is subject to change. Please check with individual programs to verify the essay questions, instructions and deadlines.***
For expert guidance with your IMD MBA application, check out Accepted's MBA Application Packages, which include comprehensive guidance from an experienced admissions consultant. We've helped hundreds of applicants get accepted to top MBA programs and look forward to helping you too!
By Jennifer Bloom, admissions consultant at Accepted for 20 years and Certified Professional Resume Writer (CPRW). She is an expert at guiding you to produce application materials that truly differentiate you from the rest of the driven applicant pool. If you would like help with your application, Jennifer can suggest a number of options that work with any budget.
Want Jennifer to help you get accepted? Click here to get in touch!
Related Resources:
Why MBA?, a free guide to writing about your MBA Goals