"My mom is a doctor, my dad is a doctor. How can I prove to the med school admissions committees that I really want to be a doctor?"
To help you increase your chances of getting accepted to medical school, we will be hosting a webinar that will walk you through a detailed plan for improving your application! Taking these steps will ensure that you get noticed (positively!) by the highly selective admissions committees at your target programs.
Fill out the form below to reserve your spot at the 5-Part Framework for a Successful Medical School Application webinar:
Concerned that your application doesn't demonstrate the extent of your personal commitment to medicine? An experienced admissions consultant can guide you as you craft an application that convinces the admissions committee that you belong in medical school. Click here to get started!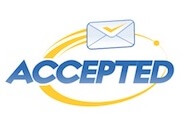 For 25 years, Accepted has helped applicants gain acceptance to their dream healthcare programs. Our outstanding team of admissions consultants features former admissions directors, admissions committee members, pre-health advisors, postbac program directors, and doctors. Our staff has guided applicants to acceptance at allopathic (MD) and osteopathic (DO) medical schools, residencies and fellowships, dental school, veterinarian school, and physician assistant programs at top schools such as Harvard, Stanford, Penn, UCSF, Johns Hopkins, Columbia, and many more. 
Want an admissions expert to help you get Accepted? Click here to get in touch!
Related Resources:
• 5 Fatal Flaws to Avoid in Your Med School & Secondary Essays, a free guide
• Tips for Getting into Medical School When Your Parent is a Doctor
• What do the Medical School Admissions Teams Say About Admissions?