Wharton. It's one of the top-ranked business schools in the world – with the rigorous curriculum and amazing resources to help you accelerate your career in nearly any direction you can imagine.
It's also very selective. When you're up against the hard reality of stats like Wharton's – an acceptance rate under 20%, an average GMAT of 730 – it's easy to be intimidated. Do you have what it takes to impress the adcom and get accepted?
We know applying to elite programs can be stressful. That's why we've created our free, one-hour webinar, Get Accepted to Wharton. Accepted founder Linda Abraham will give you a clear action plan for your Wharton application and show you how you can prove you're a great fit for Wharton while standing out in the applicant pool. And because we know your time is valuable, we've packed it all into one hour.
The webinar is free, but you must reserve your space – Wednesday, Aug. 22nd at 1pm ET/10am PT and at 8pm ET/5pm PT.
Register Now: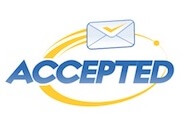 For 25 years, Accepted has helped business school applicants gain acceptance to top programs. Our outstanding team of MBA admissions consultants features former business school admissions directors and professional writers who have guided our clients to admission at top MBA, EMBA, and other graduate business programs worldwide including Harvard, Stanford, Wharton, Booth, INSEAD, London Business School, and many more.  
Want an MBA admissions expert to help you get Accepted? Click here to get in touch!