Your primary app is submitted and your secondaries are in. Each step in the application process is bringing you closer to your goal of med school acceptance and the next phase of your training as you prepare to become a physician. The next step? The med school interview. And it's happening sooner than you may realize.
Getting an interview invitation is exciting, and rightfully so – it means that the school is impressed by your application and wants to get to know you better. For many people, once the exhilaration of the invite starts to fade, anxiety sets in: How can you prepare so that you'll have the best chance at impressing the committee on interview day? What is the committee looking for? What should you do – and not do – before and during your interview? This is the last round of interviews for this application cycle; what do you need to do to ensure you nail them and won't need to reapply next year?
We've pooled together years of interview expertise into our free, one-hour webinar, How to Nail Your Medical School Interviews, on Tuesday, January 8th at 4pm PT/7pm ET. Accepted med expert Cydney Foote will guide you through what you need to know to prepare for your interviews and to shine on interview day.
Your med school interview is the FINAL COMPONENT of the long application process. It all hinges on this. Make sure you're ready to knock the socks off those interviewers.
The webinar is free, but you must reserve your spot for this live event on Tuesday, January 8th at 4pm PT/7pm ET.
Register Now: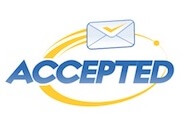 For 25 years, Accepted has helped applicants gain acceptance to their dream healthcare programs. Our outstanding team of admissions consultants features former admissions directors, admissions committee members, pre-health advisors, postbac program directors, and doctors. Our staff has guided applicants to acceptance at allopathic (MD) and osteopathic (DO) medical schools, residencies and fellowships, dental school, veterinarian school, and physician assistant programs at top schools such as Harvard, Stanford, Penn, UCSF, Johns Hopkins, Columbia, and many more. 
Want an admissions expert to help you get Accepted? Click here to get in touch!
Last updated on