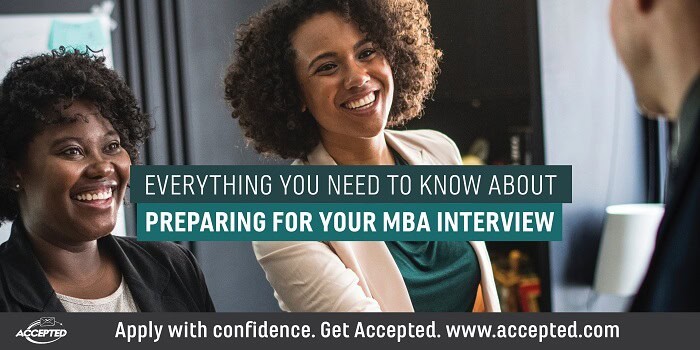 Congratulations on receiving your MBA interview invite – you should feel great about making it this far in the admissions process! Just when you thought it was time to sit back and relax, it's now time to tackle your next challenge: preparing for your interview.
There are four things you need to know when prepping for your MBA interview:
Yourself
Your interview goal
Your school
The type of interview
Once you understand each of these steps, you will have a much better idea of how to approach, prep, and then ace the MBA interview. Let's jump right in!
STEP 1: Know yourself.
This interview is about you, so if you can't answer some simple questions about who you are and what you want, then you're in big trouble. Ask yourself, and make sure you can answer, the following questions:
Why do you want to attend this program?
Do you possess the qualities that this school values?
When have you demonstrated those qualities?
You've probably addressed these topics in your essays, which means hopefully you've already given them some thought. Go back and read your essays, review your notes (if you still have them), and then think, think, and then think some more about who you are and why this school should value who you are.
What happens if you complete your introspection session successfully and end up with a billion impressive stories and qualities that you think are share-worthy? How do you narrow down your talking points to a reasonable five or six?
Dawna Clark, Former Director of Admissions at Tuck, offers the following advice in an old Businessweek article:
"I would recommend that [applicants] spend some time thinking about five of the top skills, experiences, or accomplishments that they most want to emphasize. I would literally write a list of everything that you're proud of before your interview and then cut it in half, and cut it in half again and cut it in half again, until you say, 'You know what? If I have limited time, here are the five points I'm really hoping to get across in this interview.' With each of those five bullet points come up with some examples and substantiate them."
STEP 2: Know your interview goal.
Your interview goal is three-fold: You need to show fit; demonstrate your communications and interpersonal skills; and inform the school about recent achievements. Let's look more closely at each one.
Show fit. During your interview, your interviewer will be assessing your fit for the program. To demonstrate this fit, you'll need to think about how your educational and professional background, as well as your post-MBA career goals, mesh with the school's mission, strengths, methodology, and career opportunities. And remember, fit is not simply calculated as an algorithmic formula; you need to demonstrate how your personality and passions as an individual will be compatible with the program.
Demonstrate your communication skills. If you want to survive in the business world, you're going to need to know how to convey your thoughts and ideas coherently. If you want to survive in business school, you'll need that same skill. While proving you can talk the talk and carry on a friendly conversation is important for all applicants, it's particularly important if English is not your first language or if your test scores/transcript indicate a less-than-stellar communication skills.
Inform the interviewer about recent achievements. For example, did you get a promotion at work? Earn an A in Micro Econ? Did you retake the GMAT? Immerse yourself in a new community service project? Take on a new leadership role? Updating your interviewer of these new developments will demonstrate your commitment to strengthening your profile and your ambitions to grow and learn as an individual.
STEP 3: Know the school.
You can't very well demonstrate your fit with your target program if you don't know what your target program stands for – what it values, what its strengths are, what teaching method it uses, etc.
Regarding values: All programs are going to emphasize values like leadership, innovation, and teamwork, but some programs will emphasize certain values more than others, or in specific nuanced ways. So what you need to do is first understand those nuanced values and then explain how you share those same values.
Regarding teaching methods: You should prepare to explain how your learning style matches the program's teaching style. To do this, you'll need to understand how the program works. Are there learning teams? Cohorts? Lectures? Cases? Projects? The better you understand these methodological elements, the better you'll be able to demonstrate how the program seems especially designed for you – for your educational needs, for your professional goals, and for your non-professional interests.
It's during this step that you should think about how you will contribute to the school. Knowing what the school offers and what they are looking for will help you explore the ways in which you can contribute.
STEP 4: Know the type of interview.
Hopefully you'll have access to this information – either from the school itself or from your fellow applicants who have already completed their interviews.
These are your options:
Blind: The interviewer has seen your resume, but nothing else. For these interviews, you can draw from material in your essays and other components of your MBA application since this will all be new information to the interviewer. Don't feel limited to application-only stories, though; feel free to share new stories!
Informed: The interviewer has thoroughly gone through your file. You'll need to think of skills, experiences, and achievements that you haven't discussed in your application. You don't want to bore them with info they already know. Also, be prepared to address weaknesses in your application. You may also be asked to elaborate or further explain stories in your application.
Case presentation: You'll be asked to analyze a business case usually in a group setting. Your personal background and goals are not a part of this kind of interview. A personal interview may occur separately.
Team interviews: This is an interview consisting of you and other interviewees, designed as a conversation or discussion. See Tips for Team Interviews for more information and advice on this one.
Whatever the school, whatever the interview style – we can help! Check out our MBA Interview Services and work one-on-one with an admissions expert who will help you prep and ace your interview!

For 25 years, Accepted has helped business school applicants gain acceptance to top programs. Our outstanding team of MBA admissions consultants features former business school admissions directors and professional writers who have guided our clients to admission at top MBA, EMBA, and other graduate business programs worldwide including Harvard, Stanford, Wharton, Booth, INSEAD, London Business School, and many more. 
Want an MBA admissions expert to help you get Accepted? Click here to get in touch!
Related Resources:
• Perfect Answers to MBA Interview Questions, a free guide
• 5 Steps to Follow After You Receive Your MBA Interview Invite
• The Morphing and Multiplying MBA Interview