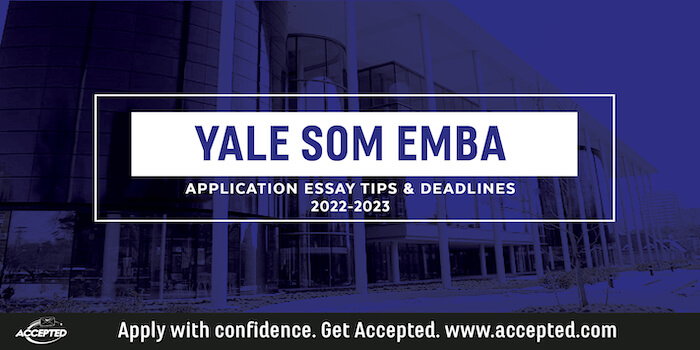 Yale School of Management's Executive MBA fully reflects the character of the SOM and more broadly of Yale University: strong, vibrant community; intellectual vigor (and rigor!); and real-world engagement and impact. Yale EMBA's unique "areas of focus" approach is central to its identity, and while it may not be for everyone, for the right people, it will be perfect. Make sure you are in the latter category before applying – and, if you are, allow this approach to organically drive your application. Thoroughly review the website, read the blog, and, if possible, interact with the adcom by visiting the school and/or attending an info session. I strongly recommend obtaining the offered pre-assessment. These efforts should inform your essays and will help you convey fit.
Yale School of Management Executive MBA application essays
Yale SOM EMBA essay #1
What is your motivation for applying for an Executive MBA at this point in your career? Please discuss your interest in the Yale SOM MBA for Executives program, your area of focus, and your professional and personal goals. (500 words maximum)
Starting off the question with why-now indicates that timing is so important to the adcom—this program should help you at a pivotal career moment, to make some significant advancement or transition—launch or leap. It also requires you to evaluate and interpret your career trajectory. Of course, fundamentally, your whole application in aggregate should answer this "why now" question. In this essay, address it explicitly.
Yale's EMBA program is unusual in its emphasis on "areas of focus." In the essay, integrate your reason for selecting your area of focus with your discussion of goals and how the Yale EMBA will help you achieve them.
With only 500 words to answer this multi-part question, keep the structure simple. A straightforward, effective way to structure it is to start with your professional goals, including both "what" (industry, function, positions, perhaps geographies) and "why" (what motivates these goals, what footprint do you hope to have)—including "why now" in this part of the discussion.
The question has an interesting twist in asking about your personal goals. These can be personal growth areas and/or explorations you wish to make for personal interest. They may or may not be directly connected to your professional goals. Most people will, understandably and appropriately, devote more space to the professional goals. But DO discuss personal goals as well. This part of the question aligns with Yale's holistic perspective and is important for fit.
In discussing how the program will benefit you, be specific: describe what skills and knowledge you seek, and how the program will provide it. Yale's "areas of focus" approach is unique; convey how and why this approach is ideal for your needs.
Schedule a free consultation >>
Yale SOM EMBA essay #2
Cite a statistic that you find shocking. As a leader for business and society, what actions could you take to address this challenge, and what would be your guiding principles and values? (500 words maximum)
You might reasonably think that you should choose a statistic strategically linked to your career goals in some way. Or that will show some distinctive area of knowledge or experience you possess. Well, maybe. Or maybe not.
Just picking some random statistic that you really did find shocking when you heard it might be a bit unnerving for an MBA essay. I've seen it work. Why? Yale SOM's intellectual dimension: They appreciate people who are open to intellectual exploration and find interest in the world around them. In this question, the Yale SOM adcom is truly interested in the quality of your thinking and your curious nature, not just how advantageously you can portray your existing interests.
Use and write from the perspective of "leader for business and society" when you discuss prospective actions to take in addressing the challenge that arises from (or leads to) the shocking statistic. (And in citing "leader for business and society" the adcom clearly indicates an important aspect of "fit" they are looking for.) With that framework, you clearly must identify actions that involve mobilizing people beyond yourself and friends/family. While your actions, if described with meaningful specificity, will naturally reflect your "guiding principles and values," still address this part of the question explicitly, with at least one sentence describing how they do.
Intended area of focus
Why have you selected this area of focus? Please describe how your current professional role relates to your chosen area of focus. (Word count: 150-250 words)
While you'll discuss the Area of Focus in essay 1 vis-à-vis your goals, here you must link it to your existing work. For some people, that will mean emphasizing how it builds on their current role; for others it will mean emphasizing how it represents a turn or transition from the current role. The former situation is frankly easier and simpler; for the latter, which is more complicated, identify some aspects of your current work that will be valuable and relevant in the new direction.
Optional information
If any aspect of your candidacy needs further explanation (unexplained gaps in work experience, choice of recommenders, academic performance, promotions or recognitions, etc.), please provide a brief description here. (200 words maximum)
Use this space if you have an extenuating issue to address or a point that needs clarification. It is not an invitation to write a whole new essay that goes beyond providing context.
For expert guidance with your Yale SOM EMBA application, check out Accepted's MBA Application Packages, which include comprehensive guidance from an experienced admissions consultant. We've helped hundreds of applicants get accepted to Yale SOM's EMBA program and look forward to helping you too!
Yale SOM Executive MBA application deadlines for 2022-2023
| | |
| --- | --- |
| Round 1 | November 2, 2022 |
| Round 2 | January 30, 2023 |
| Round 3 | March 28, 2023 |
Source: Yale SOM EMBA website
Related Resources: