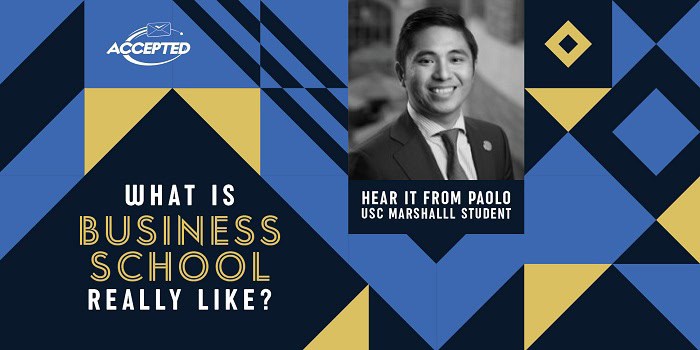 Learn how real students navigate their way through the business school admissions process and b-school itself with our What is Business School Really Like? Series.
Meet Paolo, a student at USC Marshall with an interest in investment banking.
Thank you Paolo for sharing your story with us!
How did you know you would be a good fit for investment banking?
Paolo: I have always been someone who loves to learn and continue to challenge myself. This intellectual curiosity goes beyond finance and is one of the main drivers in my decision to pursue an MBA.
I know that investment banking is very merit-based and senior professionals trust you and give you more responsibility when you demonstrate your capabilities. I knew I would be a good fit because I am someone who is always looking to improve and am not someone who becomes complacent.
Additionally, my friends who are in banking and everyone I have talked to are equally as driven and motivated. I strongly believe that you tend to adopt characteristics of people around you, and I want to be in an environment where people are always striving to be better.
Did you encounter any bumps along the road to business school acceptance? How did you identify and address any issues?
Paolo: The aspect of the application process that took the most time was crafting my personal statements. With so much to say but to be subject to a word limit, I found myself revisiting and refining my story several times to make sure that I was conveying my story while making sure to address all the key points in the essay prompts.
At first, I sought several outside opinions on how to strengthen my essays. As I went through the process, I found that every person I asked had different ideas and various changes that I was actually taking a few steps back rather than making progress with my statements.
I think the most challenging part was reaching the point where I stopped reaching out to people, take all the useful feedback I received to that point, but ultimately move forward and feel truly comfortable with my own voice.
I understand you started USC Marshall already knowing you wanted to pursue investment banking after graduation. How is Marshall a good fit for someone with IB aspirations?
Paolo: Although Marshall is not known for being a target school for finance, the USC network is such a valuable resource for recruiting. USC touts the strength of the "Trojan Network" and I can honestly say that it lives up to the reputation. Based on my experience, bankers from USC are even more helpful throughout the process because they want to see more Trojans in investment banking and grow our presence in this community.
What has surprised you the most about business school so far?
Paolo: I was very surprised at how time-consuming all the non-academic events are. Within the first couple weeks of school, I found myself running around from club events, networking happy hours, and all social events trying to meet first and second years.
It really is a delicate balance and you realize that time goes by so fast and that you really want to make the most of every moment at school. Once you get in the groove, it was easier to prioritize the group projects, recruiting activities, and the social outings. That's when you start to really enjoy business school. I still can't believe that I'm halfway done with my MBA!
What do you like the most about USC Marshall? What could be improved?
Paolo: My favorite part about Marshall is our smaller class size. I can confidently say that I know almost everyone in my class and have socialized with them at some point during the first year. USC really sells that Trojan network and I now realize why USC alums are so eager to help. My experience with my friends and colleagues at Marshall has been nothing but incredible.
Although USC has definitely taken steps to address Diversity & Inclusion, I think Marshall could offer more courses or integrate this growing subject of interest with the curriculum.
The program office's openness to feedback is also a great sign of Marshall's dedication to keep improving and making the program better for future students.
What recruitment opportunities are available at Marshall?
Paolo: Because of the efforts of USC Marshall career center and alumni in finance and investment banking, particularly on the west coast, more and more banks are coming on campus for presentations and recruiting events. Marshall's finance club organizes a roundtable in the fall where several banks in LA and San Francisco attend and speak about the internship opportunities available. Some banks visit campus while others host Days on the Job that consist of a presentation and a chance to network with the bankers as well as the recruiting team. Finally, Marshall also organizes treks to New York and San Francisco where students have the chance to visit several offices outside of LA and meet alumni and other important contacts for the recruitment process.
When and why did you reach out to Wall Street Mastermind?
Paolo: As someone who was really focused on one career track, I wanted to put myself in the best position to succeed in recruiting. In addition to the resources available on campus, I wanted to find an extra edge to help differentiate myself from other candidates. I reached out to Sam at Wall Street Mastermind in the middle of my recruitment process to identify ways to better approach each opportunity and maximize my chances at landing an internship.
What services have you received from Wall Street Mastermind? How does this program complement the MBA curriculum?
Paolo: From Wall Street Mastermind, I got a completely customized program to fit my profile. Sam worked with me one-on-one and helped strengthen each bullet point of my resume. We also addressed specific aspects of the interview process in order to highlight my strengths.
I think the Wall Street Mastermind is a great complement to the MBA curriculum because most of the skills taught at school aren't specific to investment banking. Sam's program builds on the best general practices taught at business school and takes it one step further by focusing on specific skills needed for investment banking.
What aspect of the WSMM program did you find most helpful?
Paolo: The most helpful part of the Wall Street Mastermind program was Sam's unique insight as someone who has worked at a leading investment bank and been part of the recruiting team. To receive immediate feedback and hear about the nuances bankers look for in a resume and during the interview process was something that was invaluable and ultimately guided my whole recruiting process.
Did you participate in mock recruitment interviews with WSMM? Did you find them to be similar to your real interviews?
Paolo: Yes, Sam is very hands-on and is involved in every step of the process. We did both behavioral and technical mock interviews throughout the program and continually gave me feedback. Sam is constantly looking for ways to improve the program and our interviews were as close as it gets to the real interviews that I went through.
More about interviews: Were you ever asked a question during an internship interview that caught you off guard?
Paolo: As much as we tried to prep for every possible scenario, it is impossible to anticipate every question. Although some of the exact questions weren't in the typical interview guides used by candidates, Wall Street Mastermind made sure that I was well-prepared for every interview and that I could tailor my story and strengths to different questions and scenarios. Ultimately, there wasn't a question that I didn't feel well-equipped to answer.
Where will you be doing your summer internship?
Paolo: I will be joining RBC Capital Markets in San Francisco for the summer.
Congratulations! What's your secret?
Paolo: Thank you! It was a long journey, but I am very glad to have gone through it and have learned everything along the way. Honestly, there is no secret. I just tried to put myself in the best position to succeed – whether it is taking advantage of the resources on campus or utilizing external programs such as Wall Street Mastermind.
Investment Banking recruiting requires persistence and determination to push through even when prospects seem bleak. I approached the process with a mentality that there were elements that were out of my control and that I should focus on the ones that I could. Whether that is networking with more people, refining my technicals, or doing more mock interviews, these are completely in your control and that is your decision if you want to constantly improve.
Any advice for undergrads, MBA students or early-career professionals who hope to break into IB?
Paolo: It is never too early to start networking. Investment banking recruiting is such a people-driven process that the more connections, the higher chance you have to be successful. Although the quality of connections is more important than the quantity, having a head start gives you a chance to achieve both.
Do you have questions for Paolo? Questions for us? Do you want to be featured in our next What is Business School Really Like? post? Know someone else who you'd love to see featured? Are there questions you'd like us to ask our students in this series? LET US KNOW!
You can learn more about Paolo by connecting with him on LinkedIn.
Are you setting out on your own b-school journey? We can help you reach the finish line! Check out our MBA Admissions Consulting Services to team up with an admissions expert who will help you join the ranks of thousands of Accepted clients who get accepted to their dream schools.

For 25 years, Accepted has helped business school applicants gain acceptance to top programs. Our outstanding team of MBA admissions consultants features former business school admissions directors and professional writers who have guided our clients to admission at top MBA, EMBA, and other graduate business programs worldwide including Harvard, Stanford, Wharton, Booth, INSEAD, London Business School, and many more. 
Want an MBA admissions expert to help you get Accepted? Click here to get in touch!
Related Resources:
• Ida Valentine: Investment Banker, Inspirational Speaker, HBS 2021, a podcast episode
• USC Marshall's Kellee Scott: Don't Be Rigid, Boring or Tedious! a podcast episode
• USC Marshall MBA Application Essay Tips & Deadlines