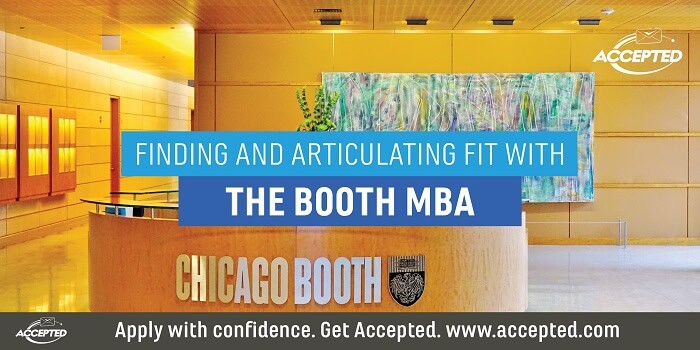 Booth's MBA program – and hence its admissions focus – is rooted in "The Chicago Approach™" that centers on turning theory into praxis. Through examining "theoretical frameworks" from a range of disciplines directly relevant to business (e.g., economics, psychology), students hone analytic skills and deeply informed perspectives that form a robust foundation for future decisions and actions.
The Booth MBA admissions committee focuses on three key dimensions in evaluating applicants:
Intellectual fit in terms of ability and motivation to optimize its Curriculum


Personal and cultural fit in terms of synergy with its Community


Professional fit in terms of past and future Career
This blog post will explore each of these 3 Cs and how you can integrate them into your application successfully.
We'll start with the first one.
#1 Fit with Booth's curriculum
The renowned analytic rigor of Booth endures – it is part of the University of Chicago DNA. Its curriculum reflects and embodies this quality. While it contains the practical aspect as a professional program, mastering and making the most out of the academics demands intellectual energy and a capacity for sustained analytic work.
Here are the three components of this dimension of fit that Booth identifies and looks for:
Academic preparedness

Do you have the skills and knowledge to handle the curriculum? For Booth, the academic record is particularly important. It should include relevant quantitative coursework with good grades and demonstrate an appetite for intellectual challenge and exploration. You need a solid and thorough academic foundation to navigate the classroom demands and team projects.


Intellectual curiosity

Do you relish and are you energized by probing ideas, testing possibilities, pursuing root causes? You'll manage the challenging Booth curriculum a lot better if you actually enjoy this type of pursuit, if you are driven by genuine curiosity to push those conceptual boundaries. If it's a grind, you'll suffer (and might make others suffer too).


Communication skills

Being intellectually prepared and engaged is great, but as a classmate and team member, you must be able to express your ideas and interact effectively – you need sound communication skills to participate in and contribute to the communal learning.
The Booth website lists some obvious things in your application that address this curriculum fit (e.g., test scores). In addition, it cites some interesting factors the adcom pays attention to: "interest in current affairs" and in areas outside your immediate environment, and "willingness to engage in debate or to ask questions." Weave these elements into your essays and interview! Ideally with a deft touch, not heavy-handedly. In fact, the second main essay question ("An MBA is as much about personal growth as it is about professional development. In addition to sharing your experience and goals in terms of career, we'd like to learn more about you outside of the office. Use this opportunity to tell us something about who you are…") may provide one nice opportunity to convey such factors.
#2 Fit with Booth's community
On its website, the Booth admissions committee lists numerous qualities that it seeks and evaluates regarding fit with community: leadership, collaboration/teamwork, respect for others, philanthropic inclination, ability to contribute to the school/culture, and individual perspective.
That's a long and broad list. Here are some tips on how to consider it and use it to guide your application.
It would be a mistake to strive to highlight each of these elements equally in your application. Assuming you are a fundamentally qualified Booth applicant, your candidacy overall will naturally or organically reflect these points. Do, however, check your application to ensure they are all represented – it's fine if some are relatively brief. It's natural that some will be more in-depth and prominent than others.


In your application, zoom in on a couple of those factors on this list where you really shine – go in depth and let your individuality (as a leader and/or collaborator and/or philanthropist etc.) stand out. Has brilliant, nuanced collaboration fueled your career success? Has your leadership been tested and tempered through a major professional challenge with lots at stake? Does your life or career give you a distinctive perspective on an industry, on personal values, on organizational culture? Detail it through example and anecdote (in essays and possibly in interview). This means, basically, not trying to be "everything to everybody" in the application but rather taking a stand regarding your identity and your candidacy.


The above advice is based in part on the fact that many (even most) of those items on the list are interrelated. For example, to be an effective collaborator necessarily involves respect for others. Philanthropic tendency, perhaps counterintuitively, often pushes people to assume leadership roles. An individual perspective will inherently engender contribution to the school/culture and community.
Keep in mind that there is qualitative assessment of your activities. For example, in the application, the adcom reviews not only what activities you participate in, but seeks "long-term involvement," "continued involvement" (with prior academic institutions) and "a sense of passion regarding social, community, or political issues." This brings both opportunity and warning:
Opportunity: if you have enduring, committed involvement in some way, DO highlight that commitment; make sure the adcom will see it!


Warning: Do not try to "pump up" infrequent or short involvement and make it into more than it really is; the adcom will see through the smokescreen, and your effort can backfire, undermining rather than enhancing your candidacy. Instead, focus on those elements where, as noted above, you really do shine!
#3 Fit with Booth's career expectations
The list of qualities Booth looks for in evaluating applicants' career plans (goals) on its website is succinct and specific. It is helpful to examine each item in that list to better understand not just how the adcom considers this dimension of your application, but also how you can best present your career plans in your application.
I've also included my advice on these points:
"A track record of success"

"Track record" means consistency, throughout your career. "Success" can be defined in many ways certainly, three main ones being: (a) you excel among your peers based on objective criteria and/or supervisors' evaluation, (b) you advance more rapidly than average, (c) you have high impact. For some people these three elements will be relatively easy to indicate via resume, online application, and/or essays (and hopefully recommendations if your recommenders are effective). For others – especially those in a matrix organization or in sectors/industries outside the business domain – it may take some planning and effort to ensure that your track record of success is crystal clear to the adcom readers. Why does the adcom look for this? The simple adage: Success begets success.


"Resourcefulness"

Even though you've done great so far in your career, as you progress post MBA, your roles and responsibilities will only get harder. Your time pressure will increase. Business decisions will carry bigger stakes. Show the adcom that you have the personal resourcefulness – the wits, ingenuity, creativity, knowledge, guts, and interpersonal savvy all rolled into one – to succeed in environments and situations as yet unknown to you. How to do that? Provide actual examples and anecdotes of times you have been resourceful previously.


"Sense of personal direction"

This doesn't mean you've never explored unfruitful paths or hit dead ends. It does mean you have a personal "true north" that is a combination of your character (what you care about, what drives you) and ability to focus on and plan for the future. In fact, having a sense of personal direction can give you the confidence to take a risk, hit the occasional dead end. But you keep going, realign your direction. There is not one single place in the application this factor will be apparent; rather, it will emerge from the application overall, in aggregate, it will be the "sum greater than the parts." So – —DO complete your application early enough to put it down, wait a few days, and review it with fresh eyes to ensure this message comes through.


"Time management skills"

We all know brilliant people who can never quite get it together. The adcom wants to be sure you aren't or won't become one. They care about this because, as noted above, your time pressure and challenges will only increase as you progress. You can show this quality in multiple ways, by handling a demanding work travel schedule, by always finding time to maintain outside activities and initiatives, make time for family, etc. (Telling the adcom proudly that you work 80 hours/week is not, by the way, time management.) It also means being able to prioritize effectively – a very good thing to show the adcom you can do.


"Realistic expectations for the MBA"

Understanding the parameters of your desired future jobs and roles will enable you to set realistic expectations for the MBA. Show that you understand what your goals entail, what you need to know and learn to achieve them, and how you plan to use the resources of the Booth MBA accordingly. Your career plans should be ambitious, but they must be realistic for your MBA expectations to be realistic. Saying that you want a McKinsey consulting job when you're already 35, or you want to start a green energy company post-MBA when you have neither entrepreneurial nor energy experience would be on the unrealistic side (I'll never say never, but…). Even the greatest professors and career services can't help you build castles in the sky.
But Accepted can certainly help you to demonstrate successfully how you are a perfect fit for Chicago Booth. When the school's own website lets you know precisely what they are looking for it's a great opportunity to tailor your application accordingly. It is a skill in itself to weave the three Cs seamlessly into your application and that achievement will further increase your chances. With the right preparation and attention, you could be on your way to joining the Chicago Booth community, progressing through the curriculum, and continuing your chosen career path.
Are you the right fit for Chicago Booth? Do you need help highlighting your strengths and proving that you truly encapsulate the Chicago Approach? I would be happy to work with you to ensure your application to Booth, or any other of your top-choice MBA programs, gets you ACCEPTED! Click here to get started.
Cindy Tokumitsu has advised hundreds of successful applicants, helping them gain acceptance to top MBA and EMBA programs in her 20 years with Accepted. She would love to help you too.
Want Cindy to help you get Accepted? Click here to get in touch!
Related Resources: