You can still sign up for our live, free webinar, How to Nail Your Medical School Interviews, on Tuesday, January 8th at 4pm PT/7pm ET.
In just one hour, Accepted med school admissions expert Cydney Foote will give you must-know strategies to help you ace your upcoming interview.
You'll learn how to prep for frequently asked interview questions, how to show your fit with the school, how to project calm and confidence on interview day – and more! All in one hour.
You want to get into medical school THIS year. You want this round of interviews to be THE round that gets you accepted.
This webinar will help you ace this extremely difficult final stage of the admissions process. Attend the webinar now to avoid redoing the entire ordeal next year!
Register Now: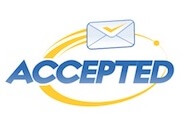 For 25 years, Accepted has helped applicants gain acceptance to their dream healthcare programs. Our outstanding team of admissions consultants features former admissions directors, admissions committee members, pre-health advisors, postbac program directors, and doctors. Our staff has guided applicants to acceptance at allopathic (MD) and osteopathic (DO) medical schools, residencies and fellowships, dental school, veterinarian school, and physician assistant programs at top schools such as Harvard, Stanford, Penn, UCSF, Johns Hopkins, Columbia, and many more. 
Want an admissions expert to help you get Accepted? Click here to get in touch!