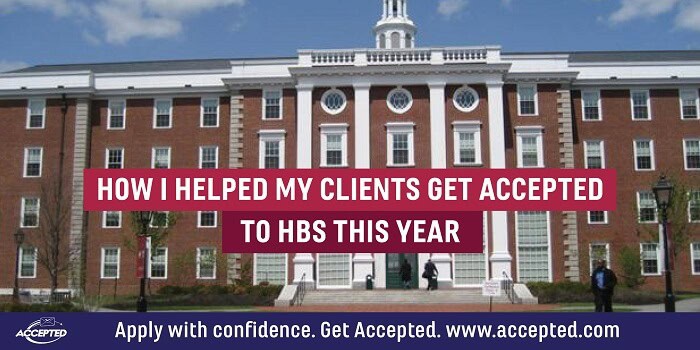 It is not easy waiting those 12 weeks to hear back from Harvard Business School after hitting the application's "Submit" button. Luckily, it was worth the wait for three of the four clients I worked with this year who ultimately received a call with the news they had been admitted to the class of 2021.
After reflecting on the process and the ways we worked together, I compiled the top three items I felt made the strongest impact on their application:
Use all parts of the application to tell a consistent and comprehensive story

Maximizing every inch of real estate on the HBS application makes all the difference. After investing significant time writing essays, I often see applicants try to breeze through short answer sections thinking they do not carry much weight. This is not the case! Making sure my clients take the time to tell their story when listing extracurriculars, past work experiences, and awards is a way to share more about their passions, commitments, and goals.

Write an authentic essay

Unlike other MBA applications, HBS does not ask applicants to describe their fit with the school or why it is the best program for them. The school simply asks what else they should know.

In approaching this essay, I challenge my clients to select a topic that is uniquely personal, and one that will allow the admissions committee to truly get to know them. As part of this process, I explore the types of classes the applicant enjoyed in college, understand who they admire, the last book they enjoyed reading, and activities they find most meaningful and fulfilling. Often these conversations unlock my client's underlying passions and interests, long-term career goals, and – eureka! – an essay topic!

Prepare thoughtful and organized interview responses

HBS interviews are conducted exclusively by members of the admissions committee. As a result, applicants must be prepared to engage in deep discussions about their professional industry, career experience, post-MBA goals, and fit at HBS.

Though HBS interviews may be more thorough than other programs where interviews are conducted by current students or alumni, the upside is many of their questions can be anticipated.

In order to stand out, applicants must exude confidence and authenticity and have responses that show depth. This is exactly what I practice with my clients because practice makes perfect! It is truly amazing to see how much improvement can be made with even one mock interview.
Each of these steps is designed to help my clients be thoughtful and think deeply about their commitments, values, and choices. It is this profound authenticity and purposefulness throughout the application process that I believe helps set them apart from other applicants, and often, overcome below average stats.
Do you need help creating an application that will get you noticed – and accepted! – by the adcom at Harvard Business School? Learn more about how we can help you get accepted to HBS when you explore our MBA Admissions Consulting & Editing Services.
By Libby Angst, former Accepted admissions consultant. Libby holds an MBA from Kellogg where she co-chaired the Student Admissions Committee under the guidance of the Admissions Office and evaluated applications for two admissions cycles. Before Kellogg, Libby coached successful applicants to acceptance at HBS, Stanford, Kellogg, Booth, Wharton, Anderson, Columbia, Stern, and Ross. 
Want an admissions expert to help you get Accepted? Click here to get in touch!
Related Resources:
• Harvard Business School Application Essay Tips & Deadlines
• What HBS is Looking For, a blog series
• Harvard MBA Class Profile [Class of 2020]