Columbia University announced last week that Professor Costis Maglaras, 49 years old, has been appointed the sixteenth dean of Columbia Business School and will begin his term on July 1, 2019. Professor Maglaras has been part of CBS for more than 20 years, and was the David and Lyn Sulfen Professor of Business. It is noted that Maglaras may be one of the only deans of an important business school without a graduate degree in either Economics or Business. He is succeeding Glenn Hubbard, who has been dean for the past 15 years. Dr. Hubbard will resume his position on CBS's faculty as the Russell L. Carson Professor of Finance and Economics.
Applying to CBS? Check out our essay tips:
Columbia Business School MBA Essay Tips & Deadlines [2019 – 2020]
An accomplished career
Professor Maglaras received his BS in Electrical Engineering from Imperial College, London, and his MS and PhD in Electrical Engineering from Stanford University. He joined CBS's faculty after completing his education in 1998. Professor Maglaras has held several important positions at Columbia: Director of the PhD Program 2011-2017; Chair of the Decision, Risk, and Operations Division 2015-2018; and has been a member of the Executive Committee of Columbia University's Data Science Institute since 2016. He was the recipient of the 2013 Dean's Award for Teaching Excellence for the Managerial Statistics course and the 2018 winner of the Dean's Award for Innovation in the Curriculum for designing and starting the School's Technology and Analytics curriculum.
Professor Maglaras has advised 18 doctoral students in the areas of business and engineering and applied mathematics. A number of his previous students have gone on to leadership positions in academia and industry. He has authored numerous research articles on diverse subjects including theory and application of stochastic modeling in queuing networks, service systems, quantitative pricing and revenue management, and quantitative finance. Most recently, his research has concentrated on two areas: (a) modern financial market microstructure and quantitative trading and (b) data analytics.
Growing the school's digital and analytics footprint
Professor Maglaras initiated CBS's Technology and Analytics curriculum, which was the first group of courses created to assist students to develop actionable insights based on big data. The courses in this curriculum are the most popular at CBS.
He was influential in the creation and inauguration of Columbia's Master of Science in Business Analytics, a joint program of CBS and Columbia Engineering. Students who graduate from this program are prepared to take positions as leading business analysts and data scientist in the areas of financial and professional services, consulting, technology, and advertising and media.
Looking toward the future
Columbia Business School is looking forward to moving into its new home on Columbia University's Manhattanville campus in 2022. Highlights of the Henry R. Kravis Building and the Ronald O. Perelman Center for Business Innovation include open areas that foster collaboration across disciplines and expedite social interactions and include flexible classrooms with the newest technology, specific areas for recruiting, events, and networking, as well as a welcome center for alumni.
Although there has been a small decline in applications (2.6% in the 2018-2019 admissions season), that still translated to 6,029 applicants competing for 756 places in the full-time MBA program. According to Poets & Quants, Columbia's enrollment is the third largest among the prestigious global business schools, with only Harvard and Wharton ahead of it.
Professor Maglaras sees CBS in a position of leadership in tackling the challenging and quickly changing needs of business in the digital future. "We have a strong foundation, and thanks to the intellectual leadership of our faculty, a diverse and engaged alumni population, a position as part of a world-renowned university and a location in the most dynamic business center in the world, Columbia Business School will be the preeminent institution to prepare our students for lifelong career success in the digital future," he says. "I look forward to building on the School's incredible trajectory thus far; realized more fully with our transformative move to the Manhattanville campus."
For more information on Columbia Business School and how we can help you get accepted, check out our catalog of MBA Admissions Services.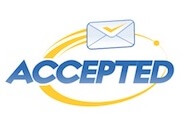 For 25 years, Accepted has helped business school applicants gain acceptance to top programs. Our outstanding team of MBA admissions consultants features former business school admissions directors and professional writers who have guided our clients to admission at top MBA, EMBA, and other graduate business programs worldwide including Harvard, Stanford, Wharton, Booth, INSEAD, London Business School, and many more. 
Want an MBA admissions expert to help you get Accepted? Click here to get in touch!
Related Resources:
• Ask Me Anything, a webinar discussion with CBS's Director of Admissions Emily French Thomas
• Columbia Business School Application Essay Tips & Deadlines
• The Applicants That Stand Out at Columbia Business School