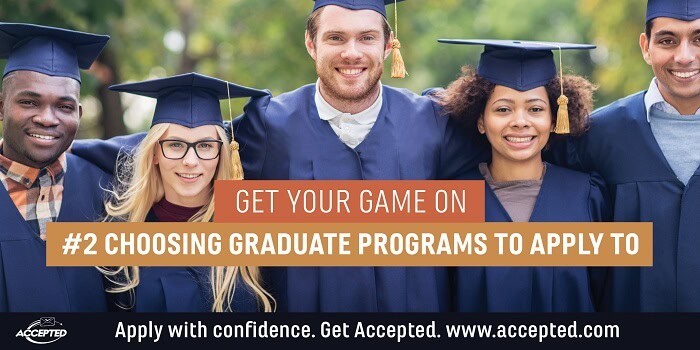 "Choosing Graduate Programs to Apply To" is taken from Get Your Game On. To download the complete guide, click here.
As you bring your interests into focus, start to create a list of target programs. Many factors will influence your decision-making process.
Here are some things to think about when choosing which graduate programs to apply to:
Do you have geographical considerations? (Do you need to be near family, or in a certain city where a spouse works?)
What are the strengths of the programs that interest you? If you're looking to work in industry, does the program offer networking/internships/career placement? If you're considering a PhD, is the program strong in your subfield?
If you're planning to apply for a PhD program, is there a faculty member in the department who is doing work in your area of interest, or who could serve as your mentor/research supervisor?
How many students does the program accept each year? (Some doctoral programs enroll as few as 3-4 students annually, so know that even if your credentials are stellar, you should have more than one plan!)
For PhD programs: Does the university publish the average time-to-degree of students in the program? (This is sometimes rather different from the stated program length you'll find in the program catalog.)
Are there opportunities to work as a teaching or research assistant? If grad students in the department are expected to teach, is there a mentoring program in place? How many semesters do students TA?
If you're hoping to work as an academic, inform yourself about the structure/expectations of your discipline. Do the programs you're looking at have a strong record of placing their PhDs in post-docs and tenure track positions? (Do the professors you're thinking about working with have such a record?)
If you have a good relationship with a current or past faculty mentor, ask for advice about programs and potential grad advisers you should consider.
In the next post, I'll address how to develop a concrete description of your research interests.
Once you determine which programs are right for you, you'll need to devise an admissions strategy…and we can help! Explore our graduate school admissions consulting & editing services for more information on how we can guide you through the graduate/PhD admissions maze to acceptance!
By Dr. Rebecca Blustein, former Accepted admissions consultant. Dr. Blustein has a BA and PhD from UCLA in English and Comparative Literature. She formerly worked as a Student Affairs Officer at UCLA's Scholarship Resource Center where she gained experience guiding applicants in areas of admissions and funding. Dr. Blustein's clients have been accepted to top Master's and PhD programs in dozens of fields across all disciplines. Want an admissions expert help you get accepted? Click here to get in touch!
Related Resources:
• Fitting in and Standing Out: The Paradox at the Heart of Admissions, a free guide
• Awards! Grants! Scholarships! Oh My!, a podcast episode
• Understanding the Job Market for PhDs