Every year, we get countless questions from med school applicants:
"Is my MCAT high enough?"
"How many schools should I apply to?"
"What are schools really looking for?"
"There are so many people applying – how can I make my personal statement stand out?"
We know the med school application process is stressful – but getting clear answers to your questions doesn't have to be. That's why we created our free webinar, The 5-Part Framework for a Successful Medical School Application, to guide you through the application process and answer your questions expertly and succinctly.
Accepted's CEO and founder, Linda Abraham, will show you the five things your application needs to have to impress med school committees and give you strategies you can use to fuel your application journey. Don't miss it! Save the date: Wednesday, February 6th at 4pm PT / 7pm ET.
Register Now: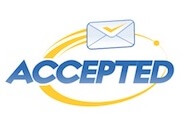 For 25 years, Accepted has helped applicants gain acceptance to their dream healthcare programs. Our outstanding team of admissions consultants features former admissions directors, admissions committee members, pre-health advisors, postbac program directors, and doctors. Our staff has guided applicants to acceptance at allopathic (MD) and osteopathic (DO) medical schools, residencies and fellowships, dental school, veterinarian school, and physician assistant programs at top schools such as Harvard, Stanford, Penn, UCSF, Johns Hopkins, Columbia, and many more. Want an admissions expert to help you get Accepted? Click here to get in touch!