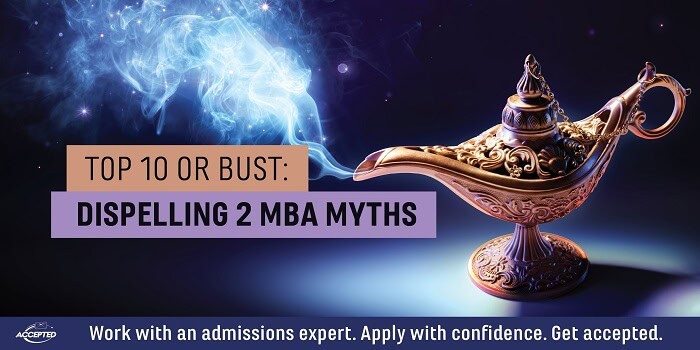 Here are two comments that I get all the time from applicants – two related MBA myths that absolutely require busting:
Myth #1: Once you attend an MBA program outside the Top 10, it doesn't matter which school you attend, so you may as well go to the cheapest one you get into.
Myth #2: It doesn't pay to get an MBA outside the M7/Top 10.
When asked my opinion of these MBA memes, I politely explain why I think they are utter nonsense, the product of lazy minds. Nothing more. The reality is much more complex.
Applying to Schools Outside the Top 10
Schools inside and outside the Top 10 vary in terms of their approach to management education and their strengths. Some schools outside the Top 10 may be excellent for a given specialty. For example, Smeal and Broad are generally not in any overall Top 10 ranking. However, both programs are in the U.S. News top five for supply chain management and logistics, and Broad is #1. They may be excellent choices if that's your interest. Babson is renowned for teaching entrepreneurship; it is usually in the bottom half of the top 100 overall. For those specialties, these schools may be better programs than programs ranked overall in the Top 10.
Obviously there are a lot more schools outside the Top 10 than in it, and there are many differences among all the schools. When you apply, you need to understand those differences and seek schools with the curricular, extracurricular, and career management strengths to help them achieve their goals. Then you can compare costs and anticipated return. If applicants choose a school based on Myth #1 and without the analysis I suggest, applicants are simply basing a major investment in time and money on folklore.
Determining ROI & Career Satisfaction
Whether it pays to get an MBA at School X, regardless of that school being in the Top 10, Top 20, or Top 50, depends on both the school and on you. Here are a few questions that you need to answer:
How much are you making currently? (That will determine your opportunity cost if you are considering a full-time program.)
What is the cost of attendance? That is your out-of-pocket cost of going to business school. I wouldn't include housing and food because you will have those expenses regardless or whether you go to b-school or not.
What is the typical salary of MBA grads from your target program who found a job in your area of interest? (Overall school averages are much less worthwhile.)
Is there a non-financial benefit that you seek in addition to classic financial ROI? (Moving into a job you will enjoy, for example.)
While it is true that average salaries at different schools tend to decline as you go down the rankings, for the overwhelming majority of MBAs, ROI is positive and MBA alumni satisfaction per GMAC surveys is overwhelmingly high despite two recessions in the last 15 years. And that data includes survey responses from non-Top 10 schools.
Compare your anticipated benefit and cost to determine if pays for you to earn an MBA from the programs that have admitted you or that you are considering applying to.
Bottom Line
Don't trust myths about rankings to determine where you invest your time and money. Don't rely on fable and fantasy to make a major life decision. Do your homework, learn about the schools, and don't focus on their ranks.
Assess your needs. Determine your investment including opportunity cost. Evaluate probable return – both financial and non-financial – at schools that meet your needs.
Then, and only then, decide whether your MBA is worth the cost and which ones are right for you.
Do you need help choosing the best b-school for you, and then applying successfully so you get accepted? Our expert admissions advisors can guide you through every step of the MBA application process. Contact us and we'll match you with your personal consultant today!
By Linda Abraham, president and founder of Accepted. Linda earned her bachelors and MBA at UCLA, and has been advising applicants since 1994 when she founded Accepted. Linda is the co-founder and first president of AIGAC. She has written or co-authored 13 e-books on the admissions process, and has been quoted by The Wall Street Journal, U.S. News, Poets & Quants, Bloomberg Businessweek, CBS News, and others. Linda is the host of Admissions Straight Talk, a podcast for graduate school applicants. Want an admissions expert help you get accepted? Click here to get in touch!
Related Resources:
• The Ultimate Guide to Becoming a Competitive MBA Applicant, a free guide
• Are You a Competitive Applicant at Your Dream School?, check out Accepted's MBA Selectivity Index
• 3 Ways to Determine Which B-Schools Are a Good Fit for You