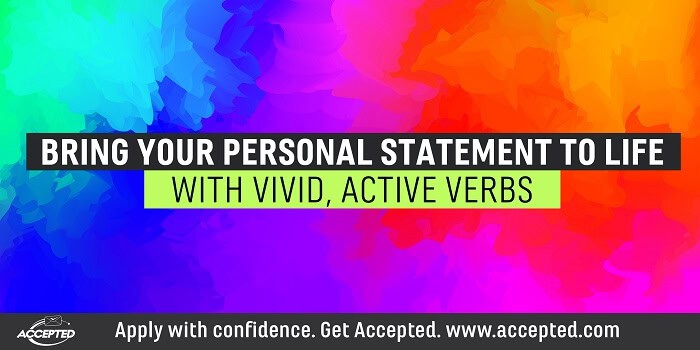 Your personal statement is an essential element of your application and allows the adcom great insight into who you really are aside from your stats. However, no matter how extensive your experience or how accomplished you might be, all that can be lost in prose that does not do a good job of profiling who you are.
A personal statement should be personal. It should narrate an experience that influenced you to become a physician. Sometimes, in an effort to sound professional, applicants can sound instead as though they're trying too hard, fueled by anxiety or intensity that stems from being competitive. Other times, candidates can sound rote or mechanical, downplaying fabulous achievements by describing them blandly or missing the opportunity to develop the story behind the achievement.
Lastly, some applicants show us a draft of a personal statement that is merely a narrative version of their curriculum vitae. Doing this raises a red flag: the adcom already knows this information. The general rule is to not replicate or reiterate other parts of your application in your personal statement. Instead, tell a human story that exemplifies your ability to be empathetic and compassionate. This requires strong, narrative writing skills that bring to light your beautiful personhood, whether the story you tell is about you or someone else, something you witnessed, and what you have come to understand about humanity, especially disenfranchised populations.
A good personal statement tells a moving story. This writing requires the use of strong, vivid verbs in a way that livens up descriptions. A direct voice is verbally dexterous and precise in vocabulary and descriptive. For example, imagine that you wish to tell the story of having cared for your terminally ill grandmother. Why not develop this idea into a story in which you describe, in detail, what that experience was like. Rather than say, "My grandmother lived with us when she was sick," try to capture the details: "My grandmother moved into the spare bedroom of our house last January, during a snowstorm so volatile the windows shook."
In describing an event in time, use active verbs to convey sensory information – images, sounds, smells, tastes, tactile sensations – that will transform your essay into a story your readers will want to continue reading. When you edit your essays, revise your verbs. Evaluate the benefit of replacing humdrum words, those that come to mind automatically, with more succinct and effective words. Choose verbs that feel exactly right rather than approximate.
Did you "try," "plan," "strive," or "struggle" to complete a project?
Use a thesaurus (properly!) to transform your language.
Consult a thesaurus for help in upgrading any bland words. Choosing precise words means that you will likely need fewer adverbs and adjectives. Meanwhile, the revised sentences will be much less general and more succinct and specific. Your writing will gain voice and mood with restored vigor. Be sure to focus on enlivening your writing without overdoing it. Don't exaggerate, and don't choose language that sounds melodramatic or sensational. Look up the meaning of synonymous words to ensure that you are using them correctly. Not all synonyms in a word processor's thesaurus mean exactly the same thing. Consider meaning, connotation, and fluidity. Don't select certain words simply to impress. Choose them to convey meaning with precision.
Our experienced consultants at Accepted know just how to revise your writing so it reads well to others. We can help balance your vocabulary to ensure that you sound intelligent and authentic. Our application essay services can help you share your story in a manner that presents you meaningfully to others.
Dr. Mary Mahoney, PhD, is the medical humanities director at Elmira College and has more than 20 years of experience as an advisor and essay reviewer for med school applicants. She is a tenured English professor with an MFA in creative writing from Sarah Lawrence College and a PhD in literature and writing from the University of Houston. For the past 20 years, Mary has served as a grad school advisor and essay reviewer for med school applicants. Want Mary to help you get Accepted? Click here to get in touch!
Related Resources: