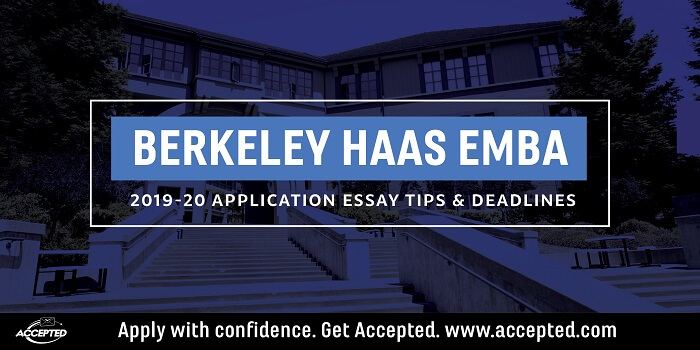 UPDATE: Haas EMBA has changed the 2019 – 2020 application essay questions. Please check back over the next few days for our updated essay tips.
These Haas EMBA essay questions reflect the larger Haas (and, even further, Berkeley) community and culture: they draw out the multi-faceted individual. Your professional goals and your prospective fit with the Haas EMBA program are expressions of, and extend from, that core individuality. Even though part-time, the EMBA program, again reflecting Haas culture, is intense in terms of student engagement, community mindset, and transformation both personal and professional. Therefore, your essays must together personalize your candidacy, showing someone who is "comfortable in their skin" and who will be a distinctive contributor within the program and beyond.
UC Berkeley Haas EMBA application essays
Berkeley EMBA essay #1
What are your short term career goals (3 to 5 years)? What are your long term career goals (10+ years)? Describe your plan to meet these goals. Why is this the right time for you to undertake the program? (250 words max)
Given the short word limit, get right to the point. Start by discussing your intended short-term career step(s) that will align with the specified time frame. Key details to include are position/role, company/industry, possibly geography, and expected scope of responsibilities. In addition – to excite the reader about your goals – note why you are taking this step and how this role fits into your overall career vision. Consider opening the essay with an enticing point or two about this short-term goal and/or this "why" message.
Your long-term career goals will appropriately and necessarily be less detailed and should include the "vision" element. E.g., if you aim to become CIO of a healthcare enterprise, indicate what draws you to this goal; what you want your footprint to be.
Address "why now" explicitly; a sentence will often suffice. Reflecting on what this program will be a bridge from and to can bring your motivations into focus. Ideally, you will also incorporate a specific point or two about the program's benefits here, beyond just EMBA generally.
Berkeley EMBA essay #2
Tell us about yourself. Please provide a personal essay that helps the reader get to know you better, giving insight into your character and values. (750 words)
This essay is both specific – the question clearly indicates a non-work focus and a topic (or topics) that reflect fundamentally who you are; and broad – those criteria still offer great leeway in topic selection. The significant length allotted underscores the importance the adcom gives to this essay. They give you space, and they expect something substantial in return. To deliver that substance, ground your essay in your actual experience – stories. Show how this experience shaped and/or expresses your values and character.
Let's break this essay down into a few key components.
Topic selection. Great topics could include aspects of your cultural background, family life, formative experiences growing up or earlier in your adulthood, relationships, personal hobbies and/or interests, etc. How many topics? Most people will discuss 2-3, but there's no right or wrong. You could make – and I have seen – one single topic in great depth and detail work. On the other hand, more than 3 may not be advisable because (a) lots of topics tend to create a blur; and (b) there won't be room for enough detail to make them meaningful.
Structure. You could present each topic and include the reflection on character and values after each. Or, you could present the topics/anecdotes consecutively and then have a longer reflection section afterward integrating the points from different stories.
Reflection. Discussion of character and values will be relatively short, if you have ideally used anecdote to make your point. If you did, the reader will actually see the character/values in the story. In the discussion part, connect the values/character with the experience and add a sentence or two further elaborating with insight. The quality of this insight is the heart of this essay.
Caution: while you want to show you are a fine human being, the points don't all have to be about how you want to give back or contribute positively to the world. Dig deep.
For expert guidance with your UC Berkeley Haas EMBA application, check out Accepted's MBA Application Packages, which include comprehensive guidance from an experienced admissions consultant. We've helped hundreds of applicants get accepted to top EMBA program and look forward to helping you too!
Berkeley EMBA application deadlines for 2019-20
| | |
| --- | --- |
| | Submission Deadline |
| Round 1 | December 3, 2019 |
| Round 2 | February 5, 2020 |
***Disclaimer: Information is subject to change. Please check with individual programs to verify the essay questions, instructions and deadlines.***
Cindy Tokumitsu has advised hundreds of successful applicants, helping them gain acceptance to top MBA and EMBA programs in her 20 years with Accepted. She would love to help you too.
Want Cindy to help you get Accepted? Click here to get in touch!
Related Resources:
• Why MBA, a free guide to writing about your MBA goals
• School-Specific EMBA Application Essay Tips
• How Do You Deal with Criticism? MBA Admissions Committees Want to Know