When you're applying for b-school, there are a lot of sources of information about the process – some of which are extremely helpful, and some of which may stress you out. What if you could immediately know that your time will not just be well spent, but will give you a chance to have your questions answered authoritatively – by Emily French Thomas, Director of Admissions at Columbia Business School?
On August 8th at 10am PT/1pm ET, we'll be hosting an online AMA (Ask Me Anything) with Emily French Thomas of CBS. She'll provide an overview of the application process and her expert advice on what Columbia is looking for in a successful application, and then she'll take your questions – live! Accepted's CEO Linda Abraham will moderate the conversation.
If you're planning to apply to CBS, this is your chance to get the inside scoop. Come with your questions – and come ready to learn from other people's questions.
The AMA is free, but you must register to reserve your seat.
Register Now: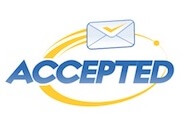 For 25 years, Accepted has helped business school applicants gain acceptance to top programs. Our outstanding team of MBA admissions consultants features former business school admissions directors and professional writers who have guided our clients to admission at top MBA, EMBA, and other graduate business programs worldwide including Harvard, Stanford, Wharton, Booth, INSEAD, London Business School, and many more. 
Want an MBA admissions expert to help you get Accepted? Click here to get in touch!
Last updated on