You've finally finished your b-school interview and are looking forward to heading home and crossing this experience off your MBA application to-do list. However, before you file the day away, it's appropriate to send thank you notes to all of the people who helped you during the day. You can really make an impression by sending handwritten notes, but an emailed thank you can also be impressive if done properly.
A thank you email starts and finishes with gratitude. It follows a lot of the same rules as other electronic correspondence – a greeting, a reason why you're writing, body content, and a farewell. However, unlike other emails, a well-written thank you can elicit an emotional response, create bonds, and nurture the development of relationships…and in this case, give you one more way to become a memorable b-school candidate.
Follow these 7 tips to write a post-MBA interview thank you email that will be remembered:
1. Start with the right greeting.
Be sure to address the person formally. Use their appropriate title, like Dr. Smith or Prof. Jones, or Ms. Johnson. Even if the person encouraged you to use their first name in the interview, it shows respect to use the more formal form of address in written correspondence.
2. Note the reason why you're writing.
This comes right after the greeting. Have a good reason for writing, and state it clearly. "I'm writing to thank you for speaking with me on Monday." Or "I'm writing to thank you for the tour of the campus."
3. Explain how their help or thoughtfulness affected you personally.
Write about the positive interaction you had with the person. Describe what it meant to you. If you do this well, the reader will value your honesty and take your compliments to heart.
4. Show how you learned more about the program from the conversation.
Give specific examples of how their contributions helped you better understand your target program and your goals. Did you discover something new about the program that you hadn't known before? Did you find out about an exciting opportunity? Did the person share something in common with you that influenced how you now view your own positions or goals?
5. Follow up with information you offered to provide or with any questions you have.
Be sure to follow up on any points or areas you said you would. This is also the place to ask any questions that occurred to you after your interaction with the person. Don't make up a question to have something to ask – you don't want to appear insincere.
6. Provide relevant or necessary updates.
This can include new publications, awards, or grades. Although you want to send your thank you note as soon as possible, if you have to wait a day or two to send a thank you that includes meaningful updates, it's better to do so.
7. Restate gratitude.
Don't be afraid to strengthen your expression of gratitude through repetition. Just state it in another way at the end of the email.
Following these seven tips will assure that your thank you email is read, appreciated, and remembered, and will hopefully bring you one step closer to receiving that acceptance at your top choice MBA program!
Haven't interviewed yet? We can help you! Prep one-on-one with an experienced MBA advisor when you check out Accepted's Mock MBA Interview Services. And when you're done, we'll help you write those post-interview thank yous!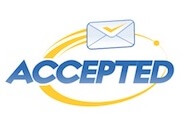 For 25 years, Accepted has helped business school applicants gain acceptance to top programs. Our outstanding team of MBA admissions consultants features former business school admissions directors and professional writers who have guided our clients to admission at top MBA, EMBA, and other graduate business programs worldwide including Harvard, Stanford, Wharton, Booth, INSEAD, London Business School, and many more. 
Want an MBA admissions expert to help you get Accepted? Click here to get in touch!
Related Resources:
•  3 Day-Of Tips for Acing Your MBA Interview
•  6 Steps to Better Self Knowledge & a Successful MBA Interview
•  7 Tips for Writing Harvard Business School's Post-Interview Reflection