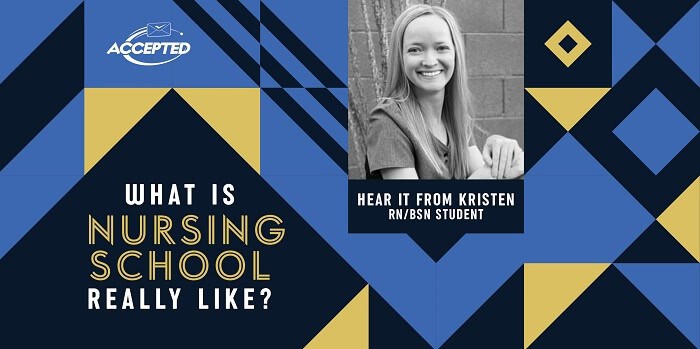 Learn how real students navigate their way through the admissions process and school itself!
Meet Kristen, BSN/RN student in her final semester, pharmacy technician, and busy online business owner!
Kristen, thank you for sharing your story with us!
What inspired you to become a nurse?
Kristen: I have wanted to be a nurse for so long! Caring for people and helping people have been strengths of mine. I have been in situations where I saw that the care that patients received was not the greatest. I saw when my grandmother was sick the amazing care her nurse had given her and my family and I KNEW that was what I needed to be doing for other people as well.
Did you experience any bumps along the road to acceptance into your nursing program? If so, how did you deal with the issues?
Kristen: I actually had a pretty smooth acceptance into the program. I guess the only bump I had was the day I was supposed to find out about acceptance I didn't get a letter so I assumed I didn't get in, and then they emailed me like 2 days later saying they had messed up my email and that I was accepted. LOL! I went from being so disappointed to being so excited!
What has surprised you the most about your program?
Kristen: How INTENSE it really is. My program is what is known as the CEP (concurrent enrollment program) where I am taking my associates degree portion through a local community college and my bachelors portion through my university of choice, NAU (Northern Arizona University). I knew that I would be studying a lot but had no idea of the extent to which time management and organization are important in being successful.
What have clinicals been like? Can you share a memorable experience?
Kristen: I have enjoyed all my clinical experiences. Each one has taught me so much about our profession and allowed me to practice the majority of my skills. One clinical experience that is very memorable to me was my very first code blue experience doing compressions on a patient. And she made it! I was able to see her the following week at clinical smiling and laughing with family. Saving a life is one of the greatest feelings you can have as a nurse!
<< Applying to College?
Click here to check out our sample college application essays! >>
Can you share a bit about Nurse Luv Shoppe?
Kristen: Nurse Luv Shoppe is my online shop that I started back in September of 2019. I wanted a way to give back to my community through donating money to the local Phoenix Children's Hospital for children battling cancer. I enjoy creating designs for nurses or nursing students from shirts, mugs, notebooks, bath bombs, etc! And each month I will donate a percentage to the hospital! To this day, the shop has donated over $800 to the hospital! I'm so grateful and fortunate to be able to do so! More items being added come spring/summer!
I understand you have another job in addition to the Nurse Luv Shoppe. Can you share a bit about this employment?
Kristen: Yes, I still work 30 hours a week at my job in pharmacy through ESI which is now Cigna pharmacy as a senior certified pharmacy technician. I have been in pharmacy for almost 15 years now. I have worked retail, compounding, and now Mailorder service. So as you can imagine, I love pharmacology and it comes easily to me while in school.
How do you juggle work, school, and personal life/self-care? What are your top tips for time management and organization?
Kristen: I definitely have a lot on my plate! I work 30 hours per week, full-time student in 2 programs, and run an online shop. Every day there is always something to be done. I stay organized by writing out my schedule of tests, homework due dates, shop dates, clinicals, SIM labs, etc., and whatever time I have left over from that I use for studying purposes and for self-care.
It's so important when you are in a grueling program to make time for yourself, whether it's a bath, getting your nails done, a facial, a movie, gym workout, etc. Definitely need to decompress after a long stressful day/week! If you organize your calendar of dates and plan out your week every week, it definitely sets you up for long term success!
Have you begun studying for the NCLEX? What is your game plan for tackling licensure?
Kristen: I have! And actually, I started the moment I started school! Every week I work on doing so many NCLEX style questions related to the topics I have going on that week. And after we finish learning certain topics (such as all pediatric material) I will do one big exam on just pediatric material to see how I do. Practicing NCLEX style questions daily while using nursing.com, Saunders NCLEX book, and UWorld has helped me tremendously! Once I graduate, I plan on studying daily up to my test date (hopefully within 2 weeks from graduation) to pass the boards.
How did you become interested in ER/ICU nursing?
Kristen: I am a medical show junkie! I love the excitement/adrenaline and the many different cases you get in the ER, fast-paced environment, but I also love the critical thinking aspect of the ICU. I want to always be challenged and constantly thinking. Like a puzzle you want to figure out! I feel these environments suit me well with what I want to do.
I understand you are interested in going on to complete a CRNA (certified nurse anesthetist) program. When and how can nurses apply to such a program?
Kristen: Yes! This would be my long-term goal. To be able to apply for CRNA school, you have to have critical care experience (ER/ICU) but also have to have certain certifications such as the CCRN or the GRE (all dependent on the program you are applying to). But even to sit for the CCRN, you have to have so many hours or years of experience. So once I get the experience and certifications I need for school, then I will start applying to the programs I want.
Congratulations on starting your final semester of nursing school! What has been the most difficult aspect of your program? What have you enjoyed the most?
Kristen: THANK YOU SO MUCH! It is crazy to think that these 2 years have flown by so fast! But I can't WAIT to graduate in May! The most difficult aspect of school was how fast-paced it was and the amount of studying it takes to be successful in this program. It's mentally and physically draining, but SO worth it in the end! I have enjoyed the experiences with all my classmates. I have become such good friends with many of them (and likely after graduation too), but also I benefited from my professors and all my experiences at the hospital. It really has overall been a great experience and I am ready to move onto the next big step in my life as an RN!
What advice do you have for students considering the BSN/RN?
Kristen: Believe in yourself! And NEVER GIVE UP! I told myself this many times. There will be times you think you are not good enough, not smart enough, etc. many of us have been there, but you just have to keep pushing! You got this! Study hard, ask for help, and ask questions! There is never a dumb question. It's a hard journey, but the end result is worth it! I wish all my future nurses luck!!
Do you have questions for Kristen? Questions for us? Do you want to be featured in our next What is Graduate School Really Like? post? Know someone else who you'd love to see featured? Are there questions you'd like us to ask our students in this series? LET US KNOW!
You can learn more about Kristen by following her on Instagram.
Are you setting out on your own undergrad or grad school journey? We can help you reach the finish line! Check out our Admissions Consulting Services to team up with an admissions expert who will help you join the ranks of thousands of Accepted clients who get accepted to their dream schools.

For 25 years, Accepted has helped applicants gain acceptance to top undergraduate and graduate programs. Our expert team of admissions consultants features former admissions directors, PhDs, and professional writers who have advised clients to acceptance at top programs worldwide including Harvard, Stanford, Yale, Princeton, Penn, Columbia, Oxford, Cambridge, INSEAD, MIT, Caltech, UC Berkeley, and Northwestern.
Want an admissions expert to help you get Accepted? Click here to get in touch!
Related Resources: