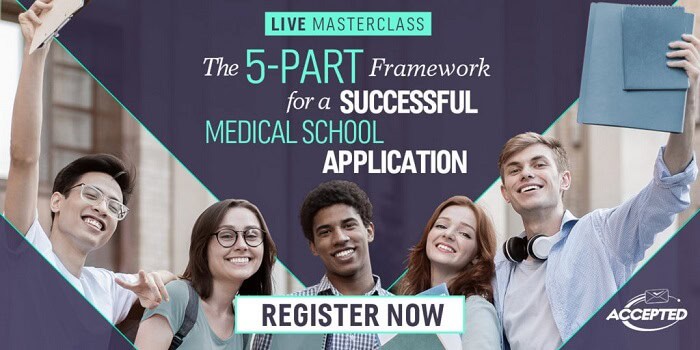 Chances are that everyone else applying to your med school program of choice is equally as talented and motivated as you. Finding a way to stand out in that crowded field of applicants is going to be key to admission success.
Turning in an average—or even good—application won't be enough. Your submission has to be great. It has to be unique and impactful. In order to achieve that, there are 5 key elements that you need to know about.
As luck would have it, we'll be sharing them all in our upcoming masterclass, The 5-Part Framework for a Successful Medical School Application, airing live on Wednesday, January 13th at 5pm PT/8pm ET. Accepted founder and CEO Linda Abraham will be leading this session, where she'll lay out a proven 5-part strategy for med school application success.
We know your schedule is demanding, so we've fit all this amazing information into just one short hour! If you can find the time to join us, you'll walk away with the knowledge you need to:
Show the adcom that you belong in their program


Prove that you're up to the task if they accept you


Mitigate low test scores


Demonstrate your vision for a career in medicine


Showcase your strongest positive traits


Convince the adcom that you'll bring something unique to their community


…and more!
Spots are filling quickly, so hurry and grab yours today!
Register now:

For 25 years, Accepted has helped applicants gain acceptance to their dream healthcare programs. Our outstanding team of admissions consultants features former admissions directors, admissions committee members, pre-health advisors, postbac program directors, and doctors. Our staff has guided applicants to acceptance at allopathic (MD) and osteopathic (DO) medical schools, residencies and fellowships, dental school, veterinarian school, and physician assistant programs at top schools such as Harvard, Stanford, Penn, UCSF, Johns Hopkins, Columbia, and many more. 
Want an admissions expert to help you get Accepted? Click here to get in touch!