When the admissions committee reads your med school application, you want them to recognize in you the potential to be a great doctor. What does that mean? How will you demonstrate that potential to them? How will you put your best foot forward in your applications?
These are questions that underlie a lot of the anxiety that premeds feel this time of year – after all, so much of the hard work you've been doing for the past several years has been building up to your applications.
We've created our free webinar, The 5-Part Framework for a Successful Medical School Application, to help you understand what med schools are looking for and what you need to do to get your application noticed.
Guided by Accepted's founder, Linda Abraham, you'll learn proven strategies for strengthening your med school application. And because we know premeds are busy, we've packed all this into just one hour. Reserve your space today and mark your calendars for Wednesday, February 6th at 4pm PT / 7pm ET.
Register Now: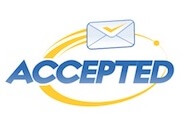 For 25 years, Accepted has helped applicants gain acceptance to their dream healthcare programs. Our outstanding team of admissions consultants features former admissions directors, admissions committee members, pre-health advisors, postbac program directors, and doctors. Our staff has guided applicants to acceptance at allopathic (MD) and osteopathic (DO) medical schools, residencies and fellowships, dental school, veterinarian school, and physician assistant programs at top schools such as Harvard, Stanford, Penn, UCSF, Johns Hopkins, Columbia, and many more. Want an admissions expert to help you get Accepted? Click here to get in touch!
Last updated on