It's not news: med school is expensive. And when you likely already carry some loan debt from undergrad, it's important to understand the ins and outs of educational financing, so that you can plan for your future.
We've joined with our friends at CommonBond to bring you a special webinar, How to Finance Your Medical School Journey. Guided by Caryn Ganeles, CommonBond's Manager of Business Development, you'll learn to confidently navigate the different federal loan repayment options, and understand when to use deferment, forbearance, and income-based repayment plans. You'll also learn how to decide whether refinancing is the right option for you.
You're about to embark on one of the most expensive investments in your life – learn how to handle it responsibly.
Don't miss this chance to understand med school financing – reserve your spot today.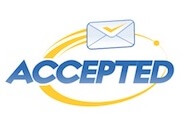 For 25 years, Accepted has helped applicants gain acceptance to their dream healthcare programs. Our outstanding team of admissions consultants features former admissions directors, admissions committee members, pre-health advisors, postbac program directors, and doctors. Our staff has guided applicants to acceptance at allopathic (MD) and osteopathic (DO) medical schools, residencies and fellowships, dental school, veterinarian school, and physician assistant programs at top schools such as Harvard, Stanford, Penn, UCSF, Johns Hopkins, Columbia, and many more. 
Want an admissions expert to help you get Accepted? Click here to get in touch!