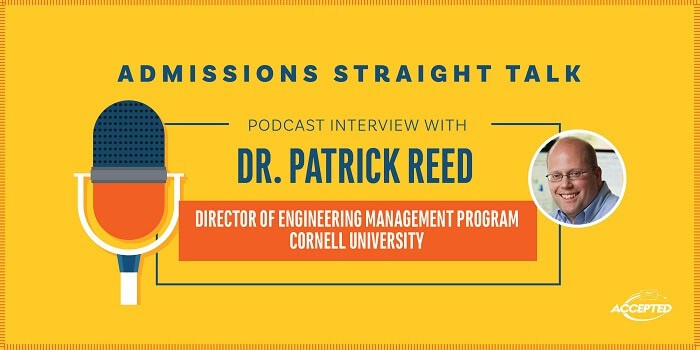 Podcast: Play in new window | Download | Embed
Subscribe: Apple Podcasts | Google Podcasts | Spotify | Android | Stitcher | TuneIn
Interview with Dr. Patrick Reed, Director of Cornell's Master's in Engineering Management Program [Show summary]
Dr. Patrick Reed is Director of Cornell's Master's in Engineering Management Program, and in today's episode he shares information about the on-campus and distance programs, and the kind of applicant who is right for this program versus a traditional Master of Engineering program or MBA.
Learn about a versatile degree option that combines engineering with management- and offers a distance learning option! [Show notes]
Our guest today, Dr. Patrick Reed, got his bachelor's in engineering at the University of Missouri and his MS and PhD in Civil and Environmental Engineering from the University of Illinois. Dr. Reed joined Cornell University as a Professor of Civil and Environmental Engineering in 2013. He has joined me on AST, however, in his capacity as Director of Cornell's Master's in Engineering Management (MEM) Program.
What is the Engineering Management Program at Cornell? Can you provide an overview of the on-campus program? [2:03]
It is a Master's of Engineering degree that is typically one academic year but can be 1.5 years. It is a blend of engineering and management. We provide students with training in the combination of management-oriented courses, some of which come from the business school, and then specialization in various engineering disciplines. We typically get students from all around the world. Students learn about project management, product management, leadership, state of the art data analytics, decision analysis, and get lots of training in entrepreneurial opportunities and transitioning technologies to market.
Cornell recently announced a distance learning version of the Master's in Engineering Management program. How is that structured? [3:35]
It follows much the same motivation. We want to train individuals to have depth and breadth in terms of engineering background and skill as well as the breadth to transition those skills to an organizational or institutional context. It utilizes the eCornell format which is a professionally produced format – we have a professional studio. The curriculum is a bit more limited than the on-campus, with a mix of product management, leadership, and analytics. The core differences are that there is less diversity from a curriculum perspective since the program is not on campus, it is a part-time program that is two years versus one year, and most students in the distance program are working, further along in their careers, and doing this as part of professional development.
What are the most significant differences between the MEM and an MBA? [6:58]
MEM is first of all an engineering degree, and what we are intending it for are individuals who have a deep understanding of the fundamentals of engineering and what they are interested in is moving into management of those technologies or products into market. So they are still involved in project management and the design phase and getting into the technical components. The MBA is a stronger focus on less technical components as opposed to marketing or the business side of things. As part of the core curriculum they have to learn about project management, take a course in organizational or institutional behavior, and one course in accounting or finance. We also have specializations so there is lots of flexibility to take more than the minimum.
What are the academic requirements to gain admission? [9:10]
We do require an engineering degree, and in the cases of applicants outside of engineering, we accept computer science degrees or someone with a highly quantitative background like physics or applied physics. Sometimes people don't have an undergrad degree in engineering, but have taken additional course development in mathematics to understand the engineering side of the curriculum. The GRE is also required for our on-campus admission but not for eCornell.
Do you prefer that applicants have full-time work experience? If so, how much? [10:22]
Experience through an internship or something more substantial is always a benefit. A lot of folks are junior in the on-campus program and want accelerated access to managerial roles. The way I think about admissions is that candidates are always welcome to have experience. It's not strictly required for on campus, but for eCornell we are looking for at least 2-3 years of professional experience.
What else are you looking for in the admissions process? [11:47]
We want someone with a lot of enthusiasm, which is clear in their admissions process. We want to make sure they have the academic rigor to handle graduate level coursework and are capable of handling the 50/50 split. We spend a lot of time with applicants on a personal level. Every applicant is interviewed, as we want to get to know folks and understand their individual stories, as well as how they fit in as an individual but also within the broader cohort. It is always nice to see they know about our program and requirements and have a fairly clear idea of why they want to come. We don't expect someone to have a super precise goal, but being able to express some of the ambitions you have for what you want to do both in the program and outside helps an applicant stand out.
<< Read: Masters in Engineering Admissions:
9 Things You Need to Do to Get Accepted >>
What if an applicant is interested but doesn't have an engineering undergrad degree? Can she take specific classes? [13:39]
It's not unheard of to have someone with a math or economics background and they take some more courses in mathematics, physics, and basic mechanics. A lot can be determined from a conversation with our program about the right fit since that is nontrivial. The person should want to take those classes anyway as part of their career progression.
Can you describe the application process for both programs? I noticed an SOP requirement for both and an additional writing sample requirement for the distance learning program. [14:49]
For on-campus it is a standard online graduate process, just like anyone applying to any graduate school at Cornell. It requires the GRE and a statement of purpose, that is carefully read by me. The application goes to the graduate school and then us. We begin review in January, and it's a two-stage admissions process. I screen the applicants and nominate for a follow-on interview. We interview every candidate and then finalize the decisions.
The major difference with off campus is it is a different set of individuals we are seeking. We reach out to folks and companies. We do not require the GRE. It is helpful to read some technical documents or writing examples because it puts me in the context of where they are in terms of how they are communicating the types of problems they are considering.
Advice for the SOP: When does creative become weird? [16:57]
There is a lot of leeway. If you are thinking about how to write this essay, think of someone that has to read 400 or more of these and read them carefully. Creativity can show itself in many different ways. It is always nice to feel at the end of the essays I know a person better, have a sense of what they are excited about, and that they are conveying relevant information. Connect with the program as well. It gets weird when they paint a very creative picture of an analogy or metaphor, but I don't know them any better at the end of it. You don't want an ad where nobody knows what is being advertised.
Is an interview required of all admitted applicants? If not, who is invited to interview? [18:49]
On campus has a preliminary interview before admission, the second step in evaluation. It is conversational, but some of what we want them to do is a timed read on a recent topic and then talk about it to get a sense of how they think about an interesting concept. It is important for us to bring folks into the program who are going to be a good fit – there is a lot of dynamic discussion, and we need to make sure on both sides of the equation it's a good fit.
The distance learning program folks have more experience and are more senior, so we don't do an interview as much as reaching out and connecting to understand where they are at.
How many people are in the program? [20:57]
We have a cohort of approximately 55 for on campus. It fluctuates a bit but 55-60 is typically the cohort size. For online cohort our target is 35. Our on-campus program has been around for 30 years so there are over 800 alumni.
Do graduates have access to the larger Cornell network? [21:57]
One of my priorities when I took over directing the program in 2015 was to maximize the strength of the alumni network. We have many exciting events. At the Cornell Tech campus in NYC we had an anniversary event. It's been amazing to see folks in all sorts of different positions. We have spent a lot of time reaching out and building mentoring and connections within the curriculum. Alumni have pitched projects on campus.
What are typical positions that grads go into? [23:04]
Going into consulting positions is very common. Product management is another. There is also a large demand for analytics. We have emphasized increasing the breadth and depth of analytics that people get trained in. People go into everything from quantitative analysis at a financial institution to online distribution, supply chain, business logistics, and on the engineering side, things like renewable energy, biomedical or something else more disciplinary.
On campus there is an option for a joint MS/MBA. Whom is that option right for? [24:37]
There are some folks where they have the ambition of leadership or an executive position like the CTO track. People choosing this option are a bit more senior and have very specific executive or entrepreneurial plans.
Are the MEM programs STEM-certified? [25:46]
I'm not 100% certain of the classification for visa purposes but would assume so.
What question would you like to answer that I didn't ask? [26:31]
What a day in the life of an engineering manager is like. One of the things is thinking about the new technology or new idea and trying to promote it. One fallacy you get in engineering is that a good idea just propagates itself into the world, which isn't true. A day in the life of an engineering manager is understanding what the idea does and then navigating the complex process between the marketing and design team. They need to speak the technical and the managerial, filling a gap that exists. So essentially they're spending their days bridging that gap.

Related links:
Related shows:
Subscribe: