We get a lot of questions about the GMAT and GRE: Is there an advantage to taking one exam over the other? What are the secrets to studying effectively and beating test anxiety? How can I get the best possible score? How do I start?
Here are some tips to help you navigate this part of the process.
First, determine which test you want to focus on. Do the programs you're targeting accept both the GMAT and the GRE? If not, your answer is simple: take the one they accept. If they do accept both exams, determine which exam you're likely to do better on by taking free practice exams (these are available from many test prep companies; you can also find free practice questions from ETS and GMAC, the testing agencies). Based on how your practice exams go, prepare for the test you feel you will do best on.
Another thing to consider when applying to programs that accept both exams: some firms (elite management consulting firms and investment banks) use the GMAT as a screening tool in recruiting, so depending on your career goals, you may want to take the GMAT.
How to prepare and take the exam
Some applicants set themselves a specific amount of preparation time to get their best score, then choose target programs based on their qualifications at that point (including the test score).
Other applicants select programs first, and determine a target test score based on the program's average – and then prepare with that target in mind, scheduling the exam when their scores on practice exams are close to that target.
Both of these are reasonable strategies. Do what works for you.
Which test prep option is right for you?
You have a lot of options when it comes to studying for standardized tests – which route is best will depend on how you learn and what areas you need to strengthen. Especially if you know you're someone who experiences test-taking anxiety (or you've struggled with standardized tests in the past), preparation is the key.
One option is self study, using traditional books and online study aids (such as sample questions and practice exams).
For a more structured approach, you could use an online course – these usually incorporate videos and instructional guides, along with self-paced study material and exams.
If you learn best in a classroom environment, then a traditional test prep class might be best for you. And if you're someone who responds best to individual interaction (or if you know you have very specific areas you need to focus on in your preparation), then tutoring, either in person or online, may be the best choice.
Choose the best option for you based on the score improvement you are looking for, your budget, and personal preferences. If you only are looking to improve slightly over your practice exam, self study may be fine. If you are trying to raise your score significantly, then allow plenty of time and consider a course or tutoring.
Whichever preparation method you choose, study consistently and steadily to achieve your goals!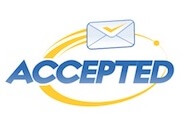 For 25 years, Accepted has helped business school applicants gain acceptance to top programs. Our outstanding team of MBA admissions consultants features former business school admissions directors and professional writers who have guided our clients to admission at top MBA, EMBA, and other graduate business programs worldwide including Harvard, Stanford, Wharton, Booth, INSEAD, London Business School, and many more. Want an MBA admissions expert to help you get Accepted? Click here to get in touch!
Related Resources:
• 5 Killer GRE Prep Tips! [On-Demand Webinar]
• Should You Take the GMAT or the GRE?
• More Business Schools Accepting GRE than Ever Before