Most b-schools now accept the GRE (you can see the full list here), which means you can weigh your options and decide whether the GRE or GMAT will increase your chances of acceptance. Here are a few factors to consider when making this decision.
You're an unmistakable candidate for the GMAT if:
• At least one of the b-schools you're applying to doesn't accept the GRE.
• You plan on a post-MBA career in investment banking or management consulting. In that case, you should take the GMAT since such recruiters sometimes use GMAT scores as a screening tool.
• The wording on one of your target schools' websites indicates that the GRE is accepted, but is clearly a lower-class citizen. We're seeing this less frequently
• You score higher on GMAT practice tests than on GRE practice tests.
You should opt to take the GRE instead of the GMAT if:
• You're fresh out of college and aren't sure exactly what to do next, but feel prepared to take the GRE. You may as well go ahead and take it – the scores remain usable for up to five years. Maybe you'll use your scores for a future b-school application, or maybe for some other grad program.
• You want to save money (about $100) and/or will have trouble getting to a GMAT testing center. If that sounds like you, go ahead and take the GRE (obviously provided that your target schools accept it). The GRE is cheaper, and there are more testing centers throughout the world.
• You score higher on practice GRE tests than on practice GMAT tests AND your target schools accept the GRE.
For most applicants, it'll come down to where you get higher scores on practice tests. If you repeatedly do better on the GMAT practice tests than on the GRE, then that's the exam you should take, hands down. Of course, if it's impossible for you to get to a GMAT testing location, then the decision again becomes quite obvious, and you should opt for the GRE. Weigh your options, see what makes the most sense for you… and good luck!
Our expert MBA admissions consultants are ready to give you advice on which test to take, and help you with any aspect of your business school application. Contact us today to learn how we can help you get Accepted!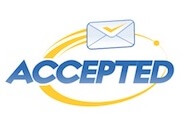 For 25 years, Accepted has helped business school applicants gain acceptance to top programs. Our outstanding team of MBA admissions consultants features former business school admissions directors and professional writers who have guided our clients to admission at top MBA, EMBA, and other graduate business programs worldwide including Harvard, Stanford, Wharton, Booth, INSEAD, London Business School, and many more. 
Want an MBA admissions expert to help you get Accepted? Click here to get in touch!
Related Resources:
• Five Effective Stress-Reducing Solutions for GMAT/GRE Success, a free webinar
• Affordable Online Test Prep, a podcast episode
• The GMAT and Your MBA Admissions Profile
Last updated on