An MBA is a serious investment in your future – it's two years out of your career, sure, but it's also training, a credential, and a network that you'll have for the rest of your life. That's why your application strategy is so important: choosing (and getting accepted to) the right school for your goals isn't just admissions talk – it can determine whether your MBA experience is amazing or just so-so.
Applying successfully to a top MBA program like Columbia Business School takes organization, effort, smarts, and strategy. With Columbia's rolling admissions schedule, it's time to get serious about crafting and implementing that strategy.
To help you do just that, we've created our intensive one hour webinar, Get Accepted to Columbia. Accepted's founder, Linda Abraham, will show you how to approach the CBS application strategically. You'll learn what the adcom is looking for, and how you can stand out in the application process – all in just one hour. Reserve your spot today! Wednesday, November 7th at 10am ET / 1pm PT and again at 5pm ET / 8pm ET.
Register Now: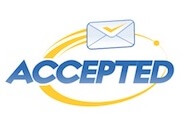 For 25 years, Accepted has helped business school applicants gain acceptance to top programs. Our outstanding team of MBA admissions consultants features former business school admissions directors and professional writers who have guided our clients to admission at top MBA, EMBA, and other graduate business programs worldwide including Harvard, Stanford, Wharton, Booth, INSEAD, London Business School, and many more. 
Want an MBA admissions expert to help you get Accepted? Click here to get in touch!