You're getting ready to apply to a full-time MBA program, but which program will best prepare you for job success? Bloomberg Businessweek's 2017 ranking goes straight to that issue. The Employer Survey measures recruiter opinions on how well MBA programs prepare their graduates with relevant skills. The Student Survey tracks feedback from students about how well they have been prepared for the workforce, including job placement rate, and starting salary. Alumni are surveyed on increase in compensation, job satisfaction, as well as their MBA experiences, the specific impacts their MBA programs had on their careers, and whether they would recommend their programs to others.
Based on all of these factors, Harvard Business School has been ranked first for the third straight year in a row. UPenn Wharton comes in at number two, followed by the MIT Sloan at number three, pushing Duke Fuqua School and the Dartmouth out of the top five.
Is the highest starting salary important to you? Check out Stanford Graduate School of Business. Their MBA grads, on average, capture the highest pay right out of school.
Do you want to go to work in financial services immediately after graduation? Consider Columbia Business School, which yields the largest share of MBAs that head to Wall St. upon receiving their degrees.
Would you like to work in Asia? Approximately 40% of the UC San Diego Rady School of Management graduates head there to work.
Here are Bloomberg Businessweek's Top 10 business schools:
Do you need help choosing the best b-school for you, and then applying successfully so you get accepted? Our expert admissions advisors can guide you through every step of the MBA application process. Contact us and we'll match you with your personal consultant today!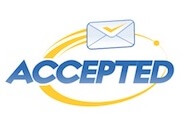 For 25 years, Accepted has helped business school applicants gain acceptance to top programs. Our outstanding team of MBA admissions consultants features former business school admissions directors and professional writers who have guided our clients to admission at top MBA, EMBA, and other graduate business programs worldwide including Harvard, Stanford, Wharton, Booth, INSEAD, London Business School, and many more.  
Want an MBA admissions expert to help you get Accepted? Click here to get in touch!
Related Resources:
• Navigate the MBA Application Maze, a free guide
• Business School Selectivity Index [Can I Get Into My Dream School?]
• Are You Targeting the Right MBA Program for You?
Last updated on