Are You Ready to Apply to HBS and CBS? We have some info! Here's what we know so far:
Harvard Business School
• The essay question, unchanged from last year, is this: "As we review your application, what more would you like us to know as we consider your candidacy for the Harvard Business School MBA Program?"
• The Round 1 deadline is Sept. 5, 2018 and the Round 2 is January 3, 2019.
You can find more information here.
Columbia Business School
CBS has released its 2018-19 deadlines:
All deadlines are at 11:59 p.m. Eastern Time
For future changes and updates, please click here.
Columbia has not yet finalized its essay questions for the upcoming application cycle. It anticipates doing so in the second half of May. When it posts next year's questions, you'll find them on the Application Requirements page. Or check back on Accepted's blog.
Are you ready to rock those applications? We're ready to help. Check out our MBA Admissions Services now.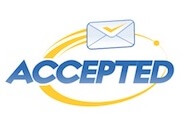 For 25 years, Accepted has helped business school applicants gain acceptance to top programs. Our outstanding team of MBA admissions consultants features former business school admissions directors and professional writers who have guided our clients to admission at top MBA, EMBA, and other graduate business programs worldwide including Harvard, Stanford, Wharton, Booth, INSEAD, London Business School, and many more. 
Want an MBA admissions expert to help you get Accepted? Click here to get in touch!
Related Resources:
• Best MBA Programs: A Guide to Selecting the Right One, a free guide
• Harvard, Stanford, Wharton: What's the Difference?, a short video
• MBA Applicants: How to Get Accepted in 2018-19