Who makes up Stanford MBA Program's entering 2018 class? Here's a look at the class profile.
Total Applicants: 7,797
New Students: 419
Women: 41%
International: 42%
U.S. Minority: 27%
Average GMAT Score: 732
Range of GMAT Scores: 600-790
Average GRE Verbal Score: 165
Range of GRE Verbal Scores: 155-170
Average GRE Quantitative Score: 165
Range of GRE Quantitative Scores: 152-170
Average TOEFL Score: 113
Range of TOEFL Scores: 101-120
Average GPA: 3.73
Average Work Experience: 4 years
Range of Work Experience: 0-11 years
Advanced Degree Holders: 14%
<< Work with an admissions pro to create a Stanford GSB application
that gets you accepted! Click here to get started. >>
Breakdown of Undergraduate Majors:
| | |
| --- | --- |
|   FIELD |   PERCENT |
|   Business |   18% |
|   Engineering / Mathematics / Natural Sciences |   34% |
|   Humanities/Social Sciences |   48% |
Previous Industry Experience (306 Organizations Represented):
  FIELD
  PERCENT
 

Investment Management/Private Equity/Venture Capital

  27%
 

Consulting

  19%
 

Technology

  17%
 

Government/Education/Nonprofit

  10%
 

Consumer Products & Services

  7%
 

Financial Services

  6%
 

Arts/Media/Entertainment

  4%
  Healthcare
  4%
 

Manufacturing

  3%
  Other
  5%
 

Clean Tech/Energy/Environmental

  3%
 

Military

  2%
  Real Estate
  1%
Schools and Countries:
  

U.S. Institutions

  81
 

Non-U.S. Institutions

  91
 

Countries (Including U.S.)

  63
Are you aiming to submit your R3 Stanford MBA application this spring? Or are you going to apply next fall? Either way – we can help! Check out our MBA Admissions Consulting & Editing Services and work one-on-one with an expert advisor who will help you create an application that will get you to the top of the Stanford GSB admit pile. Learn more here.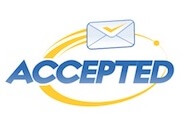 For 25 years, Accepted has helped business school applicants gain acceptance to top programs. Our outstanding team of MBA admissions consultants features former business school admissions directors and professional writers who have guided our clients to admission at top MBA, EMBA, and other graduate business programs worldwide including Harvard, Stanford, Wharton, Booth, INSEAD, London Business School, and many more. 
Want an MBA admissions expert to help you get Accepted? Click here to get in touch!
Related Resources:
• Stanford GSB MBA Application Tips & Deadlines
• Show Intellectual Vitality to Get into Stanford GSB, a short video
• Understanding Stanford GSB's Interest in Personal Qualities and Contributions