Here's a look at the MIT Sloan's class of 2020 profile, taken from the MIT website.
Overview:
Class size: 409
Women: 42%
International students: 38%
Countries represented: 49
Average years of work experience: 4.9
<< Click here for our MIT Sloan MBA application essay tips! >>
Stats
Average undergraduate GPA: 3.48
Average GMAT score: 728
Median GMAT score: 730
GMAT range: 700-760
GRE quant range (middle 80%): 158-169
GRE verbal range (middle 80%): 154-159
Undergraduate majors
Engineering: 31%
Economics: 21%
Business/Commerce: 20%
Humanities/Social Sciences: 14%
Math/Science: 7%
Computer Science: 2%
Industry
Consulting: 21%
Financial Services: 19%
Technology, Media & Telecom: 18%
Government & Public Sector: 14%
Industrials: 8%
Energy: 7%
Healthcare/Life Sciences: 6%
Consumer Goods & Services: 5%
Professional Services: 2%
Get accepted to MIT Sloan
MIT Sloan's Round 2 deadlines are about a month away! As an applicant to one of the most competitive programs out there, you're going to need to make sure your application is as close to perfect as possible. Work with one of Accepted's MBA consultants to make sure you submit a strong application that will get ACCEPTED! Check out our services here.
Top MBA Essay Questions: How to Answer Them Right
Want advice for writing stand-out MIT application essays? Fill out the form below to receive a copy of Top MBA Essay Questions: How to Answer Them Right, a free guide to writing the essays for all the top MBA programs from Accepted's admissions experts!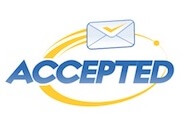 For 25 years, Accepted has helped business school applicants gain acceptance to top programs. Our outstanding team of MBA admissions consultants features former business school admissions directors and professional writers who have guided our clients to admission at top MBA, EMBA, and other graduate business programs worldwide including Harvard, Stanford, Wharton, Booth, INSEAD, London Business School, and many more. Want an MBA admissions expert to help you get Accepted? Click here to get in touch!
Related Resources:
• Navigate the MBA Maze, a free guide
• All the Details About the Full-Time MIT Sloan MBA Program, a podcast episode
• MIT Sloan MBA Application Essay Tips & Deadlines