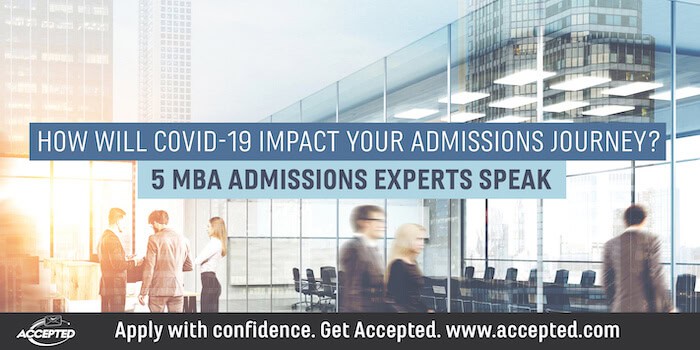 We, along with everyone else on the planet, are struggling to understand how the coronavirus is affecting our lives. As MBA admissions consultants, we are also evaluating how COVID19 is impacting the lives of you, our clients and followers. We all know the immediate and short-term impact. We're living it. The longer-term impact is harder to assess and predict.
For those of you who have actually caught COVID-19, we extend our best wishes for a speedy and complete recovery. For those of you who are at home struggling to work remotely and keep your sanity in this time of social distancing, hang in there. This too shall pass.
But how will COVID-19 affect MBA admissions, the remainder of the 2019-20 application cycle as well as the 2020-21 cycle?
I've asked several consultants to share their thoughts on the situation, and that's what you'll find below. We present our thoughts with humility. We're not public health experts, economists, or prophets with clear crystal balls. However, collectively we have well over one hundred years of experience as MBA admissions consultants and/or admissions directors.
The consultants below responded to the following questions:
What do we think will be the impact of coronavirus on MBA admissions in the upcoming cycle?
What should applicants be doing now, if they are ready to apply or working to improve their qualifications? 
Should they consider submitting a Round 3 application?
Linda Abraham's thoughts
The biggest source of uncertainty in my mind is: how long is this going to last? When will we be able to go to school, work, entertainment venues, or travel destinations without either fear or government restriction?
And then how long and bad will the recession be that is sure to result from the business shutdown?
Obviously I don't know the answers to those questions. My sense now is that anyone who has high test scores and a reasonably competitive profile has a shot at gaining acceptance to the programs (HBS 2+2, CBS, NYU, Kellogg) that have announced delays in their final deadlines or test dates. These schools are extending these deadlines both out of compassion and self-interest. They probably fear a larger "summer melt" than usual. They may also know that their application volume was either down or flat from last year, which wasn't a great year for business schools. (Most schools are experiencing a prolonged slump in application volume.)
You may find that you are able to get into a program R3 of this year or R1 of next year that you would have a harder time getting into later. It's worth thinking about these odds while you have more time than usual on your hands.
For those planning to apply next year who do not have a GMAT/GRE/EA score that they are satisfied with, now is a great time to study. Those high scores can really help you get in or earn a scholarship. And it looks like many of you will be able to take the GMAT and GRE even with testing centers shut down.
ETS has announced the availability of GRE home testing and remote proctoring for many applicants. GMAC is hoping to have a similar announcement in mid-April. The application cycle will go forward, albeit with more remote and virtual interaction.
If you have not been involved in community service, there are lots of opportunities to organize your neighborhood to help its more vulnerable residents. This opportunity for service may help you when you apply, and it will certainly help the people who can't leave their homes.
Should you apply to a traditional MBA if social distancing is still the norm come fall, and it looks like a lot of your MBA education will be online? That depends. If the credential is primarily what you seek, then go for it. You may have an easier time getting in and end up with a more prestigious degree. And you could end up graduating into a nice recovery. If the education and experience and networking opportunities are what you're primarily seeking, then wait… at least until R2.
In most recent recessions, the economic downturn contributed to a surge in MBA applications. MBA wannabes figured that a top business school was a good place to weather the recession, improve their skills and network, and then hopefully graduate into an expanding economy and decent job market. Will that calculus be at work Round 1 or Round 2 of next year, or will it only kick in for the 2021-22 cycle? I'm not sure, but I do believe it will happen. In addition, a growing number of MBA programs have STEM certifications, which should contribute to greater international interest in the U.S. MBA.
Linda Abraham is the founder and CEO of Accepted. She is also the co-founder of AIGAC and the host of the Admissions Straight Talk Podcast.
Dr. Karin Ash's thoughts
We can't yet know the impact of coronavirus on MBA admissions applications because the pandemic is still unfolding. However, we can offer some suggestions for individuals who want to enroll in MBA programs starting in 2021.
There really isn't a downside to applying for the next cycle. If you are accepted and for whatever reason cannot attend in 2021, you can ask for a deferral.
Given that the countries where the virus first started are now experiencing a drop in new cases, it is possible that the same pattern will occur in the U.S. and Europe. If that is the case, schools will almost certainly be back in business by fall of 2021 when you would be enrolling. And, until then, do everything you can to stay healthy!
Before joining Accepted in 2015, Dr. Karin Ash had 30+ years of experience in career services/admissions roles at four universities, including Cornell Johnson and Cornell's College of Engineering.
Natalie Grinblatt Epstein's thoughts
What do we think will be the impact of coronavirus on MBA admissions in the upcoming cycle?
Having been in admissions offices in various director roles for 19 years and in admissions consulting for 12 years, I have witnessed what economic booms and busts do to MBA admissions. I have also seen how crises such as terrorism, war, and pandemics have altered admissions cycles. However, the world has never faced anything like COVID-19 since the 1918 flu pandemic that infected a quarter of the world's population (at the time) and killed 20-50 million people. Many of you reading this may have already tested positive. I have a client who is COVID-19-positive and can barely get out of bed (we already know that it doesn't just impact the elderly and infirm).
Given the anxiety this novel coronavirus is causing humanity, I don't think this will be an admissions cycle like any other cycle. Typically, when the economy tanks, applications increase because the thinking is that in two to three years, the economy will be expanding again… just around the time of graduation. But we don't know when traditional schools will open again to traditional teaching methods. And I'm not certain that applicants will be willing to pay traditional MBA tuition for an online experience. We also don't know when the GMAT will follow the GRE in offering an online test (hopefully soon).
Most of Accepted's clients apply to MBA programs in the U.S. and Europe. If those region's coronavirus infections peak in June or July, applications will be down tremendously in Round 1 and will probably climb in Round 2. If infections peak later and schools are still closed in August, applications will be down in both R1 and R2. I do think that this issue may be further exacerbated in the most affected countries and states. I will be more confident in my advice in 30 days and even more confident in 60 days.
I think international students may have issues leaving their countries or coming into their school's country this year. International students need to make certain they are proactive and leave plenty of time to get their visas, find an apartment, and possibly get situated for a different educational experience than one they expected.
What should applicants be doing now, if they are ready to apply or working to improve their qualifications?
Applicants should start checking things off their checklist for applications:
Should you consider a R3 app?
Applying in Round 3 has its pros and cons; however, COVID-19 is changing what we expect for this later round. Many schools have extended deadlines because of COVID-19. Applications are down. Clients are asking us how to obtain deferrals. If you have everything ready, then certainly consider Round 3. If you aim high, you may be pleasantly surprised. If your application results in a denial, it may give you a strong gauge for the types of schools you should be reapplying to in the 2020-21 cycle.
Last but not least, now would be a great time to speak with an Accepted consultant to learn more about how we can help you. Stay healthy and good luck!
Prior to joining Accepted in 2008, Natalie Grinblat Epstein served as the admissions director at Arizona State WP Carey, Cornell Johnson, and Michigan Ross.
Esmeralda Cardenal's thoughts
You will probably never have as much time in your hands as you have now. I have 5 tips on what you can start doing:
1. Take the time to prepare for the GMAT or GRE. Enroll in online courses, hire a virtual tutor, and use this time to prepare well.
2. Register and attend the schools' webinars and online chats. You may not be able to visit the schools in person, but you can certainly solidify your research by participating in their virtual events.
3. Connect with the schools' students and/or alumni via LinkedIn. Many students and alumni are more than happy to answer your questions about their program, and this will, in turn, help you in gathering useful and important information for your essays later.
4. Subscribe to our Accepted Admissions Blog to stay up-to-date with the latest news in business schools and essay and application tips for individual MBA programs.
5. Start working with an Accepted consultant. Your Accepted consultant can work with you in developing a timeline and a strategy to help you prepare a winning MBA application.
Esmeralda Cardenal has been an Accepted admissions consultant since 2014. She is a former admissions director at Yale SOM and Michigan State Broad. She has also consulted for MBA programs in the UK.
Rachel Slutsky's thoughts
Should you apply for an MBA at this time?
It can feel risky to invest in a graduate education in a time of such tumult, both in terms of global health and the economy. Additionally, the possibility of paying full price for a program that might switch to distance learning could be a financial risk you are not willing to take.
Here at Accepted, we are having ongoing discussions about MBA applications in the time of COVID-19, and the consensus remains that getting an MBA is as useful as ever, perhaps more now than before. Businesses and society need guidance and leadership in a time of panic and financial instability, and an MBA will develop your leadership skills, allowing you to make that difference.
If you are applying for Round 3 of the 2019-20 application cycle or Round 1 of the 2020-21 application cycle, the bottom line is:
Rachel Slutsky is an Accepted admission consultant with experience working as a writing tutor, consultant, and adjunct professor. She is currently pursuing her PhD at Harvard University.

The consultants at Accepted are here and ready to help guide you! All of our experts are available to work remotely and business is in full swing in spite of the current global circumstances. Check out our services and let us help you get accepted!

For 25 years, Accepted has helped business school applicants gain acceptance to top programs. Our outstanding team of MBA admissions consultants features former business school admissions directors and professional writers who have guided our clients to admission at top MBA, EMBA, and other graduate business programs worldwide including Harvard, Stanford, Wharton, Booth, INSEAD, London Business School, and many more. 
Want an MBA admissions expert to help you get Accepted? Click here to get in touch!
Related resources: