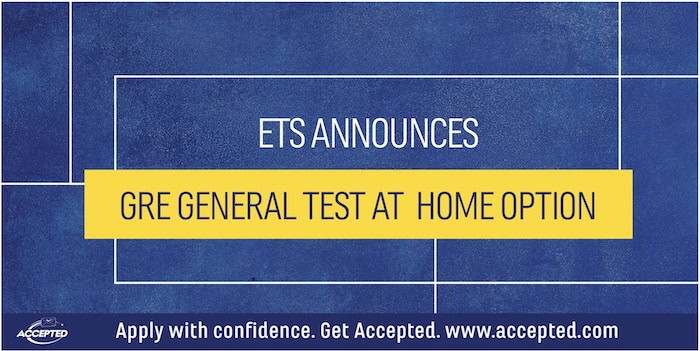 Due to the sweeping effects of the coronavirus, ETS will be temporarily offering an option to take the GRE General Test at home. This option will be available in selected countries and is for students who, due to public health concerns, cannot take the GRE General Test at a test center.
Who will be able to take the GRE General Test at home?
The option to take the test at home is available to those who live in an area where the test is offered. As of March 23. 2020 (13:00 UCT), home tests are available in the United States, Canada, Colombia, France, Germany, Italy, Spain, Hong Kong (China), and Macau (China).
What equipment is required for the at-home exam?
You have computer equipment that meets the requirements for the test:
Desktop/laptop computer


Cannot be a Mac computer or use an iOS operating system


Must have Windows OS, versions 10, 8, 7, Vista™, or XP


Must use a standard QWERTY keyboard


Must have a speaker to hear proctor


Cannot use a headset or wireless earphones


Must have an internal or external microphone that is not part of a headset to communicate with the proctor


Must have a built-in camera or a separate webcam


Camera must be able to move in order to show the proctor a 360-degree view of the room, including your tabletop surface, prior to the test.
How must one prepare their at-home testing room?
You must have a room that provides an acceptable environment for the test.
You must be in the room alone. No one may enter the room during the test.


You are not permitted to take the test outdoors or in a public place.


You must have your computer and keyboard on a tabletop surface.


The tabletop and area around it must be clear of any items not approved for use during the test.


You must sit in a standard chair. You may not sit or lie on a bed, couch, or overstuffed chair.


Food and drinks are not allowed during the test.


Your ears must remain visible during the test.


You must be suitably dressed for the test. Your proctor will monitor you via your camera during the test and your photo will be sent to schools that receive your scores.


You may ONLY take notes using a whiteboard with erasable marker or paper with clear sheet protector and erasable marker.


The proctor will watch you erase all notes at the end of the test.
Next steps
To see if you meet ETS's requirement to take the test at home, visit https://www.ets.org/s/cv/gre/at-home/. Once "approved," you will need to install the ETS secure browser and register with ETS.
Your scores will be available in your ETS account and sent to your chosen schools 10-15 days after your test date.
What about the GRE's competitors?
Both GMAC and LSAC announced this week that they are moving towards a remote proctoring option. GMAC plans to have it in place by mid-April. LSAC has not announced an estimated date when the remote option will be available.
The GRE is accepted widely today by almost all graduate business schools in addition to the GMAT, which had dominated business school admissions until about 10 years ago.
A growing number of law schools accept the GRE as well as the LSAT. Acceptance of the GRE among law schools will accelerate if it is the only option available for law school applicants.
Will you be taking the GRE at home or preparing to take it at a test center? Wherever you will be taking the GRE, check out our GRE prep tips to get a score that will get you ACCEPTED! Additionally, now is a great time to focus on building your admissions strategy. Take a look at our services and take advantage of our personalized, remote, virtual one-on-one counseling.

For 25 years, Accepted has helped applicants gain acceptance to top undergraduate and graduate programs. Our expert team of admissions consultants features former admissions directors, PhDs, and professional writers who have advised clients to acceptance at top programs worldwide including Harvard, Stanford, Yale, Princeton, Penn, Columbia, Oxford, Cambridge, INSEAD, MIT, Caltech, UC Berkeley, and Northwestern.
Want an admissions expert to help you get Accepted? Click here to get in touch!
Related Resources: