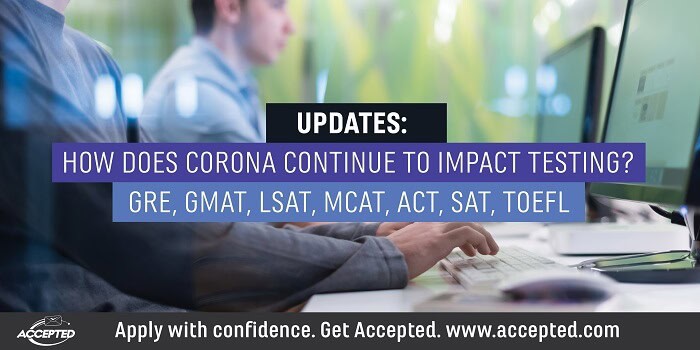 The COVID-19 pandemic continues to affect schools and businesses worldwide. The health and safety of testing candidates and staff remain priorities as testing organizations continue to offer online testing while finding ways to safely reopen testing centers.
Here is the most up-to-date information on admission tests and their response to coronavirus.
ETS is offering a GRE General Test at home option everywhere the computer-delivered GRE General Tests is offered, excluding Mainland China and Iran. This option is currently available around the clock every Friday, Saturday, Sunday, and Monday through June 30, 2020. The test will be offered seven days a week beginning July 1st. The at-home testing option will be offered as long as COVID-19 is a threat, and will be available even in areas where testing centers have reopened. Please see here for more information.

For GRE advice, check out our webinar, Your 3-Part Game Plan to Dominate the GRE.
Testing continues to be suspended in many testing centers around the world. The GMAT Online Exam began testing on April 20, 2020. The at-home version of this test will be available until at least August 14, 2020. Registration continues to be open for testing dates.
Beginning June 11th, test-takers will have the option to use a physical whiteboard, an online whiteboard, or both during the exam. Applicants who tested before use of a physical whiteboard was permitted may test again if they wish.
Visit mba.com to determine the status of test centers near you and for information on scheduling your Online GMAT or Executive Assessment exam.
Read about the effect of COVID-19 on MBA rankings here.
The June 8, 2020 LSAT will be replaced with the LSAT-Flex for test takers in the US and Canada. The majority of test takers will test on either Sunday, June 14 or Monday, June 15. A small number of tests will take place during the week based on specific proctoring requirements. Scheduling sign-up for this test will open Wednesday, May 13. More information can be found at here.
Do you know the average LSAT scores at your top choice school? Check out the Law School Selectivity Index!
In order to accommodate as many MCAT testing candidates as possible, the AAMC is shortening the MCAT being administered from May 29 through the end of the 2020 testing year.
The "seated" time of the exam will be reduced from seven and a half hours to five hours and forty-five minutes. The time was shortened by the elimination or reduction of some of the field test questions and some administrative items, such as the tutorial and the end-of-the-day survey.
Exams will be administered at test centers at 6:30 am. 12:15 pm, and 6 pm each day, with the following health and safety precautions in place:
Examinees will be seated 6 feet (2 meters) apart at the test center.


Examinees may bring masks and gloves to the exam.


There will be enhanced disinfecting procedures at the test centers before and after each seating.
More information can be found here.
Want to be sure that your med school application stands out among the rest? Check out our med school admissions services.
The April 4 national ACT test has been rescheduled to June 13. All students registered for the April 4 test date received an email notifying them of the postponement and instructions for free rescheduling to June 13, July 18, or another national test date. Please visit act.org to learn more.
Be sure your application will get you accepted to the college of your choice! Working one-on-one with one of our admissions specialists will help make that happen.
In order to follow public health guidance and school closures in 192 countries, the SAT and SAT Subject Tests scheduled for June 6, 2020 have been canceled. At-home testing would require 3 hours of uninterrupted, high-speed internet access, which can't be guaranteed for everyone who wants to take the test. Consequently, the College Board will not offer an at-home version of the SAT.
If it is safe from a public health standpoint, weekend SAT administrations will begin in August. These tests will take place monthly through the end of 2020. The test calendar will include a new administration on September 26 in addition to the tests already scheduled for August 29, November 7, and December 5. Please see collegeboard.org for more information.
Make your college application shine. Check out our college admissions consulting services and get GET ACCEPTED to your top choice!
TOEFL iBT Special Home Edition test has been expanded to everywhere TOEFL iBT testing is normally available except for Mainland China and Iran.
All open test centers are frequently cleaning high-touch surfaces and providing test takers with disposable wipes to wipe down their testing areas.
Test takers are allowed to wear surgical masks at the test centers. These will NOT be supplied by the test centers. You must bring your own mask, which must be temporarily removed to have your photo taken and your ID verified during check-in and on returning from breaks.
The at-home testing option will be offered as long as COVID-19 is a threat, and will be available even in areas where testing centers have reopened.
More information can be found at here.
The online version of the Executive Assessment has the same structure and follows the same scoring algorithm as the traditional version. Currently, appointment dates are available between May 5th and July 17th, and new dates will be added if needed.
Beginning June 11th, test-takers will have the option to use a physical whiteboard, an online whiteboard, or both during the exam.
Work one-on-one with one of our admissions consultants to ensure your application is polished to perfection!
***Disclaimer: Information is subject to change. Please check with individual testing companies for the most current information.***
As the information surrounding the COVID-19 pandemic changes daily, we are here for you. Accepted's expert consultants are available via phone, email, and video. Contact us for all of your admissions needs.

For 25 years, Accepted has helped applicants gain acceptance to top undergraduate and graduate programs. Our expert team of admissions consultants features former admissions directors, PhDs, and professional writers who have advised clients to acceptance at top programs worldwide including Harvard, Stanford, Yale, Princeton, Penn, Columbia, Oxford, Cambridge, INSEAD, MIT, Caltech, UC Berkeley, and Northwestern.
Want an admissions expert to help you get Accepted? Click here to get in touch!
Related Resources: