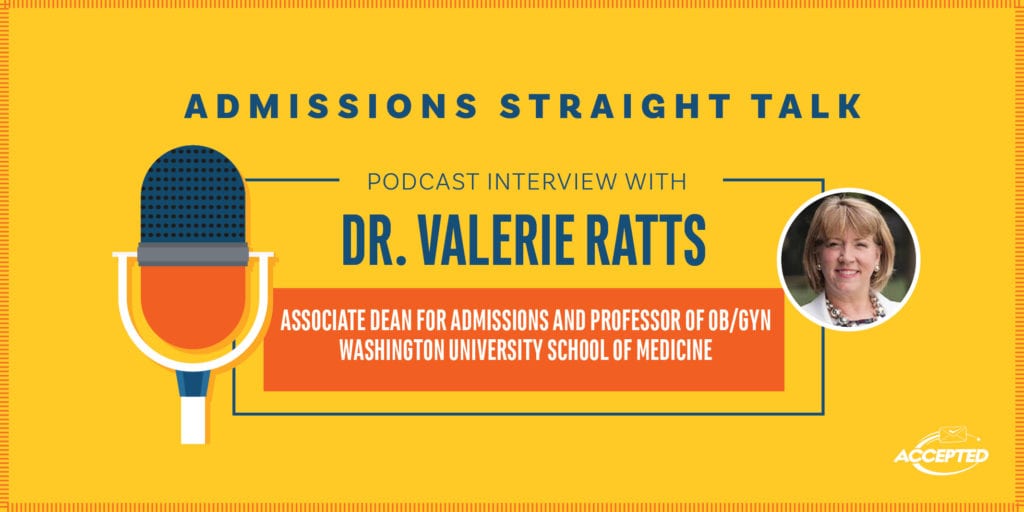 Podcast: Play in new window | Download | Embed
Subscribe: Apple Podcasts | Google Podcasts | Spotify | Android | Stitcher | TuneIn
Washington University School of Medicine's unique approach to admissions [Show summary]
Dr. Valerie Ratts, Associate Dean for Admissions at Washington University School of Medicine, explores what's unique about the medical school's approach to admissions, including what COVID-related changes applicants can expect this year.
Interview with Dr. Valerie Ratts, Associate Dean for Admissions at Washington University School of Medicine [Show notes]
Dr. Valerie Ratts earned her MD at Johns Hopkins, where she also did her residency in obstetrics and gynecology and a fellowship in reproductive endocrinology. She joined the Washington University faculty in 1994 and is currently Associate Dean for Admissions, as well as a professor of obstetrics and gynecology at Washington University School of Medicine in St. Louis.
Can you give an overview of Washington University School of Medicine's program, focusing on its more distinctive elements? [1:37]
Washington University School of Medicine is an amazing medical school. The thing that I'm the most proud about right now is that we are about to implement a new curriculum, an innovative curriculum, called the Gateway Curriculum. We're looking at how to educate in medicine a little bit differently. We are going to educate our students while thinking very carefully about what their passion and pathway will be in medicine. We will be working to enhance their exposure to the areas of academic medicine that we think are very important for physicians. That includes research, medical education, advocacy, inquiry, and innovation. The other thing about WashU that we think is particularly important, besides our science, is that this is a place where we pride ourselves on creating a culture that is incredibly supportive for our students, a culture of collegiality and collaboration.
Academic medicine implies that the graduates are going to become professors or continue doing research. Is that a focus, or do you see your grads going into primary care? [2:56]
That's part of the new curriculum, recognizing that physicians go into various areas of medicine, and that we're ready to support them and enhance their education to be ready for those various areas of medicine (again, medical education, research, inquiry, innovation, and advocacy). We want to expose them to those areas, give them the skill set that they need and the experiences, so that when they graduate, when they complete their residency and fellowship, they can use that skill set to go into a career in all of those different areas. That's how we look at academic medicine. It's not just research, though research is very important.
You have one of the biggest medical sciences programs, don't you? [3:52]
Yes. The MSTP program is a signature program here. It's one of the longest running and largest physician sciences programs in the country. Research has placed us on the map here at WashU, but I always say, research is more than just pipetting away in the lab. Basic science is incredibly important. And we are very good at that. But research, I always say, is asking a question, collecting data of some type, whether it's basic science data or question surveys, and using that data to answer the questions and think of more.
Physicians have to be involved in making sure that we get healthcare to the population. That's particularly important. We know that there are social determinants of health, and we are positioned to make a difference, and we think that we need to actively teach our students how to do that, give them the skill set, give them the exposure.
What is the WashU secondary like? [5:14]
The WashU secondary application is a pretty short application. In fact, we pride ourselves on having one of the shorter secondary applications. It's actually part of our claim to fame there. It has a little bit of demographic information. We ask if students have been outside of academia; if they're not in school, we ask them, what are they doing? And then there's two questions that we ask. We ask them to tell us about a time when they've failed or been unsuccessful, and then there's another short answer essay where we ask them to tell us anything that we've forgotten to ask them about. We give them space. We want to learn about our applicants, let them tell their story.
What is the virtual interview day like at WashU? [6:01]
COVID has changed everything. One of the things that physicians have to be is flexible and adaptable. COVID is sort of making us be real physicians, making us understand that we have to be adaptable and flexible. We made the decision this summer to go virtual, and we're not just calling it a virtual interview day. We're calling it a virtual interview experience. We recognize that not everything is going to necessarily happen on one day. In being flexible and adaptable, we've recognized that we all can get Zoom fatigue. Right? It's a real thing. We want our applicants to be at their very, very best.
So we will have a day where we will plan the faculty interviews, and again, both of the faculty interviews will occur on a specific day. We have two types of interviews. They're one-on-one with a faculty member here at Washington University School of Medicine. The first interview is a standard interview. It's about 40 minutes long, and the faculty member will have reviewed the application in its entirety. The goal is to have a conversation, to understand the motivations of why they're considering going into this medical career, what they've done to confirm that this is the right decision, and again, tell their story. We want to know about their story. It's a conversation. Again, the thought is that we are a very supportive school, and we want our interview to reflect that.
The second interview is a closed file interview. That interview, it's much shorter, about 20 minutes, and the purpose of that interview is to get to know the applicant in a way where we have not reviewed their application in advance. The faculty member knows nothing about them but their name. So again, a conversation from very different viewpoints. We're seeing the applicant from very different vantage points when we do those two types of interviews. That's the faculty interview.
Roughly, how long does that first interview typically last? [8:28]
It lasts about 40 minutes. So it's a much longer interview.
And the second interview, also with faculty, is about 20 minutes? And that's basically blind? [8:34]
That's right. We call it "closed file" because the faculty member knows nothing but their name. It's really fun. I love to do those types of interviews because it's open and we just ask, "Tell me about you."
And what about the rest of the day, the experience? [9:02]
The experience, right. We are working on creating a virtual tour experience. We think the tour of our medical school is particularly important. We have a wonderful campus. We want to also tell our applicants a little bit about St. Louis. Many people, in fact, the majority of students that come through our medical school are from the coasts, and so they don't know about St. Louis. They need to learn a little bit about the city. So the tour is really particularly important. And again, it's about student life. It's about the medical school culture. What do students do? How do they think? How do they engage in the medical community?
The tour that we're planning is going to be a virtual tour, where there will be a student tour guide with the applicant, small groups of applicants, and they will be live with each other and go to different points around the medical school campus using slides and 360 pictures and photographs. They'll be able to talk about the different areas and have conversations because that's what you would do if you were on a tour: have the conversation with the student. Our applicants need to meet our students, and we know that's so important, and so our tour is going to allow them to do that. We're uniquely doing that for our tour.
Then for the rest of the experience, we are working to make sure that we have a wrap-up experience where they get to talk to faculty, and that'll be several days during the week. Then they also have a financial aid presentation several days during the week. And then finally, we're planning to have "Why WashU Wednesdays." And that's where we'll have a seminar every Wednesday at 5:00 where we'll have different programs each week. We'll have student panels. We'll have faculty. We'll talk about research. We'll talk about life in St. Louis. We'll talk about life as a medical student. We'll talk about life as an individual from different identity or affinity groups, all of that. We're very excited about it.
A lot of what happened at the end of last year happened out of necessity. It was an emergency, but again, you have to take the attitude that we can learn in that sort of environment. Doctors learn in that sort of environment. I mean, one of the AAMCs 15 core competencies for entering medical students is resilience and adaptability, right? So you have to learn from that. We learned from our second look experience, and so we're using that as we plan the interview experience this year.
Are you going to be emphasizing more adaptability and flexibility and resilience as desirable qualities in the students that you admit, as a result of what's been going on for the last six months? [12:19]
Yes. I think that we require it in our faculty. We're having to live what we preach, right? We're having to live what we say. And so of course, we expect that in our students. Part of the new gateway curriculum that we're implementing here, that's a part of the new curriculum. As you develop your passion and pathway in medicine, you have to have those characteristics.
I'm a practicing physician. I'm a reproductive endocrinologist and infertility specialist, and there are days when things don't go as planned. And you have to learn to keep going. That's what physicians need. That's an important characteristic. So that's what we're doing: We're selecting our students. So yes, I think it is an important characteristic. It's always been important. Maybe even more so now.
WashU received, in 2018, 4,766 applications. You interviewed roughly 1,087 and matriculated a class of 101. How do you whittle it down? What makes an applicant jump off the page for you? [13:30]
The first thing to recognize is that we do interview quite a few, more than most peer schools. There's this concept that many students don't know St. Louis, and they don't know this medical school. Many times, if they don't have someone in medicine who's guiding them, they may not know about WashU in St. Louis. Most people in medicine know about WashU. And so one of the things that we recognize is that the interview process is important, especially here, because we have to get students here to see this amazing medical school, to see our campus, to meet our faculty, see our students. We think that's important. So we've consciously done that.
How do we select our students? We try really hard again to have these conversations with the faculty where we're looking at the characteristics. We consider everything. We follow the holistic review process of the AAMC where we want to give balanced consideration to what we call EAM: experiences, attributes, and metrics. There is no formula for WashU. It's not a formula.
One of the things as Admissions Dean that I love about our medical school class is it is diverse in all sorts of different ways. And I also say diversity of perspective: About a third of our students come from the West Coast, a third come from the East Coast, and a third come from the center portion of the country. You get people who've done all sorts of different things, whether it's been in research, or global health, or advocacy, or athletics and writing and artistic things. They bring those perspectives to the medical school class. You learn so much in medicine when you're learning medicine from the others that are with you in your class. That's really particularly important. So how do we whittle it down? We look at all of those characteristics. I have a challenging job. We love a good challenge here at WashU.
How do you view letters of intent, or correspondence from waitlist applicants or applicants who haven't heard from you? [16:18]
We like that type of correspondence. I always say of the people that I admit to WashU and the people that I want to come to WashU, I want them to know and feel that this is absolutely the right place for them. We do interview a lot of students. When we have our wrap up session at the end of the day, I say that hearing from the students is important. We're looking at them and they're looking at us, and it's about finding the right fit, right? Fit is really important in medical school, right? Fit is different. It's different for medical schools. It's different for students. So you're looking for the fit, right?
We may think, "Hey, this is the student we think fits there." But you know what? It's often helpful if the student says that to us. Now, it's nice to get a thank you note. I, as a faculty member, love to receive notes and to hear from the applicants. But most importantly, what I say is, when you've had a chance at the end of this season, when you've gone to all your medical schools, you've finished all your interviews, and you've thought about it, don't just write me as soon as you've interviewed with us. Go everywhere. Think about, what is the place for you? What is your fit? And then at the end of the day, if this is truly the place that you feel that you fit the best at, let me know that. Because we do think that's an important part of the application process, and it's important to us.
Since COVID hit, I get certain questions constantly from medical school applicants. One of the big ones is about not having taken the MCAT before AMCAS opened and being late. When is "late" in this particular cycle, and when should applicants just wait to apply until next year? [18:20]
The AAMC worked really well with the medical schools. Again, it's this adaptability and flexibility concept. And we are following what the AAMC asked us to do, and that was to allow the students to take their MCAT. There are students who are not taking their MCATs until the end of September for this application season. Normally, I would have said that's late, but we have completely pushed our application process back. We haven't even started reviewing our applications yet because we recognize the importance of following what the AAMC said and honoring that students have had great difficulty. We're not going to penalize anybody for taking a later MCAT in this application cycle at all. We've already figured out how we're going to do that. We're not even beginning to look at our applications until much later in the season. So I wouldn't worry about that. I'm not worried about that at all. At least at WashU, that's not going to be an issue. And WashU has always been a school where we've accepted applications until much later in the season, and this year, we're definitely going to do that.
The deadline is December 15th, and that hasn't changed. We started receiving applications, but the process of reviewing them has been moved back. We have a process in place in our application database so that we know to be waiting for the MCAT score. I think it's an important part of the process. So again, EAM: experiences, attributes, and metrics.
Applicants are also concerned about taking science classes online or having to take them pass/fail, especially this last semester. Are you adjusting your requirements for in-person classes that are now online and graded classes that were pass/fail out of necessity? [20:42]
We have always accepted online classes. We have always accepted pass/fail. You asked, what are we looking for? We're looking for the student who does do rigorous work. If you've done pass/fail, ultimately I'd like to see you say, "Well, this is my area of expertise," and I hope to see hard courses, rigorous courses that you've done well in. But we're going to be flexible and adaptable, and we recognize that everybody's in the same boat here. Don't worry. Admissions officers are smart. They're supposed to be pretty smart. We get it. We understand. And we want the best for the students. We get that. So we're going to be flexible and adaptable. Show us your best application. Show us the best side of you. And I bet you it's going to be okay.
Some applicants planned to do volunteer work or a clinical opportunity, and it was canceled because of COVID. They were counting on this experience to express their interest in clinical medicine or research, but now they're wondering, "Gee, am I out of luck?" [22:15]
On the supplemental application, in that space where I talked about "you can write us about anything," there's an area that says, "If COVID has affected your plans, tell us about that." What did you plan to do? What have you done? The other thing I was thinking about as we're moving forward here, we're looking for people who are well-read. Use this time to maybe read some books about medicine and get a perspective and be able to talk. There are a lot of issues in medicine that we have to solve and address. And so reading, being well-read, and having perspectives on those issues will come across really well, in my opinion. Again, we recognize this. We have heard about the pandemic!
Another thing I sometimes hear is something like, "Is this going to be a good or bad year to apply?" What are you seeing in terms of application numbers? [23:42]
My numbers are exactly the same. It amazes me. They're almost exactly the same. And we keep track. As an admissions dean, I have to give my report to the dean of the medical school, and they're always looking at those numbers. I think people want to go into medicine, and they're still going to go into medicine. Right? They're resilient, adaptable, grit-and-determination-type people.
I'm kind of an older doctor. I've been through some things before. When I was a medical student, I lived during the HIV epidemic. So if you talk to physicians in my age group, figure it out here, but I was a medical student before we even had a test for HIV, and we were trying to figure out what this was and what we needed to do. And you know what? We've learned so much from that experience. We will learn so much from COVID. We are now, right? And it'll continue, especially when you have NIH funding to work on these large research projects and understand that basic science and the clinical applications of different medicines and therapies and how they work and the mechanisms will help us in all sorts of disease processes as we move forward in the future.
Another concern that I hear about is medical students not getting the clinical exposure they would have gotten pre-COVID because of the restrictions on them interacting with patients. Will this lack of clinical exposure in medical school hurt their residency chances? And even if it doesn't hurt their residency chances, because everybody is in the same boat, is it hurting the quality of their medical education? [25:49]
That's a very good question. Medical educators, again, are thinking about that. We have an obligation to society to educate and send these great physicians out into the world to take care of people. We are thinking about that, right? There's a pandemic, and it's not like there's one area where nobody is experiencing this. This is a universal experience. So all of us will have to work through this problem.
At WashU, the clerkships are back, and we have our medical students who are back on clinical service. We're doing it. We have to think about doing it in an extremely responsible way, responsible for our patients, responsible for the faculty and staff, and responsible to the students too. We think very carefully about what their experiences are and when they're ready to have what experience. There may be some areas where certain medical students, like maybe as an elective, say, "I went through medical school at this period of time and I didn't get this exposure to this. Now, a year and a half from now, I may want to go back and do this experience."
Again, adaptability, flexibility, figuring out what's going to work. I don't have all the answers. I wish I had all the answers, but I don't have the crystal ball. We'll figure out a way. We have a great medical system. We have great medical schools in this country with people that are truly, truly dedicated to that. And we have that here at WashU, like other places, and it'll be okay.
What advice would you give to premeds thinking ahead, perhaps planning ahead for the 2021 cycle? [28:21]
I give them the same advice that I've always given them: You need to do well in your classes. The ones that you take, you should show evidence of challenging yourself. We want you to do that. I think that you want to grow yourself in college. It's a very unique time. You should do different activities to develop who you are in a variety of different ways. You should continue to explore those things. You should understand, "When I get stressed, what do I do to relieve my stress? What do I do? Do I do music? Am I athletic? What do I do? Do I read?" Those things I think are important to develop, those sort of habits and characteristics.
At WashU, one of the things we truly value is volunteerism. I always say, it doesn't have to be volunteer work in the medical area. Doctors, definitely here at WashU, they're very brave, they're very motivated, but they all want to help people. There's that sense inside themselves to help people. And that's really important, at least for WashU, that that comes out. It's important to us. It doesn't have to be in medicine though. I think that's always really important for students to know. It doesn't have to necessarily be with a physician. It doesn't have to be in the hospital. It can be in a variety of different ways.
Trying to do these activities now is difficult. Be creative, ask around, think about things. Be creative. Be a COVID tracker. Sit on a computer and do that. Hotlines. Mental health issues right now from COVID are a real issue. Talking to someone, helping someone through hard times, that's important.
How do you feel about gap years? [30:33]
Gap years are great. I don't think you have to do a gap year. Some people, they've done everything they feel they need to. They're ready to go to medical school, and they've well-prepared themselves. They've been very busy, and they're ready to go right from college into medical school. But the majority of students that we have here at WashU have either taken longer to do their college experience or they've taken a gap year. And that's just because it takes time to do all the things that you need to do to be ready to make that decision to go into medicine.
I frequently talk to either students or parents that seem so pressured to get things done. Just take a gap year. It's going to be okay. Sometimes they do, sometimes they don't. I think that's great advice. I think that going into medicine, you have to be a well-developed person, and you need to know your motivations. You want to do well when you do whatever you do. You want to do well in that MCAT. You want to do well in your classes. And sometimes you need time to do that. I also believe that sometimes people need to take the MCAT more than once. At our school, that's okay. We take the best score.
What would you have liked me to ask you? [32:15]
Sometimes people ask, well, what about student life in the city of St. Louis? And I say, "Well, you should come here and visit. You should apply." Our students are very engaged in the community. They're engaged in the medical community, and the faculty here are here to grow them. That's important to us.
Where can listeners learn more about the Washington University School of Medicine? [33:04]
They can go to our website, mdadmissions.wustl.edu.

Related Links:
Related Shows:
Subscribe: