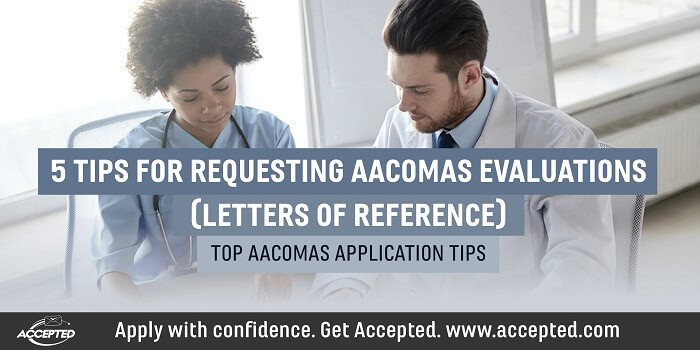 If you are planning to apply to osteopathic medical schools, the AACOMAS allows you to upload up to six letters of recommendation. You can't upload different letters for different schools, so make sure that your recommenders know that they should write general letters of recommendation. You should request your letters through AACOMAS, which sends an email to your recommender with instructions on how to upload the letter or you could compile all letters in a dossier service, typically Interfolio, sending some letters to your AACOMAS application and others to your AMCAS application if you're applying to both osteopathic and allopathic schools. You can add as many letters as you wish to a dossier service account and add letters to AACOMAS after you submit the application as long as the total number of letters in the AACOMAS application is no more than six.
A group letter from a committee is listed by the committee chair's name. No letters from anyone contributing to and signing the committee letter may be included as recommenders elsewhere on your list.
As you begin to plan who will write your AACOMAS letters of recommendation, keep the following tips in mind:
Make sure you have at least one recommender who is an osteopath with whom you've worked, studied, or shadowed, preferably someone who knows you professionally. DO schools want to ensure that applicants understand osteopathic medicine and have some exposure to it.


Ask your recommender, "Can you write me a strong letter of recommendation?" after you've worked together for a little while, after you've engaged in meaningful mentoring conversations, and after you feel they've witnessed you at your best.

Some recommenders will agree to write a letter of recommendation, but it won't be strong. You want to weed out people right away who won't write the best letter for you. And, if someone waffles when you ask or seems ambivalent, that is not the recommender for you. Ask someone else.


Give your recommender examples of the skills you would like to highlight

Rather than asking your recommender to say that you are "kind" or "punctual," give the recommender some examples of how you have displayed these traits. (The recommender may have examples in mind, but you might want to remind them, help them recollect, and it is best to do this in writing.)


Come prepared

When you ask someone for a recommendation, you should provide a resume as well as a draft of your personal statement, if you have one. I also suggest that clients remind their recommenders about some details that should be in the letter. For example, if you wrote an essay for a college class and received an A, provide the instructor a copy to remind them what you wrote. If it's been a while since you've worked together, provide brief, written highlights of your experiences. If you've built upon the learning you experienced with this recommender, let them know what you've done since, relevant to the experience you had together. If there's a specific highlight that you feel would best be stated by this recommender, or if there's a specific weak spot or hardship in your application that would best be addressed by your recommender to support you, by all means ask them to mention this and explain how you've overcome, learned how to accommodate, or (if a non-traditional applicant) how taking a slower path to medical school is an asset in your case.


Ask ahead of time

Writing a good recommendation letter takes time. Many professors become very busy at the end of the semester, and many doctors' time is stretched quite thin. I recommend asking for a letter at least a month before you need the letter, if not more. Provide the due date to the letter writer, and then follow up about a week before the deadline to ask if they have questions. Again, provide all relevant material, not the whole kitchen sink, in an organized manner, including your goals and plans. If your recommender is not familiar with or confident about writing a letter for a medical school applicant, feel free to share this useful link: Letter of Recommendation for Medical School: 9 Tips for Recommenders
Need more details?
Here's a link to the AACOMAS site for other technical details. Others' descriptions of you and their belief in you are very important parts of your application, so you should do everything you can to ensure that they are strong.
You need to work hard if you want to submit a winning AACOMAS (or AMCAS or AADSAS) application — and we can help! Check out Accepted's Primary Application Package to receive complete application guidance from conceptualization to final review. Your experienced consultant will guide you through the entire primary application, ensuring that you make the best use of your time to create a compelling portrait of yourself as a future leader in the medical field.
Dr. Mary Mahoney, PhD, is the medical humanities director at Elmira College and has more than 20 years of experience as an advisor and essay reviewer for med school applicants. She is a tenured English professor with an MFA in creative writing from Sarah Lawrence College and a PhD in literature and writing from the University of Houston. For the past 20 years, Mary has served as a grad school advisor and essay reviewer for med school applicants. Want Mary to help you get Accepted? Click here to get in touch!
Related Resources: