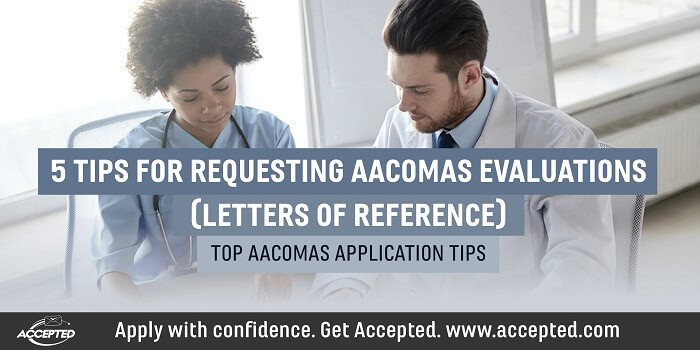 If you are planning to apply to osteopathic schools, the AACOMAS allows you to upload up to six letters of recommendation. The AACOMAS does not allow you to upload different letters for different schools, so make sure that your recommenders know that they should write general letters of recommendation. You should request your letters through AACOMAS, which sends an email to your recommender with instructions on how to upload the letter.
As you begin to plan who will write your letters of recommendation, keep the following tips in mind:
Make sure that you have at least one recommender who is an osteopath.

DO schools want to ensure that applicants understand osteopathic medicine and have some exposure to it. You should try to have at least one letter from an osteopath that you have worked with or shadowed.


Ask your recommender, "Can you write me a strong letter of recommendation?"

Some recommenders will agree to write a letter of recommendation, but it won't be strong. You want to weed out people right away who won't write the best letter for you. And, if someone waffles when you ask or seems ambivalent, that is not the recommender for you. Ask someone else.




Give your recommender examples of the skills you would like to highlight.

Rather than asking your recommender to say that you are "kind" or "punctual," give the recommender some examples of how you have displayed these traits. (The recommender may have examples in mind, but you might want to remind them.)


Come prepared.

When you ask someone for a recommendation, you should provide a resume as well as a draft of your personal statement, if you have one. I also suggest that clients remind their recommenders about some details that should be in the letter. For example, if you wrote an essay for the class and received an A, provide the instructor a copy to remind them what you wrote.


Ask ahead of time.

Writing a good recommendation letter takes time. Many instructors become very busy at the end of the semester. I recommend asking at least a month before you need the letter, if not more. Provide the due date to the instructor, and then follow up about a week before the deadline to ask if the instructor has questions.
Need more details?
Here's a link to the AACOMAS site for other technical details. Evaluations are a very important part of your application, so you should do everything you can to ensure that they are strong.
You need to work hard if you want to submit a winning AACOMAS(or AMCAS or AADSAS) application — and we can help! Check out Accepted's Primary Application Package to receive complete application guidance from conceptualization to final review. Your experienced consultant will guide you through the entire primary application, ensuring that you make the best use of your time to create a compelling portrait of yourself as a future leader in the medical field.
Jessica Pishko graduated with a J.D. from Harvard Law School and received an M.F.A. from Columbia University. She spent two years guiding students through the medical school application process at Columbia's Postbac Program and is a former Accepted admissions consultant.
Want an admissions expert help you get accepted? Click here to get in touch!
Related Resources: