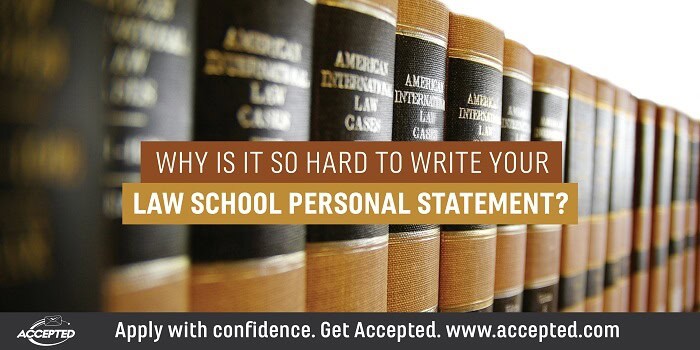 Why is the personal statement so hard to start? How do you put your heart and soul, and 20+ years of life, into a two-page double-spaced document?
The personal statement is often a source of many starts and stops for the law school applicant. I imagine the writer, in a non-digital world, with a wastebasket of discarded drafts next to their desk. Now that I have dated myself, let me see if I can help you get started without any more stops.
Your personal statement is a statement of purpose
First, the personal statement should be two pages, double-spaced, and closely proofread. I know, it is hard to condense a life into that short a document. But the personal statement is not a memoir; it is a statement. A statement of purpose. And your purpose is to attend law school and pursue a legal education and career. Thus, if you are not given a directive to write about something specific, like what is your favorite color, the personal statement should answer the questions, "Why do you want to go to law school and why now?" The narrative should be clear and proofread as many times as possible, and then once more before submitting it.
When working with applicants who are stuck and have yet to get through a draft of the personal statement, I begin with a conversation. The conversation is centered around getting to know the applicant and then, I ask, "So why do you want to go to law school?" As simple as that. Then the applicant articulates the reasons for putting themselves through the stress of the application process. "I have been working for a couple of years and enjoy the work that I do but realize that I am missing the knowledge and skills necessary to really affect change." Or: "I come from a family of lawyers and have grown up knowing what I want to do." Or: "I have seen firsthand the injustice in the world and want to give voice to the voiceless." These are some common threads, but everyone has a "reason." It may take a couple of follow-up questions to really tease out the answer, but your own narrative exists, and it really can fit in two pages!
Your personal statement is NOT a resume
I know that you have over two decades of life to share with the committee, but again, the personal statement is not a memoir nor a recitation of your resume. You submit your resume separately so the committee will also get that information. Perhaps your personal statement will share insight into an aspect of your resume, but it should not read like, "Well, sophomore year I interned at X law firm and it was great and that lead to another internship at Y Public Defender's office but it wasn't until I took that job as a paralegal at Z firm that I really knew what I wanted to do."
That is all great, but the committee saw all that on the resume so why not provide more insight into your experiences? Don't waste valuable essay real estate. Pick a point. Dig deeper and go beyond the banal, superficial, obvious, or already known. What motivated you to try the first internship in the first place? How did one summer job lead to another? Why was the work at Z so transforming? Peel back the layers of your motivations and lessons learned to develop an insightful, engaging personal statement that combines anecdote with analysis.
You have two pages to display your ability to convey a point: why you want to go to law school. Be clear and concise. The personal statement ultimately showcases your ability to write and proofread your work. Let your narrative shine, leaving the reader knowing that this applicant is confident in their decision to attend law school and has solid reasoning and writing ability. Now get started!
Do you need help crafting your law school personal statement so that it showcases your greatest strengths and abilities? Check out our Law School Admissions Consulting & Editing Services and work one-on-one with an expert advisor who will help you get ACCEPTED.
Christine Carr is a Harvard graduate with over 15 years of admissions experience, including nine years as Associate Director of Admissions at Boston University School of Law. She has read over 10,000 personal statements and counseled thousands of prospective applicants through the application process. Want Christine to help you get Accepted? Click here to get in touch!
Related Resources: