You've got a lot on your plate: you either are hustling to start submitting those secondaries after a later primary application submission, or you've been working on your secondaries for a while and are just STUCK. Either way, you're submitting your secondaries later than you had planned (unless you're planning ahead for next year's applications, in which case you're ahead of the curve!).
[Register for How to Create Successful Secondary Applications]
We know that there is a lot of talk swirling around about the med school application process — and it can be overwhelming to be in the middle of it, wondering what's true and what might be something less than that…
Take a deep breath, and don't worry.
Conquer your anxiety by slicing through all the noise and misinformation about med school admissions — and get a straightforward, proven strategy for your secondary applications with our strategy-oriented webinar, How to Create Successful Secondary Applications.
In just one hour, on October 4th at 7pm ET/4pm PT, medical admissions expert Alicia McNease Nimonkar will show you why secondaries are so important, teach you to identify the main types of secondary questions you'll encounter, and give you key strategies for approaching each type of question.
Register for this free webinar now.
Register Now: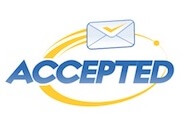 For 25 years, Accepted has helped applicants gain acceptance to their dream healthcare programs. Our outstanding team of admissions consultants features former admissions directors, admissions committee members, pre-health advisors, postbac program directors, and doctors. Our staff has guided applicants to acceptance at allopathic (MD) and osteopathic (DO) medical schools, residencies and fellowships, dental school, veterinarian school, and physician assistant programs at top schools such as Harvard, Stanford, Penn, UCSF, Johns Hopkins, Columbia, and many more. Want an admissions expert to help you get Accepted? Click here to get in touch!
Last updated on